Bitcoin (BTC) was definitely not a surprise yesterday. As Monday began, so it ended at the end of the day. Thus, the price chart generated a new bearish signal. And that we've had a whole bunch of them in recent weeks. In short, Bitcoin is clearly telling us that it does not have the strength to continue in its current state.
And this should not be ignored. No one can truly predict the future. For this reason alone, it is unwise to ignore repetitive signals. Signals indicating that we may well face a final downward reversal.
Money supply – how to stimulate its growth?
Sentiment noticeably improved – bearish signal
Over the past few weeks, the mood has gradually improved. Until he grew into such a "cautious" self-confidence. More cautious because the earlier price drops were seriously aggressive and many small traders got burned. That's why there was a lot of hesitation.
Judging by the attached chart with the index, sentiment has reached levels where it was last seen sometime in April. That is, just before the breakdown of the support/resistance level around $30,000. And it took quite a long time. Judging by the F&G BTC index, there is no euphoria by any means.
However, social media also shows that the mood has improved markedly. You can feel a little FOMO from this. More specifically, the stock market. Because stock indices have experienced relatively large valuations. And thus erased a significant part of the previous losses.
Therefore, I personally consider the improvement in sentiment to be a bearish signal. Classic reverse psychology as I calculated that the current price increase is part of a bear market rally. And at the top of these rallies, sentiment is most positive in a bear market.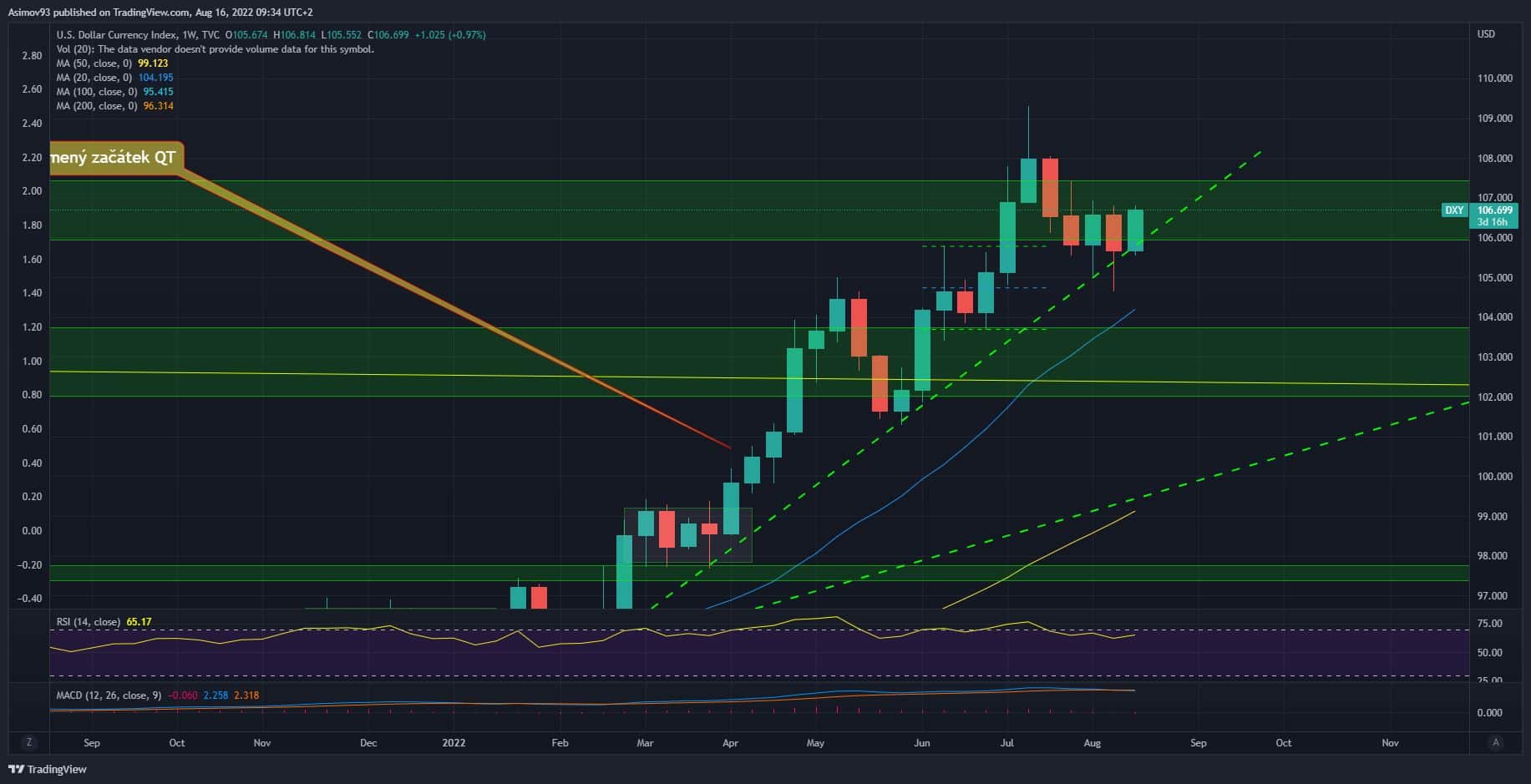 The fact that we are at the top is also indicated by the technique of the dollar index on the weekly chart, where the bottom formed in the form of a double candlestick formation. Tweezers Lower. In addition, we have a reflection from the drawn reference diagonal. In other words, risk recedes in retreat, and risk in absence returns to the stage.
Current situation on 1D BTC/USD
So, as mentioned in the introduction, the BTC price chart has generated a new bearish signal. A bearish signal that is somewhat unknown in the recent context. Monday's candle is back in shape doji candles. And this is accompanied by significant volumes.
Among other things, Saturday and Sunday candles have almost the same shape. But these candles are much smaller and the volumes are weaker. Either way, Bitcoin has obvious problems getting above $25,000 and 100 days moving average.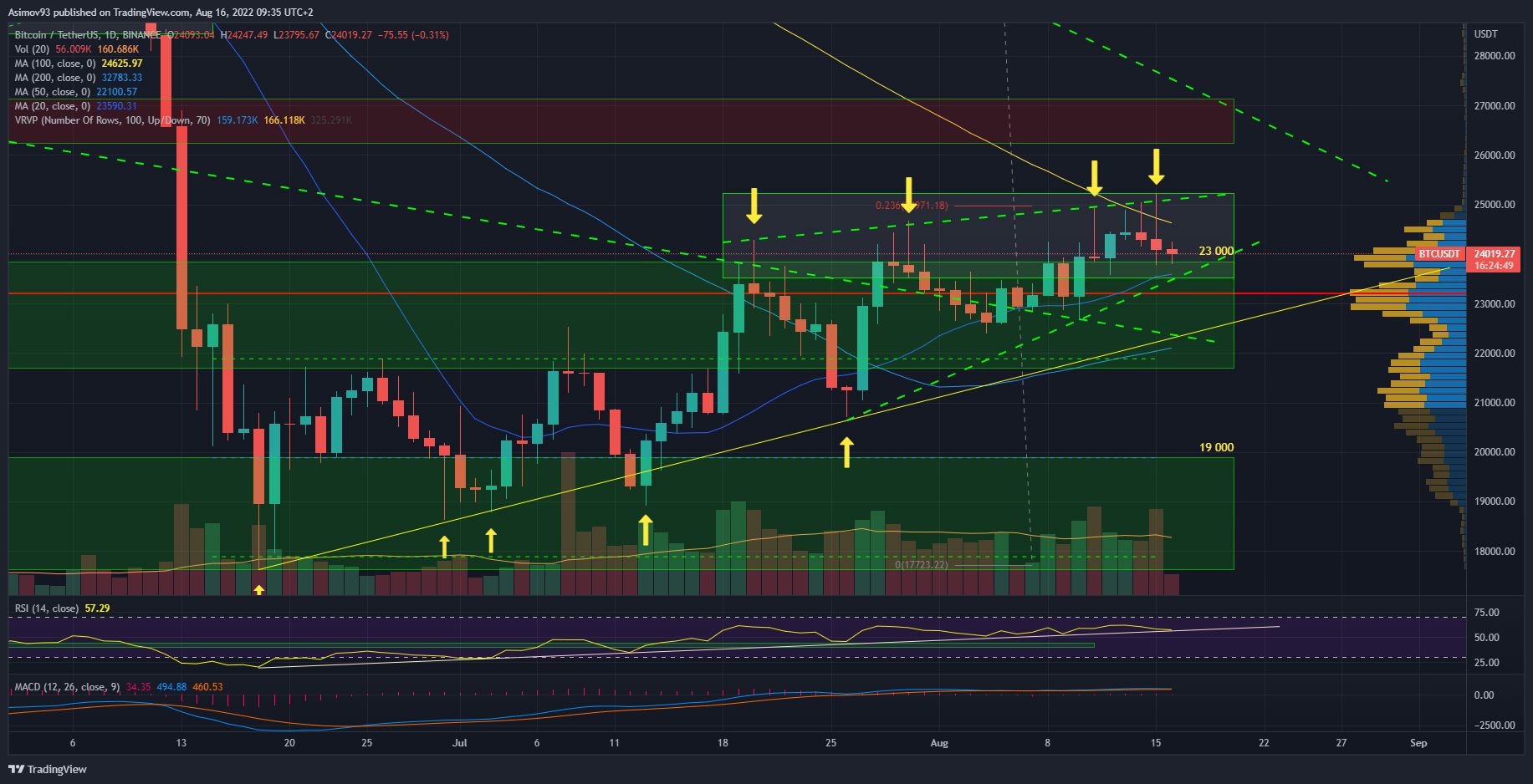 However, the expected breakthrough has not happened yet. But we would be blind if we ignored preparations for a turnaround in the development of the exchange rate. But it is better to wait for confirmation. Perfect confirmation is critical accident with big volumes down from it growing wedge.
Finally
This is technically an uptrend, but many factors indicate that we are getting closer to a trend reversal every day. Now, given the reaction of the exchange rate, this is simply striking. It's definitely a good idea to wait for a confirmation signal. But I say in advance that the breakdown can be really very fast. Therefore, it is necessary to prepare everything in advance. So that you are not surprised and react in time.
I am also new to Linkedin where I share my thoughts and best articles. Feel free to follow me there.
If you have any questions related to cryptocurrencies, feel free to join our Facebook discussion group. Don't forget to join us official discord server KRYPTOMAGAZIN CZ. we too YouTube channelwhere you can subscribe so you don't miss a video or broadcast.
WARNING: None of the information in this article is investment advice. The analysis does not attempt to predict future price developments. It serves solely as educational content on how to think about the market. Do your own research and analysis before making any investment, you always trade at your own risk. The kryptomagazin.cz team strongly recommends considering the risks individually