Analyzing a team that promised a lot with a historic win and went out without converting a penalty
After exceeding expectations at the 2021 Euro, when they lost to Italy in a semi-final penalty shootout, the Spanish team went into the World Cup in Qatar with hopes of overcoming the failures of the previous two editions , which got eliminated in the knockout stage. Group in Brazil-2014 and Round of 16 in Russia-2018). The youth squad of Luis Enrique, top star and self-styled leader of the team, succumbed in similar parameters: on penalties, again, and in the round of 16, again. by the title of world cup in south africa 2010, The Reds have won only 3 games out of 10 in the final stage: against Iran, Australia and Costa Rica.
unai simon
Safe
Against Costa Rica, his greatest effort was to compliment the seven goals scored by his teammates. He had a higher dose of work in the following games. None of the three goals are due to his lack of expertise. Except for a few occasions, he didn't make mistakes. He was consistent in his performances and on the other hand his calmness with his feet became a cause for concern. He saved four of Morocco's penalties.
azpilicueta
waiting for him
In the first game he held more than Alba, moving up the band behind Gavi and Ferran. Without minutes against Germany, he took possession against Japan and served the cross with which Morata led 1–0. Substituted at half time due to injury, he did not play again. And his absence was noticed.
La Porte
reliable
He was in charge of keeping an eye on the opponent's most advanced man, as Rodrigo was not strictly a marker. Harsh against Costa Rica and Morocco, and absent against Japan, he had only a mole against Germany, in a game that was complicated by the increased presence of rival forwards.
rodrigo
Search
The City midfielder featured as a central defender against Costa Rica and was never a substitute. The only outfield player who played every minute. He confirmed that he has the defensive skills to play at the back. His understanding with Laporte made the job easy. An interesting option for the future. He did not have the audacity of risk driving.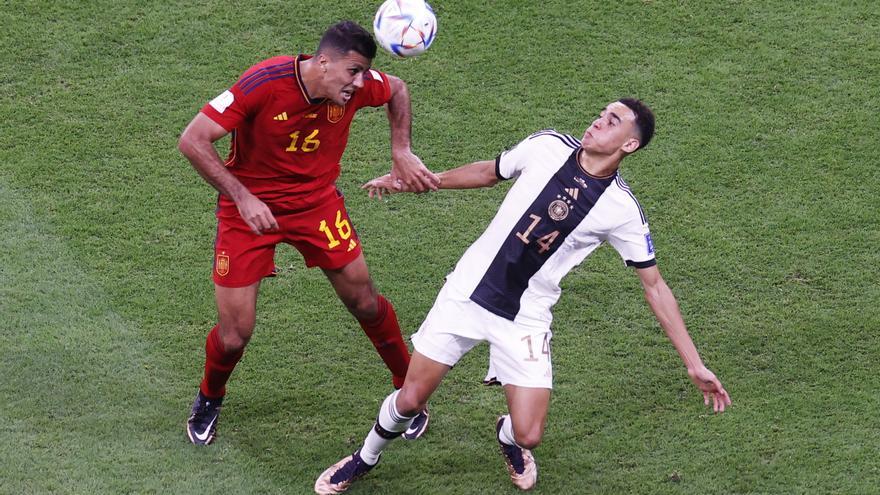 alba
Precious
He generated a lot of offensive power with his additions. Two assists and one penalty in the first two matches confirm this. He was rested against Japan and reappeared against Morocco, without that spark, and tired and sore after suffering a forceful blow to the thigh.
carvajal
insufficient
He played instead of Azpilicueta against Germany and showed more inaccuracy and less ease on the wing than the Chelsea winger. He turned him against Japan and he didn't improve either. Luis Enrique chose Marcos Llorente at right back instead.
Bucket
ready
Called up at the last minute to replace Valencia player Gaya, who left Camp injured, making his debut with the senior team against Costa Rica. It was not only because of the breadth of the scores: he appeared in all four games. But they suffered final reverses against Germany and in their return to Japan.,
pau torres
wrong
He only started against Japan. He was not well in one of his best qualities. He made too many mistakes when off the ball and then suffered from the pace of the Japanese forwards. He accused her of an apparent lack of confidence in seeing herself as an option.
marcos lorente
Vulnerable
The match against Morocco was his only appearance. an unsuccessful bet. He did not defend well and contributed nothing in attack, nor when he moved his position forward and played inside.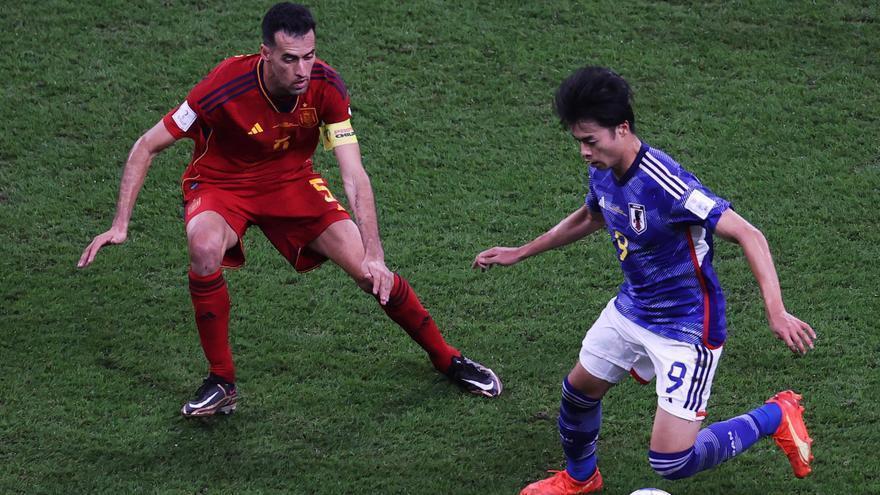 Gavi
essential
The tournament started with a bang. Voted as the best player in the Spain–Costa Rica match, he netted the goal, which made him the third youngest player to score at the World Cup, surpassed only by Pelé and the Mexican Rojas. He radiates energy and courage, although his motivations lead him to charge himself with dishonor. holder in all four sports. out of discussion.
baskets
emotionless
Cool and penetrating midfielder who always tried to give continuity to the passing game. The threat of the card may prevent him from losing relevance. Morocco locked him up to prevent him from interfering, and when he did he didn't pass the poison. Terrible penalty shot, which just proved his lack of habit in that set.
pedi
reluctant
Day one's inside left flank went haywire in the fourth, with Luis Enrique switching positions. Padre's magic lamp didn't shine enough in the dark against Morocco. He showed intermittent play at first, without claiming leadership or making a clear determination to be unbalanced with the pass or the dribble.
immediately
Adjourned
The Atlético captain appeared in only two games, coming on as a substitute in the first two and both. In as little as 25 minutes a day, he contributed nothing relevant other than resting Busquets and reviving Pedri's exhausted strength.
soler
small
Like Coke, he only appeared off the bench in two games, although his contribution was far more notable. For example, they beat Costa Rica 6–0. And against Morocco he made some interesting passes that ended in zero. With the spark gone, he lacked penalty hitting skills, although he is a specialist due to his good shot.
Elm tree
constant
He scored his historic 100th goal for Spain. It was the first of the championships. He scored more in appearances than goals. He did a lot of things right and had some personal setbacks. He did everything with wisdom and determination. Too bad it ended up so far away from the field. Nevertheless, he was able to score from a long free-kick which was barely deflected by Bouno.
asensio
harmless
Three games of false nines and he scored in Costa Rica's only one. Spain missed the goals that occupy the central position of the forward. His trick worked on the first day itself. He left nothing to remember, with very few finishing options and only one converted.
Ferran
gaseous
Always a right winger, he started with two goals in what proved to be an unfulfilled promise in the end. His greatest strength is creating shot chances and on the wing, between the line and a defender, it was impossible for him to solve one-on-one actions. As the tournament progressed, his visits to the field became less frequent, until his play became obscene.
Morata
out of reach
He replaced Ferran against Costa Rica and scored. He relieved him again against Germany and scored. He started and scored against Japan. Great performance with a remarkable auction success percentage considering the conditions. He couldn't keep up with such a spectacular contribution and the team blamed him. No one could contribute and no one knew what Morata always scored.
Williams
replaceable
Making his debut as Balde in the World Cup, he showed that he is ready for the national team. For now, as a replacement. His pace makes him almost unstoppable against a tired full-back, and less so from the outset, as was seen against Japan. Provides depth and center that are usually dangerous and always useful in the form of open ends,
Compliance
Undecided
Without playing a minute in the first two games, he intervened in the next two games just after Luis Enrique broadcast that he was last on the list. That shadow of doubt hatched a plan. His appearances served more for a few minutes of competition than for gaining confidence.
sarabia
star studded
Rescued from the depth of the bench for Morocco in the 118th minute. He had an opportunity that caressed the stick and was able to avoid the penalty shootout that condemned him. The coach had used it to take the penalty and it hit the woodwork again.
luis enrique
gloomy
He maintained his football proposition against all odds, claiming his first victory and elimination fiasco. He monopolized the leading role by freeing his footballers. Without resuming the thread with Japan or finding solutions to stop the avalanche of Germany, to overcome Morocco's iron defenses, their team in Twitch chats were more innovative than they managed. He left the World Cup in the fourth game, not the seventh as he had hoped, leaving his continuity up in the air.,