less is more. This is the recipe that led to success Khabane Lame, known as Khabi LameSenegal, barely 21 years old, who became Biggest star on Tiktok with 150 million followers,
The lame became famous for his videos, in which he mocks the complicated and sometimes crazy tricks performed by others without saying a word. influential people To solve everyday problems. However, his stardom came almost accidentally.
Lame, who has lived in Italy since her parents immigrated to the European country two decades ago, began record video for tiktok in March 2020. He entered the social network After losing his job in a factory Due to the COVID-19 pandemic, in the city of Chivaso (693 km north of Rome). unemployed and poorThe young man had to return home to his parents, but instead of looking for a new job at their behest, he started recording videos.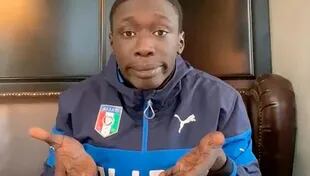 Despite having only his modest cell phone and no tripod to support it or lamps to improve lighting, Lam managed to The Formula That Made Him a Global Celebrity: Take other recordings about tricks for coping with everyday problems that go viral, because they don't make sense and are useless, and respond by providing simple solutions. The faces he makes with his face and the way he uses his hands, that was the rest.
One of his biggest hits was the banana video, where he showed for the first time how another user was peeling the skin off the fruit with a sharp knife, while he took it in his hands and peeled it. Then, he pointed at the fruit with his hand: "It is done",
Another recording that went around the world was one that showed how a woman, who had left her car keys with her child inside, tried to reach them with a stick through a car window. Tried it, which was ajar. However, at one point she drops the stick and she asks the little boy to bring it, which the boy does obediently.
The lame recreated the video with a boy of the same age, but instead of trying to reach for the keys with a stick, he asked the boy to give him the keys and that solved the problem.
I got thousands of followers in a few weeks and today is king of tiktokBeating celebrities like Oscar winners actor estadounidense will smith,
For Stevie Osagi, an expert in marketing and social networks, the LAM phenomenon is due to the fact that "it uses a universal language: comedy". "The fact that he doesn't speak means there's no interruption and it's not controversial. There's no reason you can't see its content," he told the magazine. BBC, He also said that the young man was at the right time and place to become the celebrity he is today.
"When it started everyone was stuck at home (due to the coronavirus lockdown) and Everyone needs something to take away from the negativity What else was happening and that's what drew her attention," he explained.
"My face and my expressions make people laugh," he told the newspaper a few months ago. new York Times,
Lame was not limited to TikTok and also produces content for other networks like Instagram, where he accumulates 80 million followerseight times more Facebook founder Mark Zuckerberg And the owner of the stage. However, a few months back Lam faced a sharp drop in followers on the latter platform. The Reason? Publication of post against casteism,
"People follow you for what you do that they love, but if you run out of it you lose followers"Explained Celia Tokosi, an African influencer who believes the lame case is an example to be followed by others in the region.
Such was his impact that he was invited to the Venice Film Festival in 2021, despite the fact that he had not acted in any films. He recorded videos with athletes such as Spanish driver Carlos Sainz Jr. or Brazilian football player Vinicius Jr.
In 2021 he received an award from the National Association of Young Innovators of Italy (ANGI) for his way of communicating and just a few months back he took the highest honor at the World Influencers and Bloggers Awards.
bbc mundo