"Related" is in trend.
You can see this in developing executive titles such as "Vice President of Global Diversity, Inclusion and Inclusion."
You can find this in the report How to make employees feel like they are a more essential part of the workplace. For example, a 2021 report on trends in the workplace found relatedness to be an important factor in how companies engage employees. And this can be seen in new "related" initiatives and strategies to create an "atmosphere of belonging" and to develop a more inclusive environment in organizations of all types.
But what about the college campus? Does a recent increased interest in related help students? Could it have unintended consequences?
As a researcher who focuses on the factors influencing affect among college students, I recently decided to investigate more deeply the relationship between and how college students perform. In my research, I define engagement as the concept of people and what matters in the organizations or institutions where they work, study or are otherwise involved.
Will the emphasis on belonging actually increase the well-being of students and ultimately help them succeed? Or is it just being used as a feel-good term to address the demands of more inclusion lately?
a vital need
There is no dearth of research that has identified human beings as an important need, especially for college students.
Studies have shown that affiliation is the key to a college student's success. Affiliation is associated with students who do not drop out of school, adjust psychologically to college, and achieve academic achievement. This is especially important for students of color who attend institutions that were not designed with them in mind.
While much of the research on how campus relates has focused on how students interact with other people, my own research has examined how campus locations – such as residence halls and classrooms – influence students' relationships. can increase. I have found that the design of campus space can increase the frequency of interaction between students. If those conversations are positive, they can relate. I've also found that where students go on campus — or don't, for that matter — says a lot about when and with whom they feel at home.
I don't question that living on campus is an important consideration. Instead, I'm suggesting that people question generally accepted ways of talking about belonging. Here are three alternative ways to think about the matter.
1. Belonging is an ongoing process
Phrases such as "a sense of belonging" are commonly used in discussions about belonging. This language suggests that belonging is a feeling or state of being, but it is actually much more than that.
Even how relatedness is measured, ignoring the fact that "related" can actually fluctuate over time, upholds the view that one's relationship remains stable and consistent. Is. Relationships among college students are often measured through surveys, but surveys are only snapshots.
In addition to changes in familiarity at different times, students may experience belonging in different ways in different places and with different people. For example, I found that students at one university identified the dining hall as an important site to connect with their friends. It was a place that represented their belonging. However, the same dining hall was a stressful place for the other students. For these students, it was a space that made them feel isolated.
Instead of viewing belonging as a feeling or emotion, consider how belonging is an ongoing process. In my 2016 study of college students, I found that when students' expectations for their academic and social lives did not match the expectations they were faced with during college, they tended to be less academically and socially. To change this, students will seek out different spaces on campus and rethink their ideas about themselves. They will also form new student groups and find places on campus to meet those groups and people with similar interests.
The conclusion is that even if one is not related in the past, it does not mean that they will not be in the future.
2. It takes hard work to be
When belonging is seen as fitting, it is easy for people to assume that individuals can fit or even want to be fit. It is also easy to guess who is where or with whom. This approach can lead to expectations about what situations promote belonging, such as being around similar people.
However, being around people who are seen as alike is not always associated with belonging.
In a study involving a multicampus university system, I found that a university with a relatively small number of Asian American students had a higher level of Asian American student population than Asian American students. Findings indicated that the concerned student may not need to be around people of the same race or ethnic group. There may be a relationship between the differences. So it is useful for colleges to question people's thinking about who is with whom.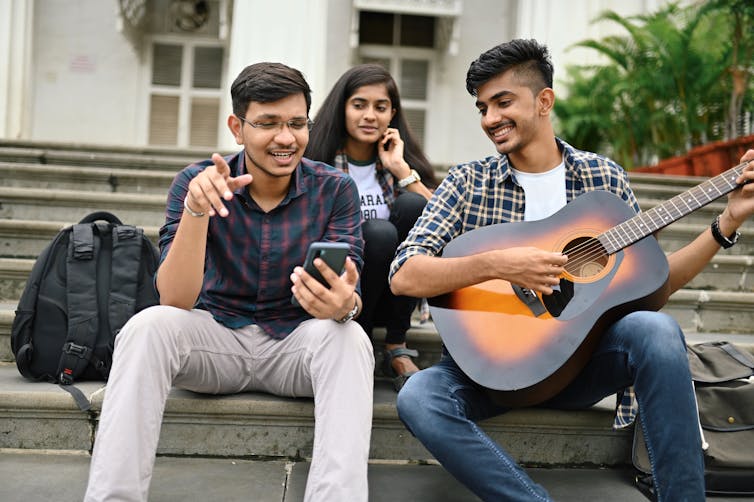 The study's findings also showed that Asian American students actively sought out spaces and groups with which they shared similar interests or felt they could belong, such as speech and debate clubs, cultural organizations and Recreation center for pickup basketball.
In these cases, affiliation simply did not occur by itself. The students had to deliberately seek it out.
3. Belonging is a Shared Responsibility
People may view belonging as an individual matter – something experienced on a personal level that is an individual's responsibility. But it also requires continuous effort by organizations and institutions.
Colleges and universities can change their structures and systems to support belonging and inclusion. This may include addressing the gap between what the college displays in marketing materials and the reality of what students experience on campus.
In my experience, affiliation is often thought of as a condition that does not change and depends on the actions of an individual student. What I've found through my research, however, is the continuing effort put in by the campus—not only by the students, but also by the colleges they attend. By thinking about belonging in these different ways, the changes needed can actually happen for as many students as possible.
[Over 150,000 readers rely on The Conversation's newsletters to understand the world. Sign up today.]