Thanks to a recently awarded $6.1 million National Science Foundation grant, the Southern California Earthquake Center has a new name and a broader remit. Now the Statewide California Earthquake Center, the consortium will expand its "natural laboratory" beyond the San Andreas Fault System in Southern California to cover the entire Pacific-North America plate boundary in California and surrounding regions.
Since its establishment in 1991, SCEC has been ground zero for earthquake research and outreach for the state and the world. Based at USC and supported by NSF, the US Geological Survey and other sponsors, the consortium of more than 90 research institutions coordinates interdisciplinary earthquake research to provide useful information for earthquake risk reduction.
In Oct. 19, USC will participate in the 16th annual Great ShakeOut Earthquake Drill conducted by SCEC and key partners in 2008 in Southern California, and SCEC is now coordinating worldwide.
THE GREAT SHAKEOUT

What: Annual earthquake drill around the world. USC has participated since ShakeOut began in 2008.
When: 10:19 am Thursday, Oct. 19.
Learn more: Visit USC's ShakeOut website.
To learn more about the new name and other recent developments at SCEC, we spoke with the center's director, Yehuda Ben-Zion, a professor of earth sciences in the USC Dornsife College of Letters, Arts and Sciences.
Congratulations on the recent NSF grant. As part of this funding, SCEC expanded its domain to include all of California. What does change mean in practice?
SCEC always has a footprint outside of Southern California – the consortium of over 90 institutions involved in the center means we have global participation and outreach. However, our natural laboratory focus is the San Andreas Fault System in Southern California, where we conduct detailed observational studies that are used to test and develop additional models.
The new NSF grant allows us to expand our dedicated natural laboratory. It now includes Southern, Central and Northern California, the Western Basin and Range provinces, and the northern part of Baja California. This new footprint includes more diverse geological domains with different tectonic deformations and faults, different levels of complexity and different failure styles. This gives us a wealth of information that we hope will lead to a deeper understanding of earthquakes and the ground motion they produce.
Equally important, the expanded domain of the Statewide Center now covers the entire population of California that is at risk from dangerous earthquakes and will benefit from this research. California is home to nearly two-thirds of the earthquake risk in the entire continental US, so this is an important change.
Will SCEC expand its operations beyond USC?
Yes. From the beginning of SCEC we have active collaborators with many US institutions, including East Coast institutions such as Harvard and MIT (the Massachusetts Institute of Technology), and other countries. For example, scientists from Europe and New Zealand regularly come to our meetings and participate in our research activities.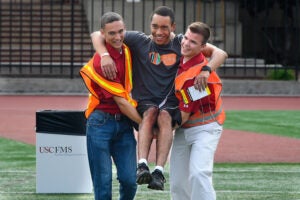 However, now that we are in the entire state the plan is to possibly have a hub in Northern California. We hope that this hub will be in Sacramento in partnership with the California Geological Survey, which has partnered with our research and education activities for a long time. We will continue to be headquartered at USC, but a hub in Sacramento will help us increase connections with state agencies and coordinate activities focused on Northern California.
How does SCEC improve the way we study earthquakes?
SCEC received another grant recently, from NSF's Office of Advanced Cyberinfrastructure, totaling $2.5 million over five years for a project led by SCEC, the San Diego Supercomputer Center at (University of California, San Diego) and the University of Illinois. This project is to establish a scientific portal called Quakeworx that will improve the way we analyze earthquake predictions, providing information about the probability of earthquakes of different sizes. -on in different locations.
The Quakeworx gateway will perform large-scale simulations that include the coupled evolution of earthquakes and faults for the first time. This project will simplify the simulation process and the sharing of key results with federal and state agencies, academic institutions and the private sector. How do we do this? By expanding access to simulation codes, data and a variety of analysis tools. SCEC will develop methods to extract information from next-generation earthquake simulations, which will be run on computational tools managed by the San Diego Supercomputer Center.