A 29-year-old man has been arrested and charged with fatally shooting another man who allegedly scammed him of $40 for a parking space in Houston.
According to police, Eric Aguirre shot Eliot Nix, 46, on the night of April 11 at a property in the 1300 block of Chartres Street.
Aguirre was on a date that day and arrived at a nearby restaurant with a woman and the victim allegedly charged him $40 for parking.
Police say Aguirre and his accomplice had parked their vehicles near the restaurant when Nix approached them and told them it would cost $20 per car, according to official records.
Police said Aguirre paid $40, but a restaurant employee later said Nix didn't work for the parking lot and robbed them.
Upon finding out, the man went to complain and according to eyewitnesses, he heard gunshots. When detectives arrived, they found Nix dead.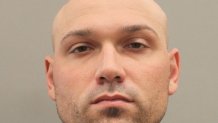 The next day police were looking for Aguirre and the woman who was with him as persons of interest. She volunteered to testify and said she did not know what happened in the parking lot.
He only knew that his companion had gone to complain and returned to continue the dinner.
Aguirre reportedly told the woman that "everything was fine" and scared the man away only after returning from the parking lot to the Rodeo Goat restaurant.
They then walked to a table after Aguirre felt uncomfortable, according to court records, but left to eat elsewhere.
On April 25, Eric Aguirre was arrested in Aransas County in south Texas and will be tried in Harris County.
Following a criminal court appearance, the judge set bail at $200,000. If he pays the required amount, he will face restrictions on his probation such as using electronic handcuffs.
They forced the employees and customers to lie on the ground.