Atapuerca's co-director, Juan Luis Arsuaga, has just run into a discovery that requires a little imagination from him; And then everyone draws their own conclusions.
The story begins like this: About 70,000 years ago, in a cave in the Lojoya Valley north of Madrid, Neanderthals deposited the skulls and horns of mammoth animals: bison, wild oxen, deer, rhinoceros. They took out their brains to eat them, taking care not to damage the horns. They took the remains to the cave, lit a small fire, and then covered them with a stone slab. 35 heads have been found at ground level up to two meters deep, meaning that this was a tradition that lasted "years, decades, centuries, even millennia". According to Arsuga, nothing like this has been found anywhere else in the world.
In his opinion, this is the best evidence to date that Neanderthals had a complex mind capable of handling symbols and "ceremonies" around the skulls of nomadic animals. "We don't know what happened", the paleoanthropologist admits, "but I can imagine a group of Neanderthals bringing the massive skulls from the valley bottom to the cave, preparing them, illuminating them, covering them." Is and leaves. How strong!".
Neanderthals were the original human species of Europe, where they lived for 400,000 years. They are also the closest hominid in evolution to our species. a wise man, originally from Africa. Both species were found in Eurasia and had sex and had children for thousands of years, except for the lack of Neanderthal DNA in all living people outside Africa. For unknown reasons, Neanderthals became extinct about 40,000 years ago, and Sapiens became the last human species on Earth. In recent years, a growing body of discoveries has reinforced the idea that Neanderthals were capable of human behavior just like us.
The new discovery has been made in the Des-Cuberta cave, one of the excavation areas of the Neanderthal sites of Pinilla del Valle, an hour and a half by car from the capital; and is published today in the special magazine nature human behavior,
hunt cult
In this work, a large team of paleontologists from different countries, led by Arsuaga, Enrique Baquedano, director of the Museum of Archeology and Paleontology of the Community of Madrid, and Alfredo Pérez-González, a researcher at the Complutense University, tackled two possible interpretations. Either it was an accumulation of hunting trophies or it is a "ceremonial" place. "An expression of the Neanderthal's symbolic relationship with nature or some sort of initiation rite or atonement magic," he elaborated in the study.
The researchers justify their position by the fact that they did not find any bones of animals other than skulls with their horns. There is no trace of Neanderthals camping there, nor did they do the typical things humans of that time did: light large hearths for cooking (there are only very small fires in the cave), large stone tools, body Carve the skin of There is another place barely 20 meters away from Des-Cubierta where all these things are. Its age is about 50,000 years. For the study's authors, this may not be an accidental accumulation of remains, but strong evidence that Neanderthals created symbols and places of worship in the same way as modern humans.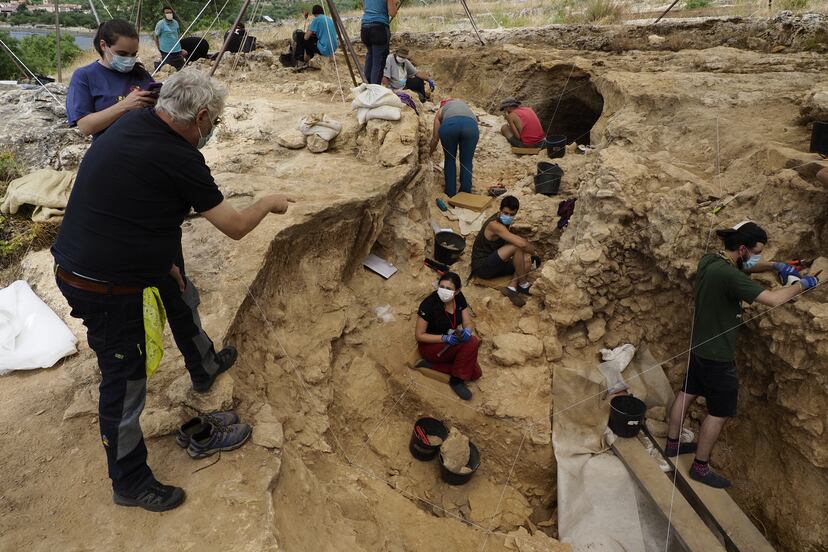 The discovery adds to other evidence that the Neanderthal brain was not as primitive as archaeologists thought decades ago. Most of the evidence supporting this hypothesis has been found in Spain. In the Los Aviones cave in Murcia, perforated shells were found which were necklace beads made by this species; and in the Foradada cave, in Calafell, are the remains of pendants made of eagle's claws.
Recent findings also question whether a wise man Only they were capable of making pictorial symbols. In the cave of La Pasiega in Cantabria, a staircase has been found that may have been painted by Neanderthals around 64,000 years ago, although its date is still under debate. And in 2014, a geometric carving carved into a wall of Gorham's Cave in Gibraltar was found to be more than 39,000 years old. The big question that remains to be answered is whether Neanderthals learned to paint and symbolize because they were taught by sapiens or if they developed this ability on their own.
In 2021, a group of paleontologists in Germany found a bone with a galloon-shaped symbol that may have been made by Neanderthals 51,000 years ago, at a time when sapiens had not yet arrived. Nevertheless, Neanderthal paintings and signs are light years away from the peaks of Sapiens Paleolithic art, such as the famous bison of Altamira in Cantabria, or the amazing cats of Chauvet Cave in France.
"they were symbolic"
About the find in the Lozoya Valley, Arsuga is blunt: "What we've found here is much stronger than the pictures, which are still signs and lines." These finds "confirm to us that Neanderthals were symbolic, but at the same time they were not like us; After all, you can be human in many ways", he argued.
The possibility that Neanderthals followed a cult of skulls has been considered since the beginning of the last century. This idea was based on discoveries of cave bear and other animal skulls that may have been deposited and buried for symbolic purposes, although this is still a disputed hypothesis. In the period following the extinction of the Neanderthals, there are some examples of the use of bison, rhinoceros and other animal skulls by sapiens, perhaps as offerings to the dead.
Antonio Rodríguez-Hidalgo, a prehistorian at Madrid's Complutense University and a researcher at Atapuerca, offers an independent opinion on the study: "It is a very interesting find and its publication was highly anticipated among the scientific community." "The authors' interpretation is very bold and controversial at the same time," he says.
"The possibility of trophy hunting goes a step further, and it's plausible, but not everyone would like it. We don't know any hunting trophies among modern humans from the Upper Palaeolithic [hace entre 50.000 años y 12.000 años], It is a modern tradition, da
ting back to sport hunting and 19th-century European colonialism. "The interpretation of ceremonial or magical meaning seems to me more consistent. It is quite possible that Neanderthals had something like shamanism. The case of des-Cubertas gives rise to new unknowns and forces us to look carefully at other Middle Palaeolithic sites where other accumulations of skulls may have gone unnoticed", he added.
you can follow materia in Facebook, Twitter I instagrampoint here to get our weekly newsletter,