A healthy diet, at an affordable cost, is a dilemma
• 50 percent of Mexicans consume highly processed products, production in the region has been modified and prices for foods with the highest nutritional value have increased
• Ana Gabriela Ortega Avila, Quetzalcoatl Orozco Ramirez and Michel Unar Mungua comment on challenges in food matters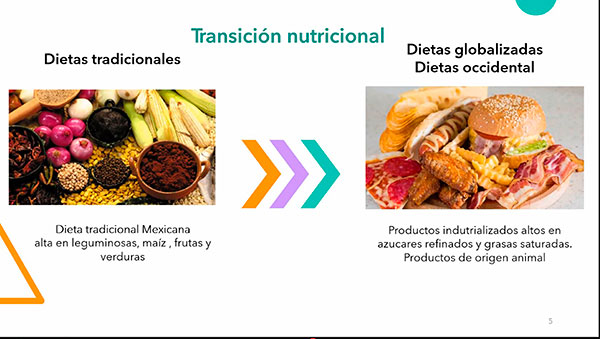 Ana Gabriela Ortega Avila, Professor of Human Nutritional Sciences degree in the Faculty of Medicine; Quetzalcoatl Orozco Ramírez, a researcher at the Geography Institute, both from UNAM, as well as Michel Unar Munguá, from the National Institute of Public Health, estimated that there are many challenges in moving towards a healthy and sustainable diet.
In Ortega Avila's opinion, a healthy diet refers to having an appropriate amount of calories, innocuous, from a variety of food groups, and culturally adequate; That is to say, it adapts to the cultural, religious traditions, etc. of each individual's place of residence.
However, he stressed, the country is currently undergoing a nutritional transition, in part involving a shift from a traditional diet high in legumes, corn, fruits and vegetables to a more industrialized, globalized, Western diet, which is high in refined foods. Featuring a high quality product. Sugars, saturated fats and products of animal origin.
In a session on the current challenges in Mexico to transition towards sustainable eating, a university expert said that 50 percent of the Mexican population has diets that are not necessarily healthy. "The dietary patterns we see today are western, modern, high in sugar and fat, fast food, industrial: soft drinks, processed meats, high sodium foods, fried foods, alcohol, pastries, etc."
It is necessary to consider that they are the result of changes in various areas, on the one hand, ethnic status, socioeconomic status, gender, education, health status, genetic predisposition, and on the other, psychosocial aspects: preferences, habits, the social context in which we grow up. family influences, social norms and parenting practices. relevant item also; that is, the food environment that guides us to buy and consume certain foods.
The challenge, he said, is to modify these factors, directly or indirectly, to replace diets with traditional, basic, rural, prudent, sustainable, healthy and less and less industrialized plant-based ones.
In turn, Orozco Ramírez highlights that the forms of production in the region have also changed in the country, starting with the intensification of agriculture; Namely, the use of advanced machinery, fertilizers, and crops, which increases the impact on the environment and the use of natural resources for these practices.
Modernization in animal production has happened recently. The trade deal between Mexico, the United States and Canada increased animal production and exports of eggs, chicken and now pork and beef, he stressed.
According to the expert, there are two major challenges: combating wastage of inputs in intensive systems and changes in ecosystems due to their homogenization.
In recent years it has become clear that traditional small-scale agriculture, even for intensive and irrigated agriculture, has problems with drought and variation in rainfall between years. Given that we now see more variable weather in rainfall, agricultural systems must adapt and modernize and, above all, avoid water wastage.
Furthermore, it is necessary to reform the organization of agricultural production, family or business, of any size, as they act as independent units that decide what to plant based on the local, regional context, what they market. Information about how they relate to, and what happened in previous cycles.
On his occasion, Unar Mungua indicated that foods with the highest nutritional value in Mexico have increased their price more and become less affordable, while foods with lower nutritional value have stagnated; "The gap between the most nutritious and the least nutritious has widened."
He recalled that in a study done in Mexico to model healthy and sustainable diets, a series of diets were simulated with another mathematical model and linked to market prices to estimate costs. It observed that healthy and sustainable, as proposed by EAT-Lancet, was 21 percent lower than the Mexican Dietary Guidelines published in 2015.
EAT-Lancet is the first comprehensive scientific study to look at what constitutes a healthy diet from a sustainable food system and what actions can support and accelerate food system change, while dietary guidelines include daily nutrient intake, simple water intake, Contains recommendations on quantities, products. should be avoided, as well as the type of physical activity that contributes to health care.
Unar Mungua warned that one of the challenges in moving the world towards healthy and sustainable diets is cost, although its affordability largely depends on the context and the country. There is evidence in Mexico that they are cheap; For example, apart from designing programs and policies on this matter, the dietary guidelines of the health sector can serve as a tool to promote them.