A new cosmic visitor rises into the sky. It's about Comet C/2023 P1 (Nishimura), a celestial body traversing the inner solar system that is approaching the sun at full speed and then approaching that Tierra. According to preliminary estimates by astronomers, the object could be bright enough to be seen in our planet's sky with the naked eye by mid-September.
The comet was discovered by an amateur astronomer on August 11 last year, Hideo Nishimura (hence the name), in Kakegawa, Japan. Meanwhile, the name C/2023 P1 given by the Center for Minor Planets indicates the type of comet ("C", meaning "non-periodic", like the famous green comet C/2022 E3 ZTF) and the time of its discovery ("P1", meaning "the first object discovered in the first two weeks")). August 2023).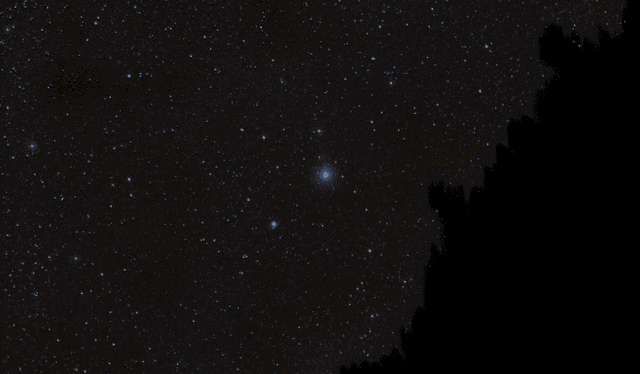 A comet very close to the sun
Comet C/2023 P1 has been found to be non-periodic, meaning it comes from the farthest reaches of the solar system, likely from the Oort Cloud, and its journey takes thousands of years. This could be your first foray into our cosmic neighborhood.
Currently, the comet is moving near the Earth's orbit around the Sun and is traveling so fast that it will reach the orbit of Venus at the end of August. Then, on September 18th, it will reach perihelion (the closest approach to the star) in just 20 million miles, nearly half the distance between Mercury and the Star King.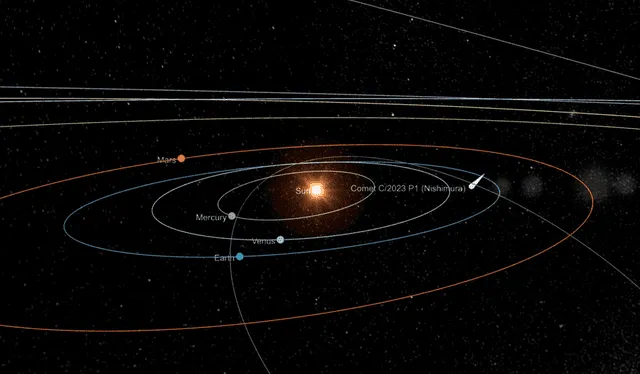 Because of its proximity to the Sun, the comet's structure (ice, dust, and rock) could crumble. Because of this, astronomers are reluctant to predict the evolution of this new cosmic visitor.
When could Comet C/2023 P1 be observed?
Currently, the comet can be seen in space with telescopes six inches or larger in the constellation Gemini, in the east, before daybreak. It has a brightness of 10 (the lower the number, the brighter). It is in the constellation of Cancer in the last week of August and in Leo in early September, with a magnitude less than 7, so it can be seen with binoculars.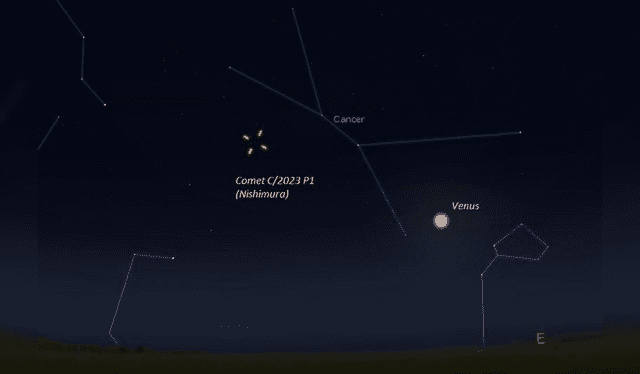 The closest approach to Earth will occur on September 13th. Until then, if it continues to weather the Sun's heat, Comet C/2023 P1 will have a magnitude of 4.3, a magnitude that would make it visible to the naked eye. However, it will be very close to the horizon, and the twilight will make it difficult to observe.
During its perihelion (September 18) and thereafter, if still in one piece, the comet will be visible an hour after sunset in the Virgo constellation above the western horizon.