Although the vaccine is effective, we still need drugs to treat COVID. Even people who have been vaccinated with dual vaccines are less likely to contract COVID and eventually develop moderate or even severe illness. There are medicines for COVID, but they must be taken in the hospital.
One promising drug that can improve the situation is monupiravir, an antiviral drug that is entering the final stages of human testing. Researchers hope it can be used to treat and prevent COVID. Importantly, it can be taken as a pill-which means that people do not need to be hospitalized to receive it.
This drug reduces the ability to replicate SARS-CoV-2, the virus that causes COVID. It works by mimicking one of the components of the viral genetic material. When the virus reproduces, it builds a new copy of its RNA, and the drug will eventually be incorporated into it.
When the virus subsequently reproduces, molnupiravir causes mutations to accumulate in the virus's RNA, which increases with each replication. Ultimately, this will lead to a "error catastrophe", that is, excessive mutations will prevent the virus from fully replicating, and then it will disappear.
How's the effect?
So far, a small trial has studied the effect of monelavir on 202 COVID patients (not in the hospital) who started to show symptoms. Participants were randomly assigned to receive molnupiravir or placebo and tested different doses of antiviral drugs.
The results of the experiment have been published as preprints, which means they have not yet been formally reviewed by other scientists. Nevertheless, the trial showed that after three days of treatment, participants who took 800 mg of monoprevir (2%) found the frequency of infectious SARS-CoV-2 virus compared with participants who took placebo (17%) obviously decased.
By day 5, the virus was not detected in any participant who received 400 mg or 800 mg of monoprevir, but the virus was still found in 11% of the participants who took the placebo. Therefore, the trial shows that molnupiravir can reduce and eliminate infectious SARS-CoV-2 in patients with mild COVID. In fact, monopiravir accelerates the elimination of the virus, which shows that it can not only be used to treat COVID, but also reduce the chance of its spread.
But to know how useful it is, we need to see what happens in further experiments. Molnupiravir is also currently being evaluated in newly hospitalized COVID patients. This study aims to find out whether early morolavir treatment can reduce the time required for severe COVID patients to clear the virus. So far, no results have been disclosed.
A larger trial with 1,850 participants is now looking at whether monupiravir is better than a placebo in preventing serious illness and death in adults with COVID-19 out of hospital. A phase 3 trial (the final phase of human testing) is now recruiting participants from 17 different countries to see whether early monelavir treatment of COVID-positive patients can prevent other people living in the same household from being infected. Previous studies have shown that molnupiravir can prevent the spread of SARS-CoV-2 in ferrets in this way.
If it performs well in these trials, the effects of molnupiravir could be huge. Given the severity of the disease that SARS-CoV-2 may cause, effective antiviral drugs will become a valuable weapon in the clinical arsenal—especially if molnupiravir continues to work as quickly as the tests so far. Patients with COVID will soon become very sick.
The fact that it is taken orally may also be very useful, as it will make it easy to use in the early stages of infection, as it can be self-administered outside the hospital. In addition, molnupiravir can be produced in large quantities and does not require cold shipping. Vaccines and physical measures to control the spread of the virus will remain the main strategies for managing COVID, but this medicine can complement both.
Where did it come from?
As we all know, it takes a long time to develop antiviral drugs. The fact that Monopiravir was only available 18 months after the pandemic occurred is because it was not specifically developed for COVID. It is a broad-spectrum antiviral drug-which means it can fight many viruses. Its development began in 2013 at Emory University in the United States.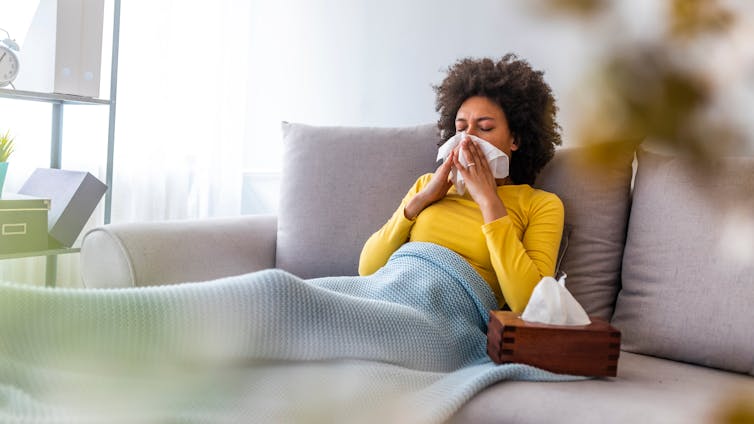 The focus at the time was to find an antiviral drug to treat equine encephalitis virus infection, which is a major threat to human and animal public health in the Americas. The initial antiviral drug in development is called EIDD-1931. Extensive tests have confirmed that it can inhibit the replication of a variety of RNA viruses, including influenza viruses, multiple coronaviruses, and respiratory syncytial viruses.
However, when EIDD-1931 is administered orally to monkeys, it is rapidly metabolized, reducing its antiviral activity. To solve this problem, scientists created an inactive drug (called a prodrug), which was then converted into an active drug in the body. The prodrug of EIDD-1931 is molnupiravir.
Initially, the developers of molnupiravir applied for permission from the US Food and Drug Administration to test it in humans as a treatment for seasonal flu. However, after the emergence of COVID, it was proven to have an impact on SARS-CoV-2, so a request was also submitted for it to be tested. One day, it may be used to treat many different diseases.
This article is republished from – The Conversation – Read the – original article.