Paleontologists pay tribute to Emiliano "Dibu" Martinez, a prehistoric discovery will bear his name, Scientists Guillermo Fidel Turazzini and Raúl Orencio Gómez discovered fossil remains approximately 5 million years old in Mendoza. Both, the fans of the Argentina National Team decided to call the species "Lepidobtrecus dibumartinez",
dibu martinez
Paleontologists from the Laboratory of Evolutionary Morphology and Vertebrate Paleontology of the Faculty of Exact and Natural Sciences of the University of Buenos Aires (UBA) discovered a new species of Escuerzo and decided to name it in honor of Albiceleste archer.
The fossil record of escuerzos—Ceratophryidae—"dates to the late Miocene and is largely concentrated in the pampas of Argentina, consisting mainly of complete cranial remains and comparatively few postcranial bones, mainly isolated —is isolated," he explained to the site. Taylor & Francis Online.
image.png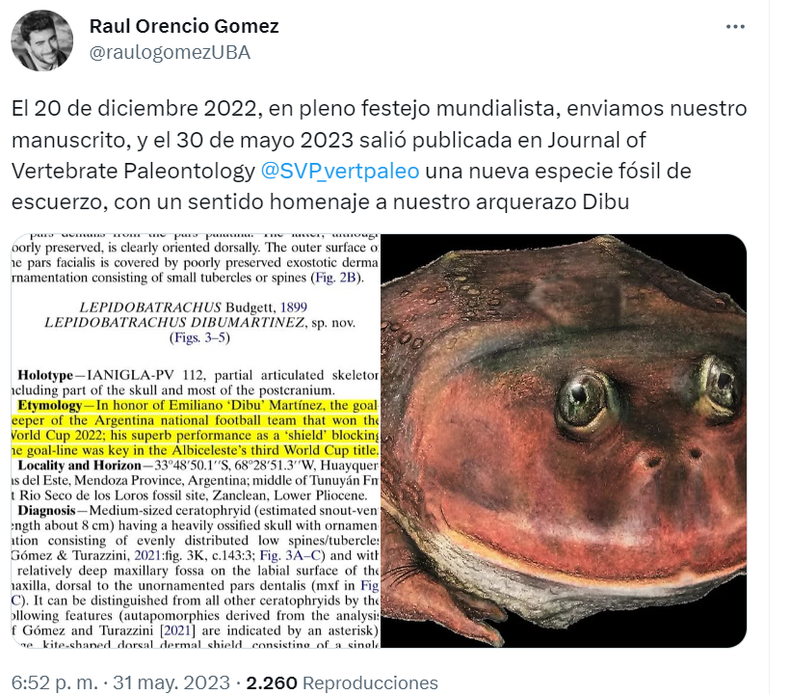 Paleontologist Raúl Orencio Gómez published more details about the discovery in the area on his Twitter account. Huayquerias of the EastIn Mendoza: "On December 20, 2022, in the midst of World Cup celebrations, we sent our manuscript, and on May 30, 2023 it was published in the Journal of Vertebrate Paleontology A new fossil species of Escurzo, a touching tribute to our great archer Dibu,
Not only this, but Gómez also told that in the work presented, he also thanked the entire team of the Argentina national team. "For the happiness he has given to all Argentines",
image.png