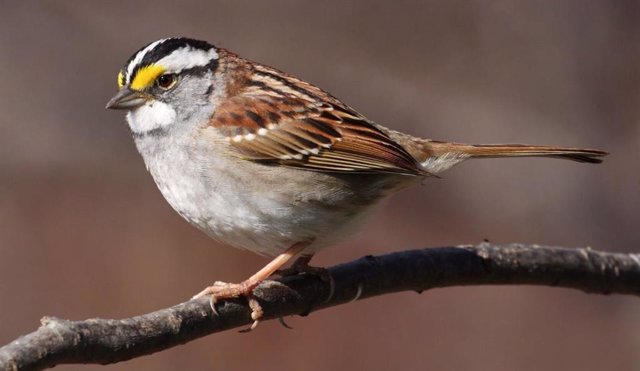 White-throated Sparrow (Zonotrichia albicollis), Cap Tourmente National Wildlife Area, Quebec, Canada. -Cephus/Wikimedia Commons
Madrid, 26 May. (Europe Press) –
Migratory birds have the ability to process or ignore geomagnetic information, just as we can pay attention to music when we like it or when we ignore it.
Researchers at the University of Western Ontario's Advanced Center for Avian Research (AFAR) have concluded that an area of ​​the brain called the N group, which migratory birds use to sense the Earth's magnetic field, activates very flexibly. Is. This study has been published in the European Journal of Neuroscience.
Specifically, the research team, led by PhD student Madeleine Brodbeck and AFAR co-director Scott McDougall-Shackleton, studied white-throated sparrows and found that they can activate the N group at night when they have to migrate (prey). to avoid). coldest period) and leave it idle while they were resting at a stopover.
This is the first demonstration of the functioning of this brain region in a North American bird species, as all previous research in this area has been completed in Europe.
"This area of ​​the brain is very important for activating the geomagnetic compass, especially for songbirds when they migrate at night," Brodbeck said in a statement.
Possibly first investigated and identified by German mathematician Carl Friedrich Gauss in the 1830s, Earth's magnetic field has long attracted physicists, aerospace engineers, and even science fiction writers such as Frank Herbert and Stephen King. Have done Brodbeck, a bird psychologist, is equally intrigued.
"It's really fun to think about magnetic fields because they're invisible to humans. We can't see or feel them, but most animals sense them in some way," Brodbeck said. "For birds, using the Earth's magnetic field to tell whether they are heading towards the pole or towards the equator is clearly very useful for orientation and migration. can activate the brain and we can't."
Understanding the physical mechanisms of how animals move through the world is a fundamentally important question for researchers, says McDougall-Shackleton, professor of psychology and cognitive neuroscientist.
"If we want to understand bird migration or how other animals move from place to place, we need to know how they do it. And more importantly, we need to know It's what we're doing as human beings that can affect them." McDougall-Shackleton said.
"Birds don't just use their magnetic compass. We know they also look to the sun and the stars for signals. And we also know that lights at night or windows in buildings, and all these things we put out in the world disrupts their migration," McDougall-Shackleton said. "This type of basic research informs us and allows us to understand the full set of ways that animals perceive the world when they migrate, and what we need to do as humans to reduce our impact." need."
AFAR has the world's first hypobaric climate wind tunnel for flight of birds.