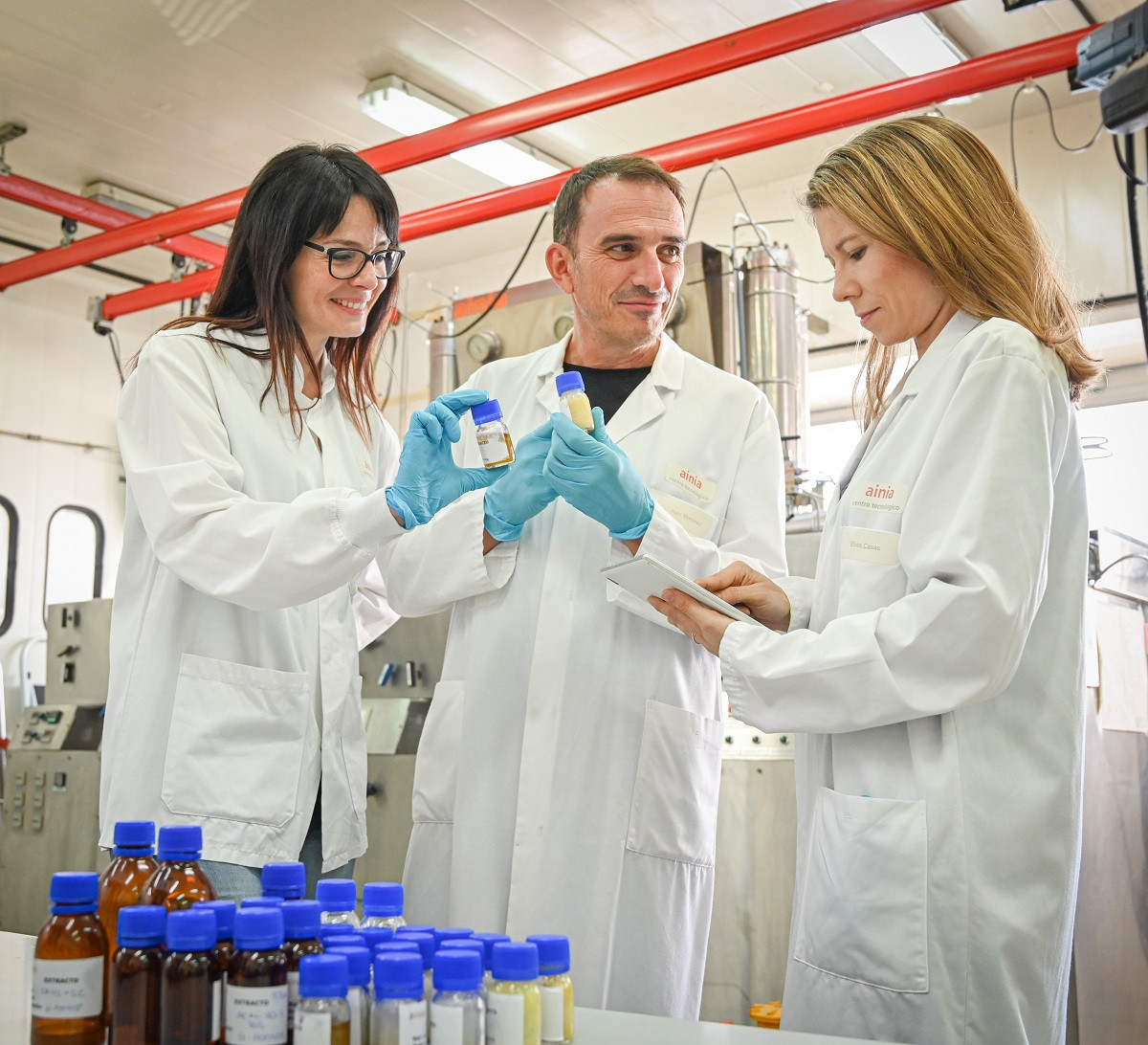 Achieving increasingly pure and sustainable products based on green chemicals is the ultimate goal of the Sufrapur project that AINIA is pursuing. The technical center investigates processes based on supercritical CO2 aimed at improving the quality of liquids applied in food, cosmetics and nutraceuticals.
In particular, it has developed various experimental and analytical activities focused on the realization of permanent sequences of fractionation and purification of matrices of a different nature, partitioning processes with supercritical CO 2 and other works aligned with green chemistry. Fractions with differential characteristics have been obtained, considering their possible combination with .
To achieve this objective, the SUFRAPUR research project, supported by the Valencian Institute of Competitiveness (IVACE) and FEDER Fund, is structured into 7 work packages, all closely related, in which it has received collaborations from various companies. Farm.
More sustainable process technologies
CO2, under certain conditions of pressure and temperature, becomes a selective solvent for certain types of substances, usually of low polarity. It is used in various processes (extraction, separation, cleaning, etc.) as an alternative to traditional organic solvents. It is not toxic, it is not flammable, it does not leave traces in residue, it does not require high working temperatures that can degrade the material, and it reduces the microbiological load of treated foods. Therefore, it is a very beneficial choice for developing new improved products following the trend and social needs.
Elvira Kaas, a specialist in Supercritical Fluid Technologies-Altex at ANIIA, explains, "The use of supercritical CO2 as the main agent in processes and to obtain more concentrated or enriched products broadens the possibilities of purification with respect to strictly physical processes. makes." He explains that conventional processes have "limitations in cases where substances with parameters close to each other coexist in the chemical profile; or in physico-chemical processes that may produce some negative effect on the properties of the final fractions." are due to either high temperatures or the use of toxic organic agents that can lead to the appearance of scars and limit their applicability.
More concentrated and pure products based on green chemistry
These clean technologies may be useful for developing more concentrated products, improving and expanding existing ingredients for food, cosmetic, nutraceutical or chemical applications, with greater functionality and added value from these liquid matrices. As such, it is able, for example, to increase the value of natural oils for various uses: vegetable oils to improve their lipid profiles or for their deodorization, essential for the concentration of aromatic fractions of interest. Oils, or derivatives of fish oil. To increase the concentration of unsaturated fatty acids.
In addition, it would allow the removal of unwanted substances from products, recover their value, or enable their use in other applications, such as natural oils that contain pesticides, or unwanted fat molecules.
In recent years, there has been an increased level of awareness of aspects related to health and quality of life, drawing attention to natural and pure products obtained through environmentally sustainable and eco-friendly processes. Meeting these demands requires processes tailored to these complexes and are directly linked to the green chemistry complex, which advocates for increasingly sustainable methods from a global perspective and in line with the United Nations Sustainable Development Goals.
The technical center presented the progress of the project in a webinar this Tuesday, elaborating this type of process, in particular new possibilities aimed at the purification and fractionation of the prepared substances in the SUFRAPUR studies.