At a time when artificial intelligence is revolutionizing the world, Argentine start-up, H+Trace (H+T)Allows companies to collect data that is used to train the algorithms of this tool and from there apply it to improve their operations in the logistics sector.
"We have developed a solution that can be easily and quickly adapted to different industries," he explained. Javier Cuello, CEO and one of the co-founders of the company. "At present, its benefits are already being used by clinical laboratories, pharmaceutical companies, food and beverage companies, and it is also used in the health care sector for organ transplantation. We focus on the logistics Because this is an industry that has immediate impact and a low pace of innovation. The existing products to date – and those used by most companies – haven't been updated in over 25 years," he explained.
What is the contribution of artificial intelligence in the workplace?
With the aim of continuing to expand in Latin America and becoming a globally available service, Raises second round of investment of US$ 2.3 million, "Two years ago we did a pre-seed round, which allowed us to raise US$300,000, which was critical in driving us to scale up and launch H+Trace," said Cuello. "Currently, we are opening a seed round, of which we expect to raise over $2 million which will be destined to contribute to the expansion we are facing. In the coming months we look forward to a positive We will be a cash-flowing company, indicating that the funding we are seeking at this time is necessary to continue to grow and expand."
Beyond the funding they're looking for Company's expansion already underway, The first step in doing so was the signing of an agreement with Siemens Healthineers, a global company specializing in medical equipment, to offer its services throughout the region.
"This alliance is important to us because it means getting into the hands of a world leader in the laboratory segment with our product across Latin America. We will begin providing our solution in Argentina, Uruguay, Chile and Mexico during this quarter. and will subsequently add other countries in the region. Siemens will incorporate H+Trace into the services it provides to its customers throughout the region", stressed the CEO of the local initiative.
Five tech trends for 2023
One Service, Three Pillars
Focuses on providing service based on H+T Three pillars: easy to use, economically accessible to any market and environmentally friendly (It is 100% recyclable, does not contain disposable components, is recharged and can be repaired if it breaks).
"The comprehensive solution includes smart devices developed and manufactured entirely by the company, which due to their size can be located in any industry and any shipment of any size. It can be a test tube to a laboratory , a box on a pallet, or even a container, to name a few examples," said Cuello.
H+Trace uses a suite of sensors to generate data on shipping conditions, which are sent live to servers in the cloud and thus, information is available to all users in real time. Another feature of the product is that there is no need to physically touch the device to receive the information, as it is transmitted without a box or container with the items being transported. So far, it is the only existing product for organ transplantation that is fully hermetic, sterilizable, submersible in preservation solution and with wireless recharging.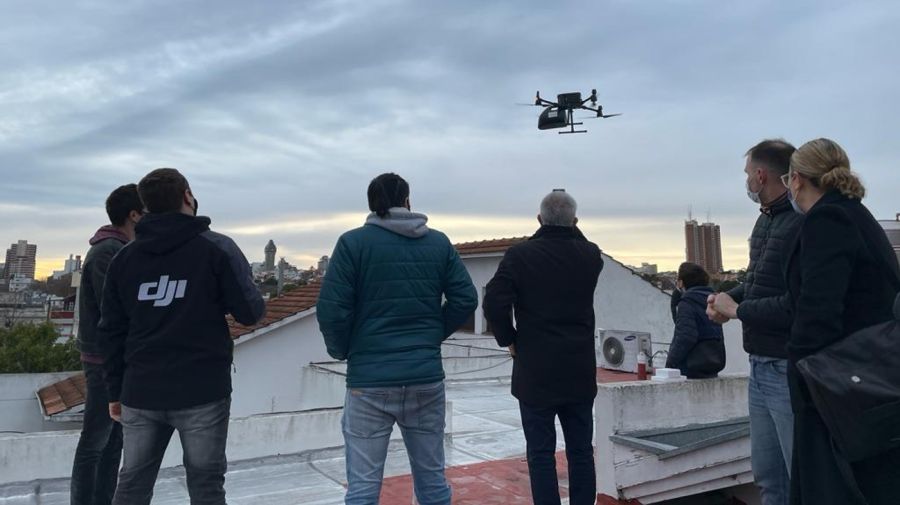 H+Trace emerged three years ago, At its inception, Vikas was selected by Google as one of the 30 most promising startups in Latin America, recognizing its potentially innovative approach. This allowed them to participate in the "Impulso Startup" acceleration program, which gave them access to specialized resources and tools, and allowed them to accelerate their growth while expanding business possibilities. Today, it is already a consolidated and constantly growing company.
In 2020 he filed the first patent in Argentina, with the aim of promoting and promoting local industry in terms of the development of technological innovations. A year later, he filed a patent in the United States, expanding his research activities internationally into one of the world's most important markets. That same year, the company executed its first round of investment, and the funds raised have enabled it to reach the industry leaders who use its service today.
At the same time, H+Trace was selected to participate in the CITES Deep Tech Venture Building Accelerator Program last year (Technological, Business and Social Innovation Center). The program focuses on supporting and promoting the growth of startups dedicated to research and development of technologies in various sectors.
MRI
You may also like