Italy did not qualify for the World Cup in Qatar. Cristian Volpato could still fly to Qatar – but the 18-year-old declined.
He is asserting himself more and more as a professional at Roma this season – and is looking forward to a future in the Italian national team: Cristian Volpato.
Imago / LaPresse
Cristian Volpato has achieved success – and under none other than coach Jose Mourinho! AS Roma, just 18-year-old attacking midfielder, has recently found himself in the limelight after Paulo Dybala's penalty-shooting injury.
First, the highly gifted talent was substituted for the first time in the Europa League in early September (1:2 in Ludogorez Razgrad – this was his debut in Gialorosi's first team). This was followed by the start of the starting eleven in a 2–1 win in Helsinki and their first Serie A call-up in the game at Hellas Verona just days later. Here Volpato managed a late 3:1 success and a decisive 2:1.
After coming in as a substitute in the narrowly lost Roman Derby (0-1), the next highlight came this Wednesday – the first starting eleven nominations at the Italian Oberhaus in a guest appearance at Sassuolo. In short: the past few weeks have been pivotal in Volpato's still-young football life.
"At the end of the day it's his decision"
but that's not all! The youngster would also get a chance to participate in the Winter World Championships in Qatar. Because in 2003 the son of Italian parents, born in Camperdown near Sydney, was offered a World Cup ticket by the Australian national team as coach Graham Arnold. The Socceroos coach has called out Volpato three times, as he has now confirmed to "Fox Sports" – including last-minute talks.
Arnold said, "I told him very clearly that he would be on the 26 team. Then he wanted to step back to think and consult with the people around him. To find out what was best for his career What was it?" But: "Last night he got in touch and turned down an offer to play for Australia in the World Cup. At the end of the day, it's his decision."
Till around 11 pm, that is, till around midnight, the national coach had tried the player in vain.
Mourinho thinks highly of his hero
Volpatto, who has also played for Australia Under-20s and after his first club appearance at Sydney United 58,
Sydney FC and Western Sydney Wanderers joined the Roma youth squad in 2020, but see their future in the squadra Azzurra. He has an Italian passport. But with his current ruling against the Socceros, Volpato's quick World Cup chance is also gone – not to come again for the next four years when the tournament moves to North America.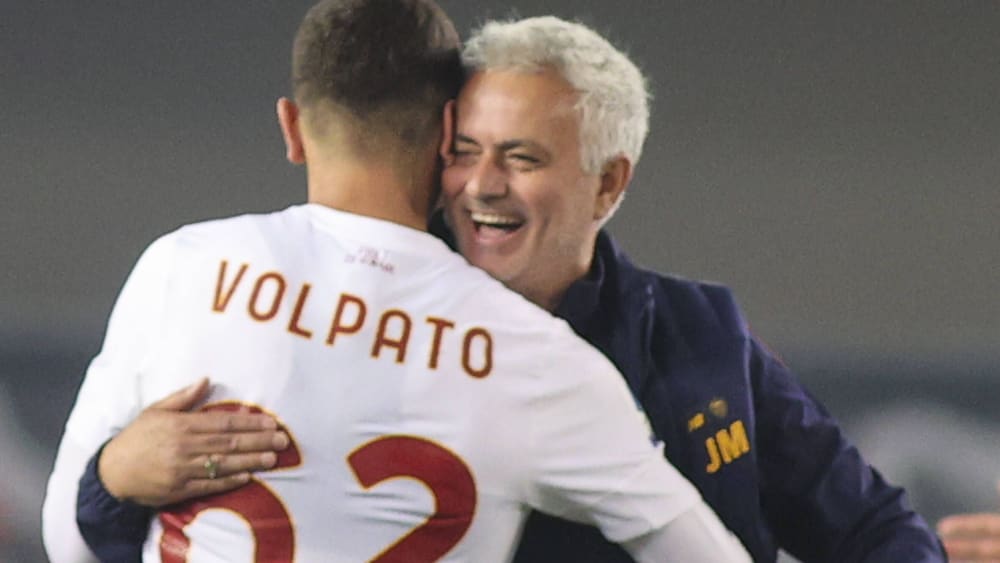 Currently having fun with his only 18-year-old Australian-Italian Cristian Volpato: Jose Mourinho.
imago/independent photo agency
And only if the talented Aussie-Italian midfielder is called up and Azuri qualifies as well. Because the Italians, who are currently being coached by Roberto Mancini, did not manage to get their ticket to the World Cup for the second time in a row – and this time as European champions as well.
Australia national coach Arnold has no doubt that Volpato can go a long way after his sharp rise in recent weeks – the coach is also not angry about the rejected offer: "Christian is a great guy. He's the first It wants to make tough decisions, if there are two countries for whom it wants to (in a World Cup; A N M. D. red.) can deposit – then Australia and Italy. So that doesn't mean he won't play for Australia."
At first, Volpato will focus entirely on Giallorossi – where Mourinho is his sponsor. For "The Special One" it is clear, as he said after Valpato's first goal and assist in Serie A: "Christian is absolutely a quality player for the first team. He is young, certainly still very There is something to be learned, but one has already reached the level that matters here." From Mourinho's point of view, mainly thanks to "his talent, creativity and his eye for goal".