Mangoes from the Northern Territory landed in Los Angeles this week and sold for $US8.99 each, which in Australian dollars is about $14 a mango.
Main point:
The US imported 556,000 tons of mangoes last year, mostly from Mexico
Australia has exported a small amount of mangoes to the US since 2015
Manbulloo Mangoes believes that the US market can grow
Manbulloo Mangoes' supply chain advisor, Scott Ledger, traveled to California to monitor the arrival of the company's R2E2 mangoes, which come from farms near Katherine.
"These are big mangoes, very colorful, and delicious," he said.
"Glad to see this good quality, because they were picked about two weeks ago."
He said Australian mangoes have been coming to the United States market since 2015 and the high price has not deterred customers.
"We spend a lot of money to get these mangoes (from Australia) on the shelf," Mr Ledger said.
"At Gelson's Markets, they don't balk at the price because they know the variety and know it's a great eating experience, and they get a lot of mangoes with the R2E2 variety.
"They tell me that the price is not an obstacle for their regular customers."
Mr Ledger said Manbulloo also sells three packs to Walmart-owned Sam Club warehouses and demand is steady.
The same mangoes were sold in Darwin this week for $4.90 each.
US market potential
Mr Ledger said a big challenge for mango exports is to ensure that logistics do not affect the quality of the fruit.
He said the industry is making big improvements and he believes in the next five years Australian mangoes will be sold not only in California but "everywhere in the US".
The US also receives mangoes from Ecuador and Peru at this time of year, but Mr Ledger said the Australian mango was a larger fruit and sweeter.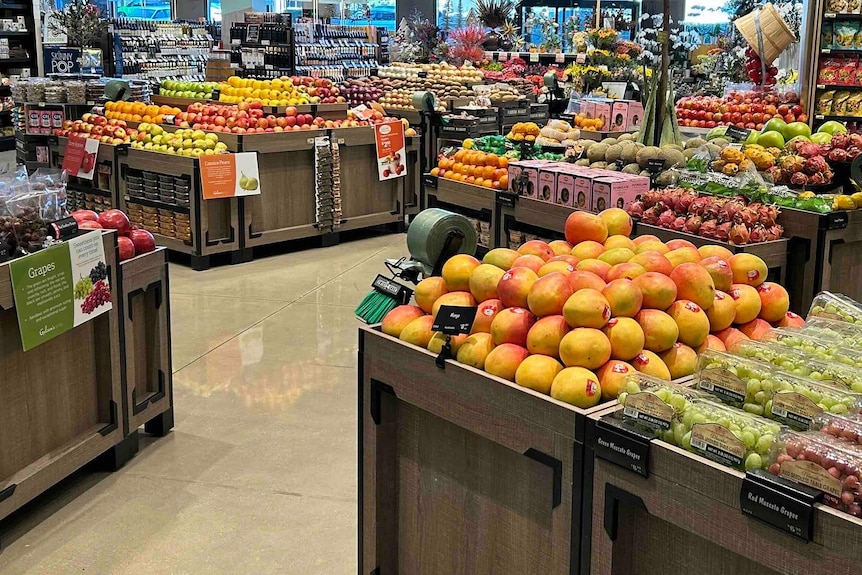 According to the Australian Mango Industry Association's export strategy report in 2022, the largest overseas customers for Australian mangoes are Hong Kong, New Zealand, Singapore, and the United Arab Emirates.
Australia exported 4,747 tonnes of mangoes in 2021-22, of which 197 tonnes went to the US.
Stories from farms and country towns across Australia, delivered every Friday.