Becky G is officially a part of the DC Comics Universe as she confirms her participation in the next superhero film blue beetle, In which he will give voice to the main character Khaji-da.
Khaji is an artificial intelligence of alien origin who controls the Scarab, a bio-technological relic that will transform Jaime Reyes into a superhero who will face otherworldly forces to save her family.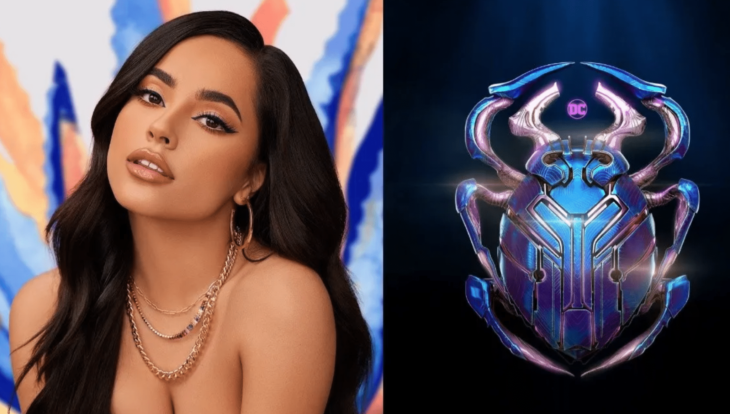 Recently, the singer confirmed her involvement in the film, although she clarified that her involvement would involve rendering the voice of Khaji-da, who would engage in constant dialogue with Jaime Reyes (the protagonist of the story) whether How else would agree to use the alien powers visualized through the scarab.
I am so excited to finally be able to share with you that I am officially a part of the 'Blue Beetle' family. I'm honored to play the voice of Khaji-da, an alien who decides who she wants to give her superpowers to and when I say that what you guys are going to experience watching this movie. I couldn't be more proud of that. I mean it from the bottom of my heart. from my heart.

– Becky G
The singer would share credits with Latin celebrities such as Xolo Maridueña, Adriana Barraza, Damian Alcazar, Elpidia Carrillo, Bruna Marquezin, among others.
blue beetle Based on the homonymous comics produced by DC Comics, follows the journey of Jaime Reyes, a teen who finds a strange alien beetle that will become a world-destroying weapon.
Get ready to hear Becky G in 3… 2… 1…
Nuevo teaser de 'BLUE BEETLE' presentando a Becky G como la voz del escarabajo.pic.twitter.com/y5hW0k0NVE

— El Multiverso de DC Comics (@ElMultiversoDC) June 5, 2023
blue beetle It will hit theaters in the United States on August 18 and is expected to succeed at the box office, surpassing projects such as Shazam! And aquaman,
As the date approaches, enjoy this little sneak peek with Becky ji's voice as Khaji-da, she's amazing!