National Meat Institute (Inac) of Uruguay achieved a 21.5% decrease in slaughter compared to last year, while exports of beef also fell by 23.6% China, the United States-Mexico-Canada Agreement (USMCA), and the European Union are the most important markets.
Inac published its report for the 2022–2023 agricultural year, which resulted in a 21.5% decrease in tasks compared to the last exercise from 2021–2022. As of June 30 of this year, the number of animals slaughtered was 2,154,806.
51% of the total slaughter controls, 33% cows and 14% up heifers According to the report, "despite the decline in slaughtered heads for the overall categories of the species, the involvement of the controls in current agricultural activity is greater compared to recent periods."
On the other hand, they assure that despite the increase recorded in the first half compared to the first 6 months of the previous year, in the second half "a decrease of 19.1% was recorded, with 1,085,806 animals slaughtered in the third half, the lowest in the last 10 years".
For other species, such as sheep, there was an activity of 1,500,490 heads slaughtered, a positive deviation of 10.7% compared to the previous year. Of these, 57% were lambs, 30% were sheep, and 7% were capons.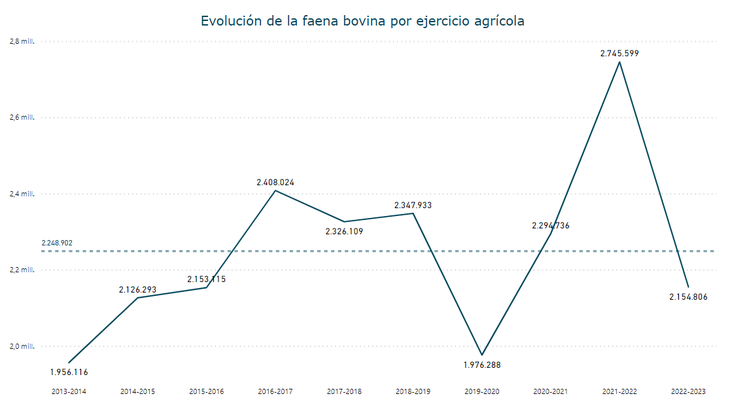 Beef exports fell by 23.6%
As for exports, according to Inac, the meat sector generated income of $2,711,752, which is 79.9% beef, 4.6% primary by-product for industrial use, and thirdly, offal, with 4.2% of the export volume.
Beef exported 475,098 tons, a decrease of 23.6% compared to the previous year. It was the biggest in the last 10 years.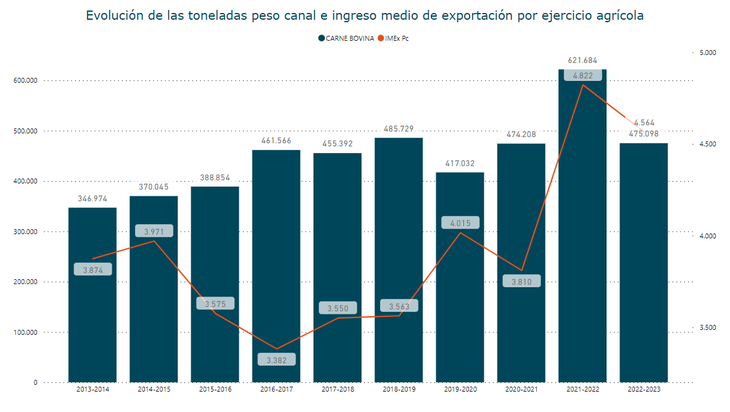 The average income per ton of carcass weight for the full year was again $4,564 per ton per head, down $258 per exported ton. In other words, a negative percentage deviation of 5.4% In this sense, it was pointed out that both the current agricultural year and the previous one are the only two periods in which the average export earnings from beef meat exceeded 4,500 USD per ton per head.
The most relevant markets were initially China, with 58.6% and 278,433 tons of beef. Second, there was the United States-Mexico-Canada Agreement (USMCA) with 20.1% of the total, which corresponds to 95,262 tons, and finally the European Union (EU) with 8.0% and with 37,807 tons of beef.