Bitcoin (BTC) has surpassed the benchmark in the stock market after flying more than 10% in the last 24 hours.
Cryptocurrency will return to the Top 10 most valuable assets in the world if it maintains its bullish momentum and surpasses Tesla, which occupies the tenth position in the ranking, according to the CompaniesMarketCap website.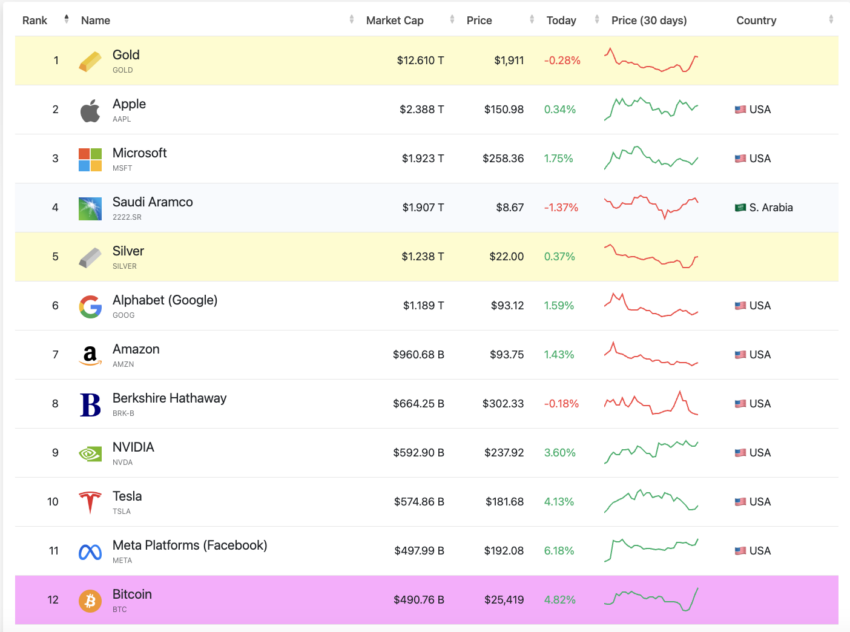 Currently, BTC has a capitalization of about $500 billion, which is under $70 billion less than Elon Musk's self-investment.
In other words, to reach the Top 10, its price will have to rise another 14%, approaching the level of $30,000, which has not been seen since June 2022.
Likewise, Tesla's stock price should remain at its current level. Despite Bitcoin not making a significant leap, the company is also trading high on the stock market, up more than 3% in the last 24 hours.
Bitcoin Hits New Year High
The price action of the world's largest cryptocurrency was surprising earlier this week. While many are waiting for the banking crisis in the United States to take the market down, Bitcoin has gone in the opposite direction and moved up again, especially after the latest speech of President Joe Biden.
This is the fourth consecutive day of growth, estimated at about 30% since March 11. At the end of the article, its price was more than $26,000, reaching its highest value in 2023.
Despite this, BTC still has a long way to go if it wants to reach new heights. Even with the recent increase, its currency value is still 60% below its record price of $69,000 in November 2021.
Bitcoin in its "glory" also surpassed the $1.2 trillion mark in market value. Currently, this capitalization puts it ahead of the standards of large global companies, such as Nvidia, Amazon and Alphabet -Google's parent company.
It remains to wait for the next developments if the cryptocurrency will be able to reach new records and establish itself in the world's largest commodity markets.
Disclaimer
All information contained on our website is published in good faith and is for general information purposes only. Any activity by reading the information found on our website is strictly at your own risk.