thesis summary
Bitcoin (BTC-USD) is approaching a "death cross", which means a crossover of the 50 and 200-day moving averages, as inflation reaches its highest level since 1982. This has already happened several times, most recently in July, and it was contrary to the intuition of a bullish signal. On top of this, we have some evidence from on-chain metrics that suggest bitcoin may be experiencing a short-squeeze, but also points to the fact that retail is losing interest while holders continue to accumulate. keep.
Lastly, I point to key levels to note for moving forward.
the dreaded death cross
A death cross occurs when the 50-day moving average crosses below the 200-day moving average. This can be seen as an indication that there is a change in market sentiment and momentum as this happens when the price has seen a continuous downward trend. We saw a death cross in bitcoin in mid-July 2021.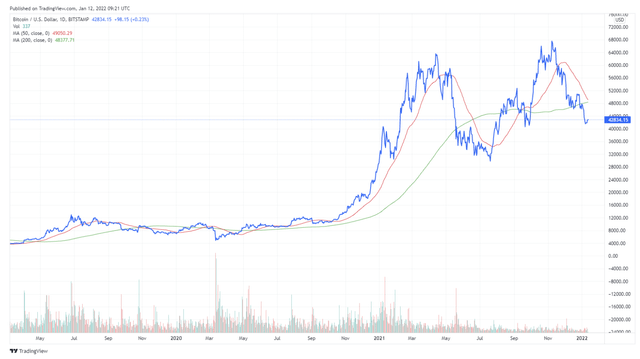 We can see an interesting dynamic play when it happened last time. Leading to the cross, bitcoin reversed course, moving from near $32,500 to over $40,000. Bitcoin fell as soon as the death cross occurred and hit a short-term low of around $29,000. However, while this was technically a bottom, it is interesting to note that Bitcoin bounced back and then continued to consolidate downwards for almost a month. This was followed by a strong rally in Bitcoin in August and September.
As I write this, bitcoin is again nearing a death cross, but it is making a strong reversal, currently trading near $43,600. The question is where do we go from here? Will recent history repeat itself? Some more information can be obtained by looking at the on-chain metrics.
on-chain metrics
Looking at some on-chain metrics, I would argue that we could see bitcoin playing out the same way it did back in June.
First, it's important to note that open interest in bitcoin is once again at an alarmingly high level where it was back in April, but still below the all-time high after peaking in November. Is. This position increases the chances of a squeeze, which could possibly be of the brief type. This is already happening to some extent, but we can go further. Leading up to the July death cross, bitcoin rebounded by over 20% before resuming the downtrend and finding new lows.
On another note, on-chain metrics are seeing very little short-term/retail activity, while holders continue to accumulate. One metric that shows this is the net hodler position change.
One way to look at this dynamic is through the Hodler Net Position Change, which is a 30-day rolling change in coin maturity. As units of BTC age and mature in the investor's wallet, they earn coin days, which are 'destroyed' when spent and help produce different lifetime metrics.
Source: Glassnode
What we are seeing right now are coins maturing/getting old. In other words, the coins are not changing hands, indicating a lack of volume and activity by retail investors. Usually this is a bearish indicator. This indicates a consolidation phase where smart money accumulates. However, I am hopeful that this will be followed by another leg up.
The question is, how long will we be united? In early July, bitcoin traded for almost a month after the death cross. This may be enough time for the metrics to reset and another bull run to occur.
We have indicators that we will see a short-term pop based on Open Interest, followed by a consolidation phase based on coin maturity. The Death Cross appeared just like last time.
what to expect going forward
So, we have a theory, but how do we put it into practice in terms of potential buy/sell levels? The chart below shows some parameters and my primary expectations.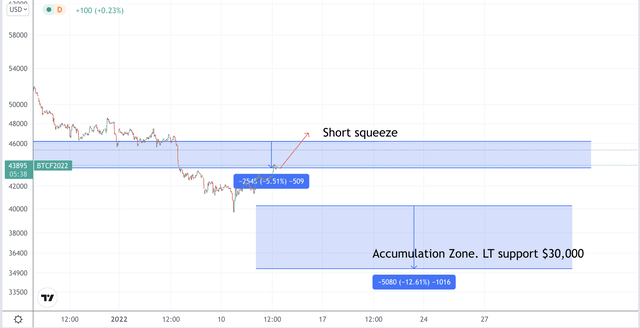 For now, the $44,000 level is a line in the sand. If the bulls can push it further, I believe it could trigger the short squeeze I mentioned, which could take bitcoin back to $46,000. After this, however, I expect to see a continued downward trend. Net support is below $34,000 followed by $30,000. I think it will go down as we go, and is a good place to add.
It is believed that Death Cross plays out like last time. I am not trading bitcoin at this point and will add if we break support.
take away
A lot of people are calling these days the start of the crypto winter, a theory I've talked about before. But wouldn't it be that easy? The market has a habit of surprising people when they think they know what's coming. I think we will eventually see a bear market, but overall, bitcoin has gotten into the system enough to see the kind of crash we saw in 2018. If I'm wrong, I'll be loaded in the next few months. Although accumulating now, I think bitcoin will see another leg up before "crashing". If it plays out like the ultimate death cross, then there is a good bull rally in the cards.
"Thank you for reading our analysis. If you enjoyed this article, be sure to sign up for our Marketplace subscription service 'Technically Crypto' starting February 15th. Early annual customers can subscribe to their A Healthy Heritage for Life is getting discounted, so if you enjoy our analysis and want to join our community of like-minded investors, be sure to sign up early."