There are things about the surreal horror of war that are hard to digest. Tatyana Sologub, 65, a native of Borodyanka, northwest of Kyiv, recalls that when Russian tanks arrived in late February and artillery began to destroy the walls of houses, she, a nurse, went to the hospital. "Coworkers called me and asked why I didn't work," he says. Not everyone had the same information; communications failed. When she introduces herself, Sologub seems tough, although he is eager to chat. Remembering the days when Russia slaughtered his city, his hands begin to shake, he cannot hold them. Finally he got to the hospital. "There was a wounded Russian soldier with a glass in his hand," he continues, "we took care of him, and in the afternoon they came to pick him up." The army, which was devastating Borodianka, called for the help of its wounded. How do you remember it? His face changes. He shrugs because he can't find an answer; it was a hospital after all. The siege of the city, one of the symbols of Russian barbarism around Kyiv, along with Bucha and Irpen, claimed the lives of about 200 people. About 20 neighbors, according to the local press, are still missing.
"Does it make sense for you to talk about it now?"
— No, you see, my hands are shaking.
But the woman remembers in detail what happened: Russian soldiers went to hospital centers for help, and those same soldiers did not allow wounded neighbors to be treated amid the mass of destruction. Aviation came for the tanks on March 1. Fighters bombed Borodianka, one of the few targets Russian aircraft attacked – only Moscow knows why. "I remember a mother with two children in the ruins asking for help," says this nurse, "but we couldn't do anything, they wouldn't let us near." This woman, who lost her husband 15 years ago, but has two children, one of whom is on the Donetsk front, and four grandchildren, spent hours and hours in the hospital until a neighbor called her on the phone and said that his house was under fire . Fire. "I went and tried to get in," he says, taking a deep breath, "but I got very scared and went down to the shelter because there was shooting." He couldn't catch anything.
Perhaps this is one of the great injuries of those who managed to survive the offensive launched by Moscow. Lose the house with everything inside. No photo, nothing, Sologub keeps nothing. The clothes he wears, he says between sobs, are borrowed from second-hand stores. And with everything he's lived and told, it's when he breaks out and sheds tears. "I always live on the verge of tears," he continues, "but I don't like being left with clothes." This nurse, who continues to practice, says that where she now lives, several residential modules built in collaboration with the Polish government, there is psychological help, but she calms down in her own way. "What I do," he decides, "is cry."
Join EL PAÍS to follow all the news and read without limits.
sign
Wearing a khaki shirt and camouflage pants, Konstantin Moroz, deputy mayor of Borodyanka, walks among these 5,000-square-meter modules. His history before joining the city council of this city, which had about 13,000 inhabitants before the war, is distinctive. He comes from afar, from Izmail, in the south-west of the country, not far from the Romanian border. He was in the military, but health problems forced him to retire. When the war began, he began to work as a volunteer in the Kyiv region, and from there, thanks to his hard work and experience, he ended up in Borodyanka, where he was offered the position of deputy mayor. He takes care of everything related to those evicted from their homes – according to his calculations, due to requests to accommodate them, about 4,000 people. At the moment, 258 people live in the modules on what is. Now a battery of washing machines is being installed in one of the rooms.
At first, the vice-mayor says, when they arrived at these panel houses, people did not communicate. "Now people are starting to talk," says Moroz, "they have relaxed, they are getting better with each other, they are getting to know each other." After all, as Tatyana Sologub said, 77 families living here have round-the-clock psychological assistance and a doctor. But horror tires everyone. "When I was a volunteer," recalls this municipal position, "I came home, I felt exhausted, and it was because of the desolation." "I want these people," he continues, "to be a symbol of the resurrection."
Not everyone has such motivating words. Igor Pavlishchenko, who has just eaten, is 39 years old. He is a strong man; He shows it with a handshake, no doubt. These days in Ukraine, it is not easy to hear criticism of the government of Volodymyr Zelensky. "I feel very sorry for the people we lost because of the mistakes of the government," he says, "they did nothing to evacuate, they did not give us the opportunity to escape." Pavlishchenko worked on repair work in the municipality. He has an 11-year-old son who is hanging around with the ball like he wants dad to stop telling these stories and play the game. When Russian tanks rolled up, this man dragged his family to safety and helped his neighbors escape into the forest. "They called me," he explains, "and I took them out in my car."
His house in quarter number 359 was also damaged by Russian fire. As soon as they left the area, this man returned to his family and managed to return, according to his calculations, 30% of the things from the house. The quarter will be demolished and they will try to live on rent. Now he works at a construction site, but the trauma from the experience remains. He admits that his son suffered "stress" because "he saw dead people, shots fired at his house completely destroyed." The boy nods when asked if he remembers it. Pavlishchenko explains, if his direct tone is embarrassing, that he does not feel anger, but rage.
Did you give yourself a chance to cry?
-Sorrow? For whom? You have to take it inside, I don't want it to come out. I have motivation (looks at son) and I can't cry.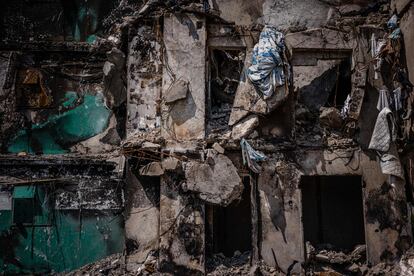 According to the expert opinion of the Borodyansk City Council, from the end of February to March, 2001 houses, including 11 apartment buildings, were damaged by Russian artillery and aviation. Some buildings may be restored, while others will be demolished. At the moment, timid at first glance, the reforms are taking place on the main street of the city. The trace of destruction is still as visible as it was five months ago, in the light of day for all the neighbors. As in the small town of Zagaltsy, about ten kilometers northwest of Borodyanka. Russian fighter jets were also bombing there. The image of horror here is on Independence Street. Almost none of the houses survived intact, all built on the same floor and with gabled roofs, next to the greenery that covers the ground.
A group of volunteer artists are restoring and beautifying what was a dispensary a few years ago so it can serve the Consistory in a friendlier way. Among them is 54-year-old Irina Pasternak. He is from Borodyanka, and he was lucky that his house was not damaged, although he suffered personal losses. Olga Vilnichenko is one of those who have not yet appeared. She was a friend of Pasternak. "She had three children, and I remember that when she came to yoga classes, she fell asleep, leaning against the wall from exhaustion," she recalls with a certain smile. Vilnichenko's husband was a policeman and became one of the first victims of the attack. They don't know what could have happened to her and her three children, but where they lived is just a hole.
Among these volunteers, they say that older people do not want to go to a psychologist, which is not very popular in a country like Ukraine; that the youth might go. They remember that there were tortures and rapes, but the neighbors, who at first told something, now do not. This is a city, you have to be careful what they say.
According to the mayor of Zagalets, Sergey Nedashkovsky, aged 49, out of 868 houses that existed before the war, 126 were razed to the ground, 210 had minor damage and 80.30% were destroyed. Among all this, for example, a school and a kindergarten. In Zahaltsy, too, they decided to build modules, this time with the help of the Polish Catholic Church, each next to the ruined house. Winter is approaching, and in many houses on Independence Street, neighbors are having difficulty repairing, first of all, roofs and windows. Others have nowhere to start. "Almost everyone is psychologically ill," the mayor of the city notes, "especially those who have lost their homes. You can help them now, but if they see again in two days that they don't have a home, they will fall again. They feel abandoned."
Follow all international information in facebook at Twitteror in our weekly newsletter.
50% discount
Subscribe to continue reading
read without limits