generative artificial intelligence This 2023 has revolutionized the technology sector. There isn't a company that has even the slightest vision of the future that hasn't started to 'flirt' with this technological trend in order to explore its -almost infinite-potentials.
It seems that a century has passed since I was introduced to ChatGPT in November 2022 and it is Time is measured by other parameters when it comes to artificial intelligence.
The Finovating startup was able to quickly see the opportunity that was opening up with generative artificial intelligence for a field like its own: the matching as a service for industry Fintech.
(The 'LinkedIn B2B' of 'Fintech' innovation in the world is Spanish)
fintech Spain has developed a platform that has generated more than just last year 15 million interactions between companies -Corporates and Startups – from over 125 countries.
that's right large amount of structured data Thousands of companies who have combined their technology with the technology provided by OpenAI to provide differential value to their proposition.
(Spain takes bronze in the podium of 'Fintech' active in Europe, behind only the United Kingdom and Germany)
"We started with some OpenAI algorithms to see how we could build our own GPT, but it was oriented towards companies, business. statistics A well-structured structure has allowed us to achieve results with great perfection, which other companies have achieved and which are not sufficient for the demands of this technology", explains. Rodrigo Garcia de la Cruz, CEO and Founder of Finovating.
Therefore That's how MatchGPT was bornproject of fintech Spanish which was recently presented in Abu Dhabi within the framework of the largest investment program in the country. "Now we have presented it officially in Europe, also taking advantage of the presence of the CEO of OpenAI in Spain this week."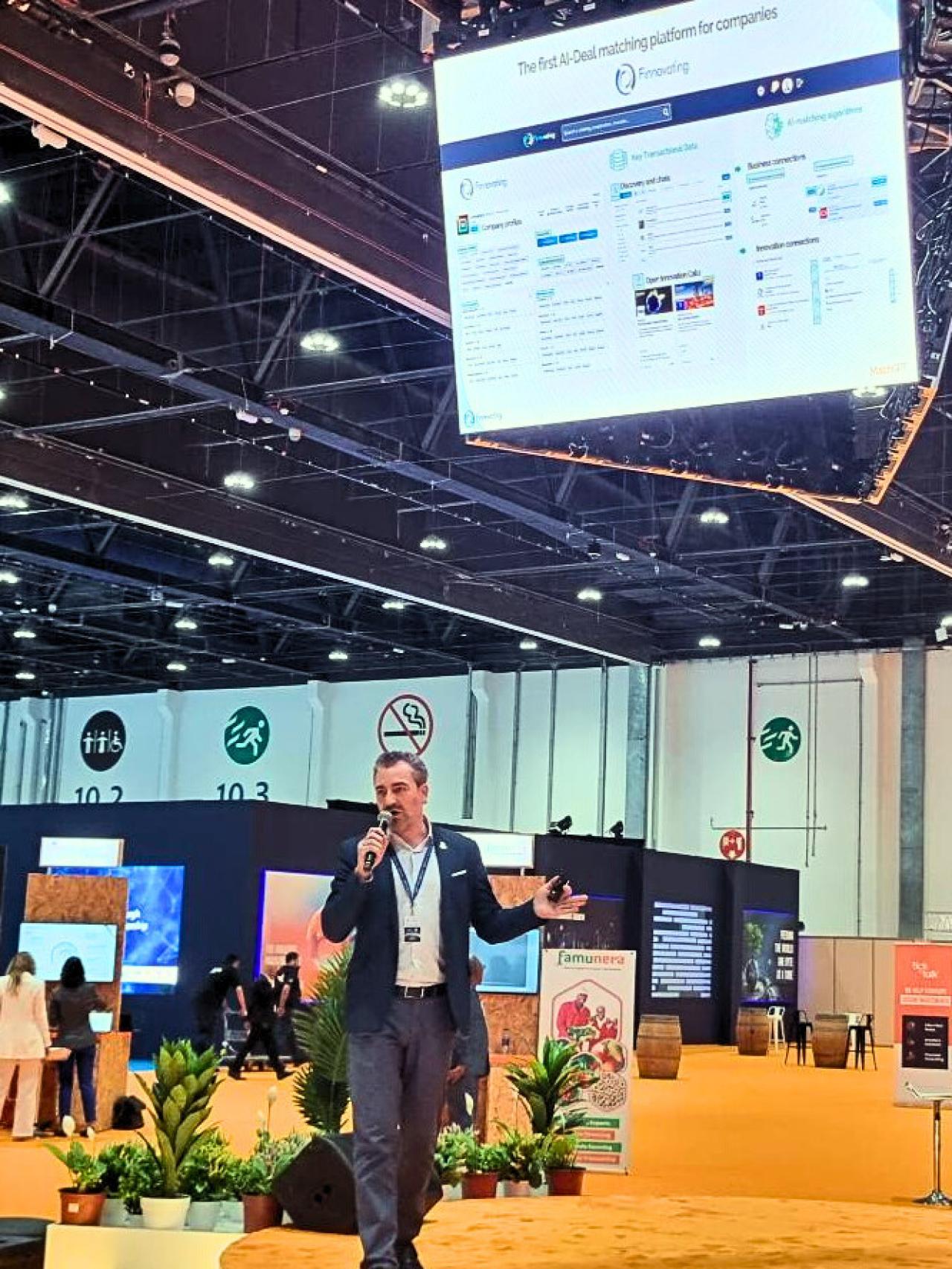 Rodrigo Garcia de la Cruz, at the recent MatchGPT presentation in Abu Dhabi.
But what is the added value provided by MatchGPT and how is it different from ChatGPT? Spanish firm aspires to propose Be a complement to OpenAI Smart Chat.
"ChatGPT is a great tool but it is very oriented towards texts, information… but it is not designed to promote business between companies", explains Rodrigo García de la Cruz.
there is a qualitative leap in Matchbox MatchGPT-Name between Corporates, Startups and Investors has been facilitated that fintech It has already been registered in Europe and America. "We've built an intelligent digital assistant but we've also tied it to our platform so it can connect with companies."
In this way, MatchGPT can answer any question about technical concepts – what is a fintech, an insurtech…-, but also how to grow one fintech or what are fintech of reference in a specific country.
The 'match' between companies: the key
"If you ask Google, it will give you information, text… We, by combining data from our platform, lead you to the specific contact you're interested in and we facilitate it Matchbox If you are not a user you will not have itLogically, of the platform, and where our difference lies".
Finally, as Rodrigo García de la Cruz points out, his proposal "Provides you all the contacts and profiles of our B2B business platform This great brain in the Fintech industry to be more efficient in generating those businesses among corporates and startups".
We give all the data, contacts and profiles of our platform to this great brain to be more efficient in generating business
"If you want to know who are the seven most important fintech companies in Kenya, it will not only list them for you, but it will also put you in touch with those of your interest through the platform."
Hence, MatchGPT is not just another product but a vertical integration with Finovating platform which now opens a new phase in this sector.
And that's the Spanish startup's proposal Pioneer in the development of GPT technology applied in the field of business, Both B2B and Fintech industries, which shows that sometimes, in addition to having talent, you have to control the timing to go to market at the right time and, if we talk about artificial intelligence, be the first to do so .
Follow the topics that interest you
(translate to tag) fintech