Carlos Alcaraz lost in the round of 16 at the Shanghai Masters 5-7, 6-2, and 6-4 against Grigor Dimitrov, 19th in the world, who offered his best version. The Murcian, who won the first set with difficulty, could not find a way to counter the powerful outside serve of Bulgaria and made a total of 31 unforced errors compared to 26 for his opponent.
Alcaraz's big events show only flashes, which have some good action but too many gaps in their proposal. He rose once, but then he always dragged Dimitrov with very clear ideas and almost perfect execution.
The first set starts with the same, with Carlos Alcaraz being more imprecise than normal. There were mistakes, too, in his best shots, but he continued his serve until, in the fifth game, Dimitrov broke serve, thanks for his courage and success.
Slowly, the Murcian carbureted until he regained the lost ground in tenth. From there, it looked like Alcaraz was getting stronger, while the Bulgarian seemed to be starting to lose his chiospa. A new break of service and 7-5 for Alcaraz, who apparently reacted.
Carlos Alcaraz ended the rebellion in Shanghai
Alcaraz walked in its premiere in Shanghai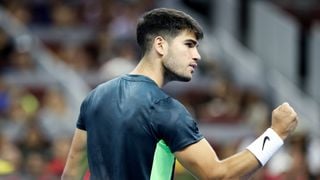 Carlos Alcaraz makes it clear what his "obsession" is.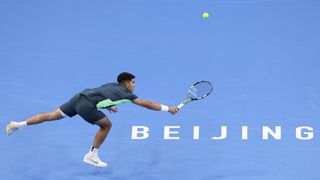 However, the second set was a disaster from the start, as Dimitrov reached a break for the first time and set the pace for the entire set, supported by his powerful serve and Alcaraz's inability to provide continuity in his game. A new break decided the set in Dimitrov's favor with a comfortable 6-2 where the Spaniard's bad feelings were concerned.
There was one set left to recover, but the truth is that he never reached his peak and the Bulgarians, uninterrupted in their services, always found the exterior angle. It all started to go wrong in the third game, with Alcaraz's poor foray into the net making it 1-2 for Dimitrov with one serve.
In the seventh game, world number 2 overcame a complicated situation to stay in the game, but the truth is that his opponent did not slow down, and he held his serve long enough to finally win 6-4 for a total of 5-7, 6-2, and 6-4, ending the first victory in his career against Alcaraz. He did not know how to respond to his exhibition and said goodbye to Shanghai with a discreet paper. The star does not always shine.