Red Means "red" in Menorcan. It is the color of sunsets on one of the most beautiful islands in the Mediterranean, known throughout history as the "land of fire", a place of livestock and tranquility. It is also the name of this restaurant that opened its doors this summer to be a window into the past and future of Menorcan cuisine.
Located in the hotel Remnant of Son Velljust, a few steps from the bay, and named 20 minutes south of the historic citadel, Red offers a unique dining experience that takes guests back in time. All through Aromas, centuries-old recipes are reinterpreted and adapted to the present by the Menorcan chef Joan Bagur, who is in charge of his kitchen.
In a historical place
Surrounded by greenery, this original 18th-century palatial house lives in harmony with several traditional farm buildings scattered throughout the property. There, the restaurant Red, with a capacity for 60 guests, occupies what was once one of the two old cattle sheds or stables, where original materials such as sandstone or wooden beams have been preserved and consolidated, and an old clay floor has been added that gives it warmth.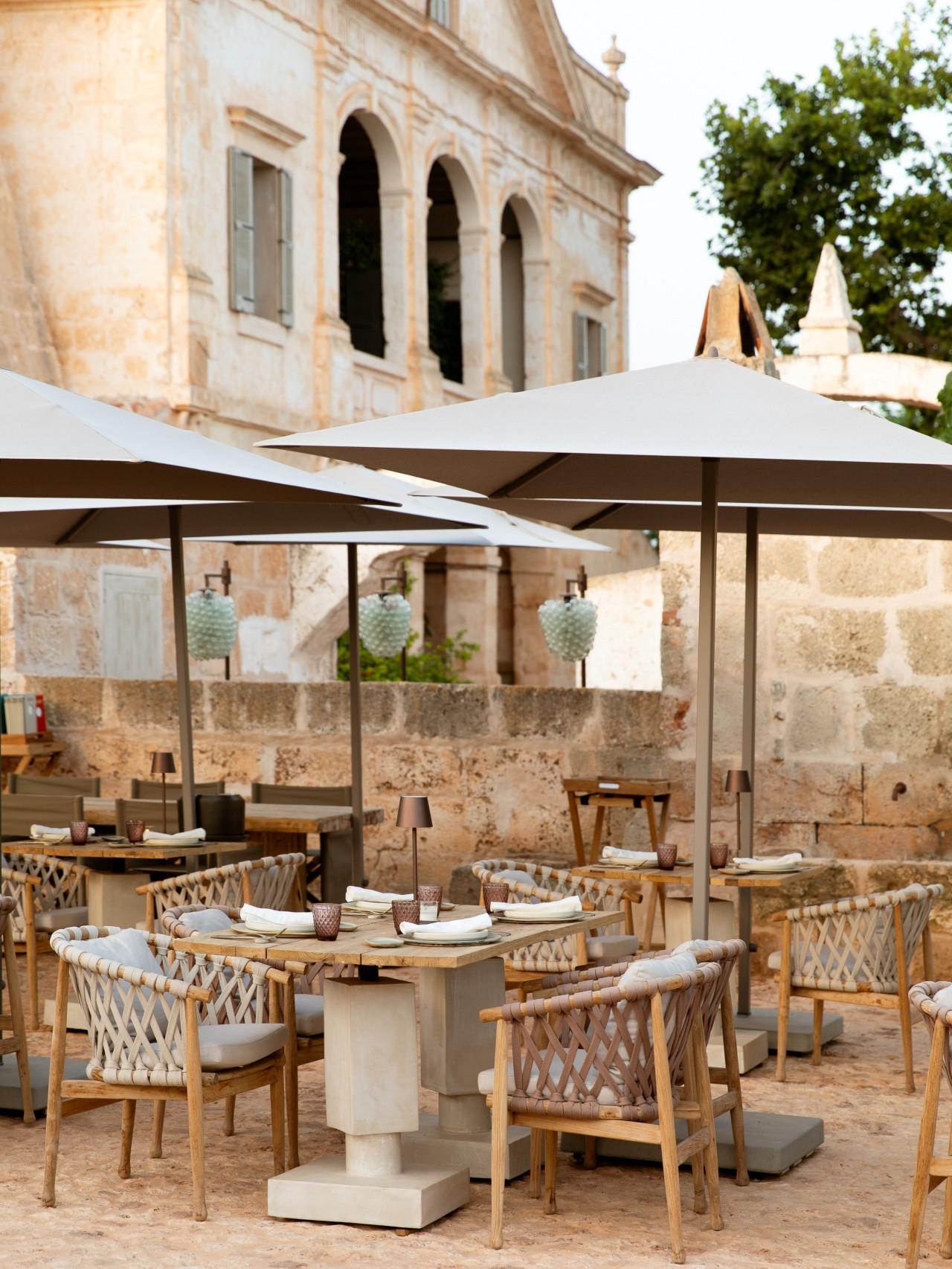 It features recycled old teak tables and chairs that combine painted walnut with linen-upholstered sofas and armchairs. The lighting combines copper, brass, and linen fabrics. In this way, the essence of the space and its volumes are preserved, but with a fresh and modern atmosphere. The terrace from Red has a beautiful old stone floor and is situated next to an old mill, creating a magical space. This area comes alive at night as night lighting with alabaster and blown glass lamps creates an intimate and cozy atmosphere outdoors.
Your gastronomic offer
The restaurant reveals the legacy of Menorcan manorial cuisine, based on recipes with a lot of history that the cooks exchanged between different houses on the peninsula. In this way, links were forged between the island's noble families and those of other areas such as Mallorca, Andalusia, and Aragon, which are reflected today in some of these dishes. These recipes also reflect the Influence of the cities and peoples associated with Menorca, with allusions to Britain and France originating in 18th-century English and French rule.
So, Red is a temple of haute cuisine with a pure Menorcan essence It relies heavily on the island's producer network to source the freshest ingredients from the local pantry. Whether à la carte or as part of a tasting menu, enjoying the history and tradition of Menorca from a contemporary perspective and using the best local products is the main mission of the restaurant, whose menu is divided into three parts: starters, main courses, and desserts.
Some dishes on the menu
Snacks like Zucchini stuffed with shrimp or oil and water are served as appetizers. The first is a zucchini cannelloni with a mousse with its filling, served with a gazpacho of white prawns with garlic, while the second is a stew of country bread accompanied by a nitro tomato from the soup, a tartare from the sauce, diced melon, and/or figs.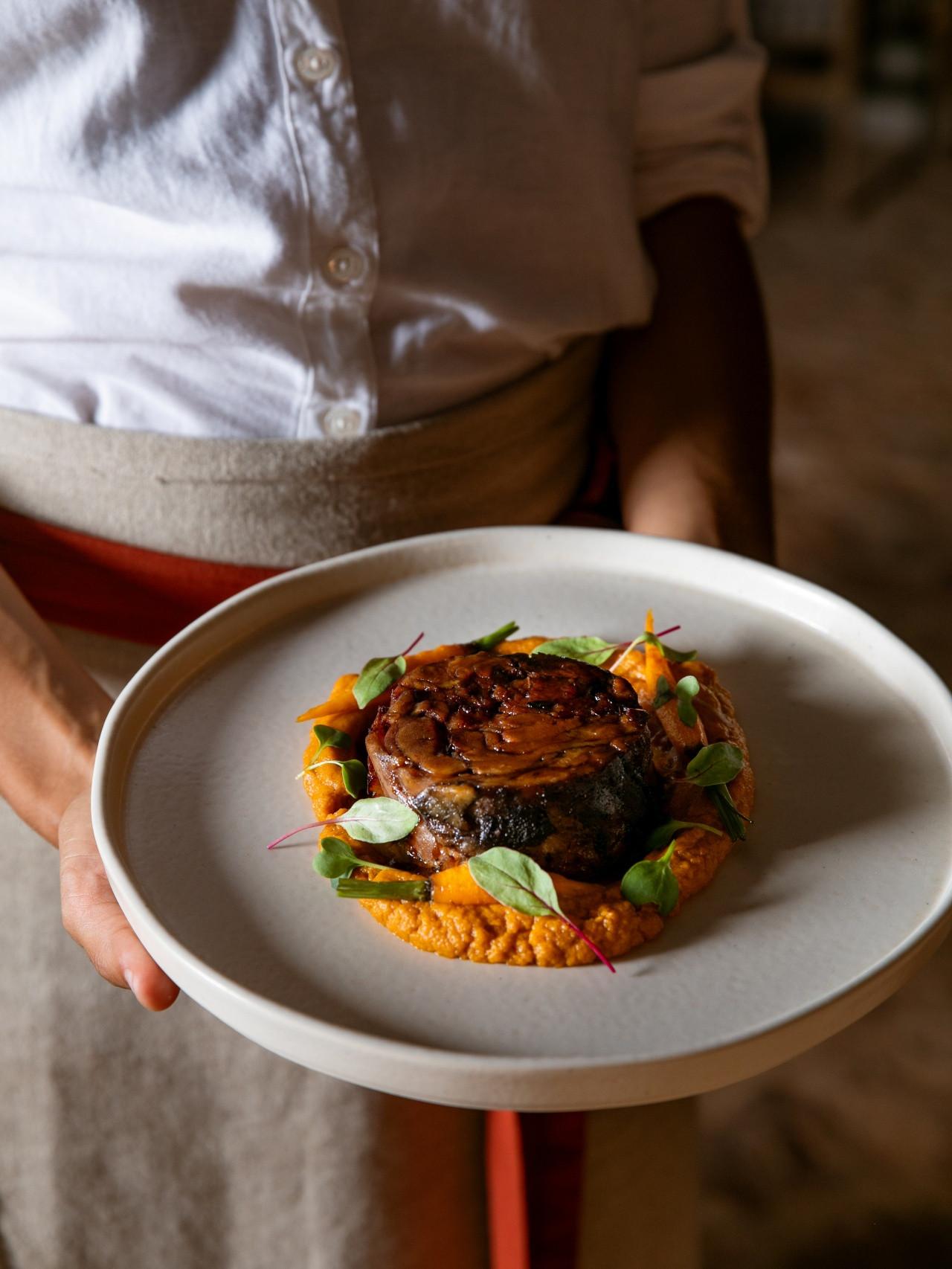 Lamb stuffed with "Barret de Sant Anton"
Then the time will come for main courses, among which stand out various options both on water and on land. Among them are seafood options such as Red mullet with old fisherman's sauce or the emblematic lobster stew family recipe of the chef's grandmother, Concha Bendito Saura.
Carnivores can also choose between different dishes Veal fillet from Menorcan red beef -native breed- with roasted Josper vegetables and rat potatoes sautéed with garlic and rosemaryuntil Chicken "Rei en Jaume"boneless and stuffed with a delicious stuffing of sweet potatoes, apples, raisins and almonds.
The last sweet touch will be dessert Unique dishes that reflect the heritage of Menorcan cuisine of yesteryear. underneath, the love of the 3 oranges: orange cream, bitter orange gel, chiboust Clementine, orange, pumpkin, and cardamom sorbet with throw almonds and orange peel; or the renewed version of the classic thick milk or roasted milk half-baked with Regaliz infusion (Palodu), roasted milk ice cream, licorice jelly, and gunpowder granita from the Duke.
Of course, if you don't want to do without chocolate, you also have the whole world of chocolate on your plate with different nuances, textures, and flavors.
In addition to the letter R, count one tasting menu. This allows the guest to enjoy a significant and representative part of the dishes offered by the restaurant. For 110 euros per person, there is a choice of snacksDishes and desserts on the menu, and the possibility to add a selection of Menorcan cheeses.
address: Cam de Son March S/N, 07769 Ciudadela, Menorca
Time: From Monday to Sunday, from 8:00 p.m. to 10:30 p.m.
Ticket medium: €65–70
Phone: 971 93 94 24