Deputy Susana Cano de Morena, presented an initiative that seeks to increase fines for businesses that charge commission to those who make them payment by credit or debit card.
With this initiative, the deputy proposed the reform of article 15 Federal Consumer Protection Actwhich says:
"When the collection is made by direct charge to a credit, debit or similar account of the consumer, the charge cannot be made until the delivery of the goods, or the provision of the service, except when there is the express consent of the consumer. later."
He also plans to modify the current numbers MORE established in article 126 ranging from $205.80 pesos to $658,570.67 pesos. If the initiative is approved, the penalty for those who collect a commission, amount or additional charge will go from $311.73 pesos to $997 thousand 568.98 pesos.
This reform seeks to protect the consumer rights "and there is a level floor for all of us who want to pay with cash or via credit and debit cards."
Recently, the increase in banking or mobile terminals in small and large businesses has resulted in the collection of a small commission or an additional payment to accept this payment method, with rates ranging from 3% to 6% of the total amount to be paid.
The contracts that the vendors sign with the banking institutions for the rental or total acquisition of a mobile terminal, it is established that the business must pay the surcharge and not the consumer.
Therefore, the lack of a legal rule that penalizes businesses when they carry out a additional charges in the amount previously established between the seller and the buyer for the products or services purchased.
According to Cano González, "This gap in our legislation opens the door for this practice, which is contrary to consumer rights, to be "normalized" to the extent that it becomes a custom accepted by both service providers and consumers" .
Is paying with a credit card expensive?
repeat, Ricardo SheffieldThe Federal Consumer Attorney encouraged consumers to report the issue prophecy These are negligence committed by suppliers of goods, products and services.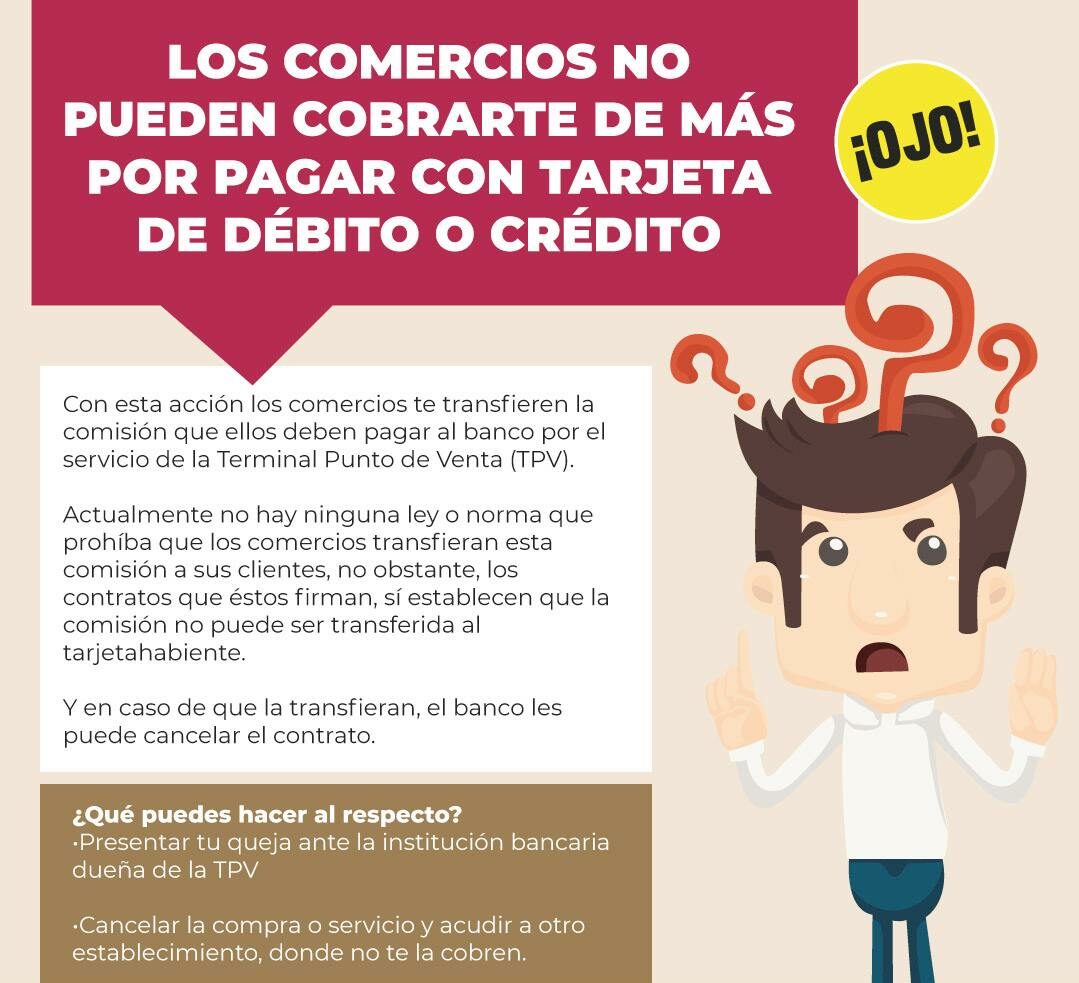 However, it has become a controversial issue because supermarkets handle different costs for cash payments and payments made by credit and debit cards.

Likewise, information is available on the official website driving It is only aimed at large businesses because it refers to facilitating cash transfers without hiring a value transfer company, but what about small businesses that make use of bank transfers and had to invest in a terminal to participate in the program government such as Senior Citizens, uniforms and supplies.
To achieve better management of banking and mobile terminals, it is necessary to create a regulation that does not generalize the income of small and large businesses that are gradually added to the receipt of payment with credit and debit cards and government programs. In the current scenario, making payments with cards of any kind turns out to be more expensive than cash payments.
It may interest you.
How a credit card works
Debit. Conditions and how to get it from BBVA, Citibanamex or Banco Azteca
Can you withdraw money from the Mi Beca para Empezar card? This was said by the CDMX government