Charu Asopa on dating Sushmita Sen: Lalit Modi first announced his relationship with Sushmita Sen, the next day Sushmita confirmed her relationship. Meanwhile, all eyes were fixed on Sushmita Sen's sister-in-law Charu Asopa. At the same time, Charu Asopa has made such a post on Insta Story about her sister-in-law Sushmita Sen which has come into the limelight. Charu Asopa's reaction is also in the headlines because Charu is going to divorce Sushmita Sen's brother Rajeev Sen soon. In such a situation, this reaction of Charu Asopa is becoming increasingly viral.
Sushmita getting trolled
Ever since Sushmita Sen confirmed her relationship with former IPL commissioner Lalit Modi, various things are happening on social media. Some are taunting Sushmita Sen about Lalit Modi, who is 10 years old, while some are taunting the actress for her property worth crores. Some people even said on social media that money is a big thing.
Just back in London after a dizzying global tour #maldives #Sardinia with families – not to mention me #Better Looking Partner @sushmitasen47 – A fresh start finally a new life. Love on the moon does not mean marriage yet. but one to be sure pic.twitter.com/WL8Hab3P6V

— Lalit Kumar Modi (@LalitKModi) 14 July 2022
Charu Asopa breaks silence
Sushmita Sen's sister-in-law Charu Asopa has written a caption on a screenshot on Insta Story. This caption is grabbing the attention of the people. Whatever is written in this screen shot, the fans are watching it by connecting it to Sushmita Sen. In the screen shot, it has been said that there are two daughters, whose direct indication is going towards Sushmita Sen somewhere. In such a situation, Charu Asopa has supported her sister-in-law without naming Sushmita Sen.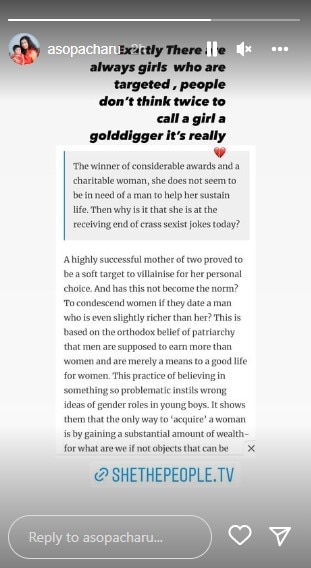 said this thing
While sharing this screenshot, Charu Asopa has written a caption on it – 'It is right… people always target girls only. He doesn't even think once before calling girls gold diggers.