The production of the COVID-19 vaccine has expanded significantly. It is now estimated that global production exceeds 1.5 billion doses per month, quickly pushing the world to reach the 11.3 billion doses required to vaccinate 80% of adolescents and adults, and it is possible to end the pandemic. By the end of 2021, total production may reach this target.
The protection of the global population will soon no longer be hindered by limited supply. However, despite the expansion of production scale, obtaining vaccines remains a daunting task for many low- and middle-income countries. In terms of COVID-19 vaccine coverage, poorer countries lag far behind richer countries. In low-income countries, less than 3% of people are fully vaccinated.
As the world approaches the ability to vaccinate everyone, more needs to be done to ensure that the vaccine will eventually be vaccinated to those who need it. This is what hinders.
Start production
Part of the problem is that production is concentrated in relatively few countries. Almost everyone imports COVID-19 vaccine, but 80% of exports come from only ten countries, and low- and middle-income countries hardly appear in the COVID-19 vaccine supply chain. As a result, they cannot always obtain the supplies they create, and when trying to secure imports, they are often defeated by rich countries that usually over-order.
One way that vaccine manufacturers are trying to solve this problem is to diversify vaccine manufacturers. For example, AstraZeneca is collaborating with Siam Bioscience in Thailand to produce vaccines specifically for the region in Southeast Asia. Johnson & Johnson is cooperating with Aspen PharmaCare in South Africa to increase supply to Africa.
Other countries are also becoming producers. The Vietnamese manufacturer will produce Russia's Sputnik-5 vaccine. Egypt has signed an agreement to see it produce 1 billion doses of Xenoxin vaccine each year, many of which will be used to supply Africa.
Another benefit of these agreements is that they can produce vaccines closer to where they are needed. The tight supply chain is causing problems on a global scale, and the medical supply chain has been under pressure throughout the pandemic. Shortening the supply chain is expected to enable low- and middle-income countries to reduce the shortages and pressures they face in other parts of the world.
There are also calls for a patent exemption for the COVID-19 vaccine to legally allow countries to produce doses of existing vaccines without the participation of the pharmaceutical companies that developed them. But so far, the call for this has not been successful.
Vaccine patent exemptions alone cannot solve the problem of access. For low-income countries to produce their own doses, technology and knowledge need to be transferred along with legal production rights. Financial support is also needed. At the time of writing, vaccine manufacturers have not yet freely shared the knowledge behind their products.
Supply will not end at the border
Traffic also needs to be resolved. The logistics of launching a COVID-19 vaccine in low- and middle-income environments can be very challenging.
Roads to remote communities may be non-existent, dangerous, or poorly maintained. For example, in Indonesia, the authorities have found that certain island communities have difficulty obtaining medicines. But these challenges can be overcome. In Bhutan, vaccines must reach hard-to-reach mountainous areas by plane or on foot. Countries such as Malawi and Vanuatu have tested the use of drones to deliver vaccines. Good planning and originality can increase delivery rates.
At the same time, keeping the COVID-19 vaccine at the required temperature during transportation and in the warehouse is a particular concern. But this is not new. The Ebola vaccine also needs to be stored at ultra-low temperatures and has been successfully distributed to the conflict-affected northeast regions of the Democratic Republic of Congo and other areas. This experience in fighting the disease outbreak should help establish the necessary logistical support.
Vaccination needs to be humanized
After all, people need to be willing to be vaccinated. They also need personnel and facilities to vaccinate them. However, there is a severe shortage of medical staff around the world, and low- and middle-income countries are particularly affected.
Staff need to receive special training to get COVID-19 vaccine, which is why the World Health Organization provides online training in multiple languages ​​for frontline staff. Local knowledge is also important for establishing vaccination sites that meet the needs of the population-there is no point in providing vaccines where people cannot or do not want to get vaccinated.
In some places, hesitation is also an obstacle—for example, in the East African countries of Uganda and Tanzania. A consistent message transmission is needed to overcome it, and the authorities need to engage with the public about their specific issues, which may be related to religious or cultural factors or concerns about safety. Lessons learned in one country are unlikely to be directly transferred to other countries, but they can provide information for effective development strategies.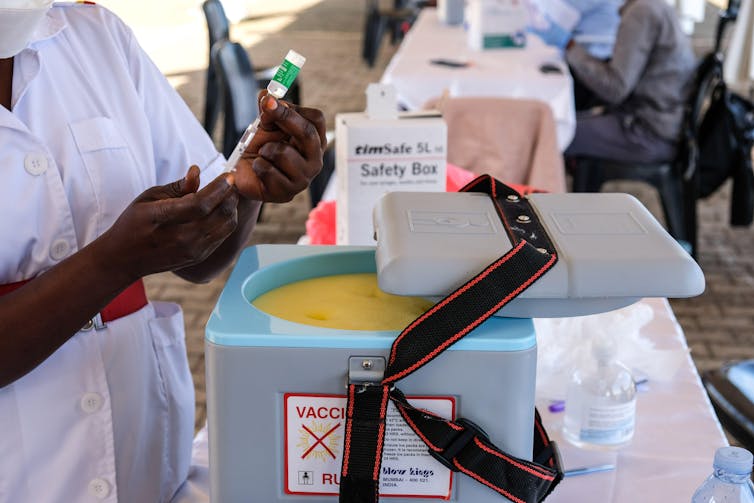 There is extreme inequality in access to the COVID-19 vaccine—and the pandemic will not end until it is resolved. In low-income countries, only 2.3% of people have received at least one dose of the vaccine. In the UK, this figure is close to 90%. Changing this is morally necessary, as is economically. Before the virus is suppressed, global trade cannot recover normally.
Ending the pandemic will mean providing more doses to low-income countries. This will require better delivery of vaccines in hard-to-reach areas of the world. This will mean ensuring that people in low-income countries want to be vaccinated. As vaccine production continues to increase, it is important to remember that all three points need to be addressed.
This article is republished from – The Conversation – Read the – original article.