Oklahoma Governor Kevin Stitt on Thursday commuted the death sentence on Julius Jones, who was sentenced to death, just hours before he was due to die.
The Republican governor intervened less than four hours before Jones, 41, was to be executed by lethal injection at Oklahoma State Prison in McAlester.
"After prayerfully considering and studying the materials submitted by all parties to this case, I decided to commute Julius Jones's sentence to life imprisonment without parole," the governor said in a statement.
Stitt issued a decree to this effect on the condition that Jones would never again be eligible to apply for commutation, pardon, or parole.
The crowd of Jones supporters erupted into loud applause and applause at the Oklahoma Capitol when the decision was announced just after noon. Meanwhile, over 100 supporters gathered outside the McAlester prison erupted into applause.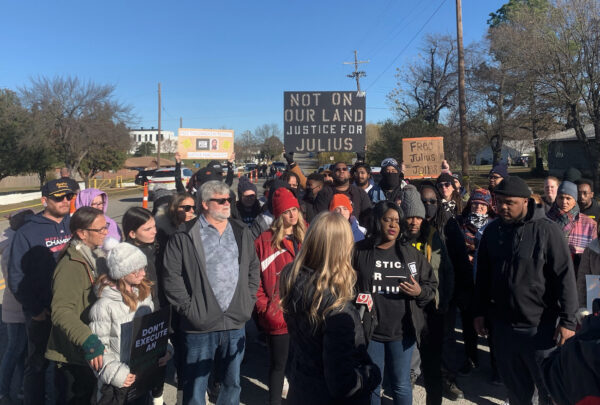 Jones was sentenced to death in 2002 after Paul Howell, an insurance company manager, was killed in 1999 in a car theft.
Jones said he was framed by a real killer, a high school friend and co-accused who was a key witness against him. He and his family claim that he was at home the night of Howell's murder, dining and playing games with his siblings, and that the jury never heard this information at trial.
Information from the court records shows that witnesses identified Jones as the shooter and placed him with Howell's stolen car. Specifically, Howell's sister, Megan Toby, testified before the State Pardon and Parole Board that she saw Jones shoot her brother on his parents' driveway in the Oklahoma City suburb of Edmond.
"We know Governor Stitt had a difficult decision to make," the Howell family said in a statement Thursday. "We are comforted that his decision confirmed Julius Jones's guilt and that he was not eligible to file or be considered for a commutation, pardon, or parole for the rest of his life."
The Jones case came to prominence after the 2018 three-part documentary The Last Defense highlighted his plea of ​​innocence and attracted the attention of numerous sports personalities such as NBA stars Russell Westbrook, Blake Griffin and Trey Young, as well as NFL quarterback Baker. … Mayfield, who kept urging Stitt to commute Jones' death sentence.
A DNA test initiated by Jones' defense team that same year further linked it to the 1999 murder. Investigators found the murder weapon, wrapped in a scarf with Jones' DNA, in the attic above his bedroom. But Jones claimed in his replacement application that the gun and handkerchief were planted there by a real killer who visited Jones' home after the murder.
Oklahoma District Attorney David Prater and former Attorney General Mike Hunter have previously said there is compelling evidence against Jones.
Oklahoma's current attorney general, John O'Connor, said Thursday that he respects Stitt's decision to commute the sentence, but remains convinced of Jones' guilt.
"We are very disappointed that, after 22 years, four appeals, including 13 appeals judges, investigators, prosecutors, juries and a judge, have been canceled," O'Connor said.
Demetrius Minor, national manager of the death penalty Conservatives, thanked the governor for pardoning Jones.
"We thank Governor Stitt for pardoning Julius Jones," Minor said in an email statement. "However, this does not negate the fact that the death penalty is an unfortunate policy marked by serious mistakes. Along with unsuccessful executions, it should not be forgotten that more than 185 people were released from death row as a result of inappropriate sentences. As conservatives, we will continue to fight this costly, uncontrolled government that is shrouded in mystery. "
Reality TV star Kim Kardashian West also called on Stitt to commute Jones' sentence. On Thursday, she thanked Stitt and the state parole board, saying: Twitter"I am so grateful to everyone who used their voice and helped save Julius's life today."
In October, Oklahoma carried out the state's first execution in six years of a prisoner sentenced to death, following a moratorium on executions over fears of lethal injection.
The Associated Press contributed to this report.
…