The government of the Dominican Republic announced through that country's consulate in Havana that it would make business visas more flexible for Cuban owners of micro, small and medium-sized companies (MIPIMS).
In a May 20 statement by the Consul General in Cuba, Celia Encarnación Peña, it was specified that from this month private businessmen on the island would not have to resort to any guarantor resident in the Dominican Republic to obtain more than one business visa .
The note specifies that interested parties must have their MSMEs "duly formed and registered under the current regulations of the Republic of Cuba, without the need to have a guarantor resident in the Dominican Republic."
They also state that the visa will last for one year, with multiple entries, provided each does not exceed 60 days in the territory of Quisqueyan. Multiple business visas for Cubans will cost $150, paid in cash at the consulate, and include legalization of the applicant's criminal record.
"This is due to the remarkable interest of the Dominican Republic in promoting foreign trade and, in particular, shopping tourism with Cuban businessmen," the statement said.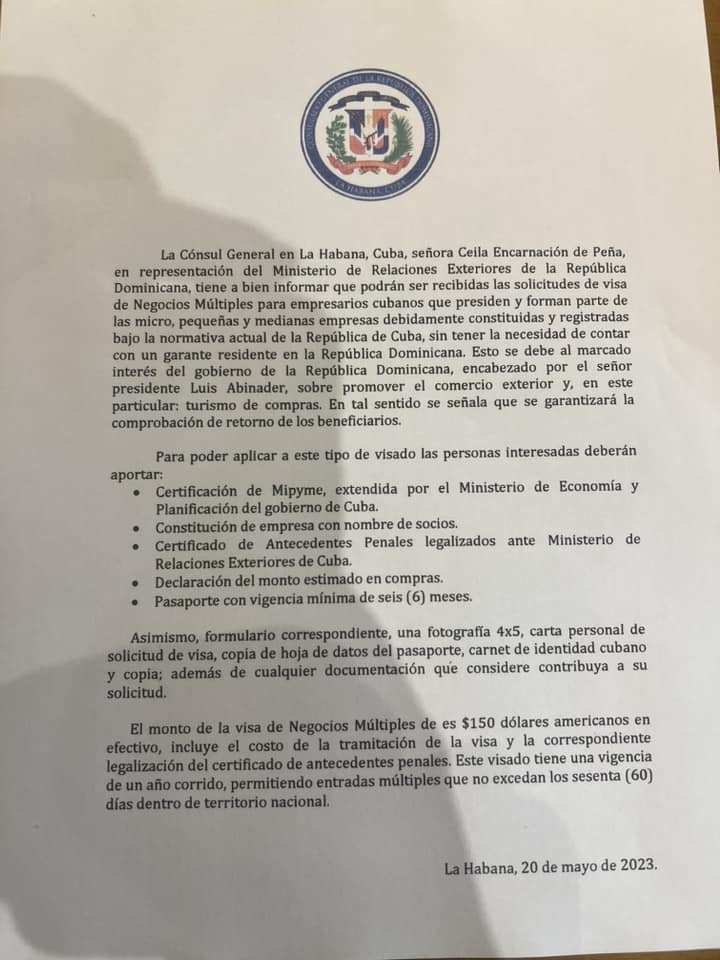 According to this statement, the requirements that those wishing to apply for a visa must submit include documents such as the Mipyme certification issued by the Cuban Ministry of Economy and Planning; Formation of the company with the names of the partners; Details of the estimated amount of purchase and passport with minimum validity of six months.
The Dominican Republic is one of the favorite destinations of Cubans for so-called "shopping tourism", with direct flights to Punta Cana from various airports on the island through the Air Century company. In addition, starting in 2022, family packages with visa facilities are being sold to Cubans living in the United States to reunite with their relatives who travel from Cuba to the Dominican Republic.
Between June and July 2022, more than 35,000 Cubans traveled to the Dominican Republic for tourism and to reunite with their expatriate relatives, according to official statistics from that country's Ministry of Tourism.
Cubans stay an average of seven days in hotels in the Dominican Republic. That Caribbean country's institution qualifies as "meeting tourism" the flow of visitors to Cuba, attracted by the high-quality tourism offered by Castroism's companies.