Quito, Ecuador The president of Ecuador has declared a state of emergency in the prison system following a fight between gang members in a coastal lockup that has killed at least 118 people and injured injured, according to authorities, the country's worst prison bloodshed.
At least five of the dead were beheaded, officials said.
Dozens of police and military vehicles, as well as ambulances, entered the prison premises on Thursday. Helicopters flew over the area.
There may be more dead or seriously injured people in the jail, said National Police Commander Colonel Tania Varela.
Hundreds of people gathered outside the crime lab in Guayaquil, hoping to collect the bodies of their relatives in prison. The prosecutor's office said on Twitter that police were working to identify the body.
Henry Coral, a police officer, urged family members to speed up the identification of bodies by telling authorities about tattoos, spots or other distinctive features of any detainees believed to be dead. Some bodies were mutilated or burned, making identification difficult.
President Guillermo Lasso declared a state of emergency on Wednesday, which would give the government power, including the deployment of police and troops in prisons. The order comes a day after the bloodshed at Guayaquil's Littoral Penitentiary, with officials blaming gangs involved with international drug cartels fighting for control of the facility.
"It is unfortunate that prisons are being turned into zones for power struggles by criminal gangs," Lasso said, adding that he would work "with absolute determination" to regain control of liturgical prisons and prevent violence from spreading to other prisons.
Pictures spread on social media showed dozens of corpses and battlefield-like scenes between the pavilions 9 and 10 of the prison. Fighting broke out with firearms, knives and bombs, officials said. Earlier, regional police commander Fausto Buena also said bodies were being found in the prison's pipeline.
Outside the prison morgue, relatives of the detainees cried, some beheading their loved ones, describing their cruelty to reporters.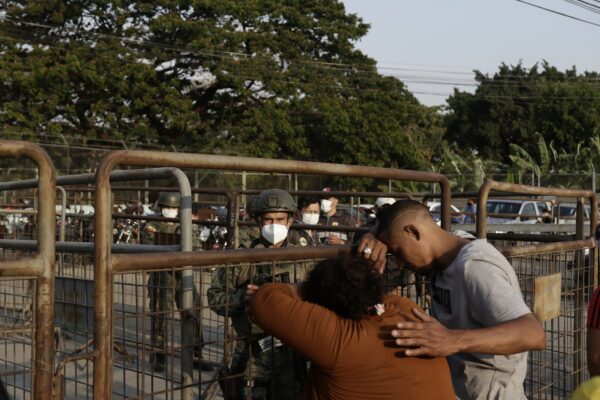 Lady Juiga, former president of Ecuador's National Rehabilitation Council, said "there has never been an incident like this or near in the history of the country."
Jaiga, who was also the country's justice minister in 2016, lamented that no action had been taken to prevent another genocide following the deadly prison riots last February.
Earlier, officials said the violence began with a dispute between "Los Lobos" and "Los Choneros" prison gangs.
Colonel Mario Pazmio, a former director of Ecuador's military intelligence, said the bloody battle showed that the internal organized crime structure in Ecuador's prisons had collapsed.
"They want to sow the seeds of fear, urging the government to temporarily hand over control of the prison to the national police," he told the Associated Press on Wednesday. "The more radical and violent they kill, the more they achieve their goal of control," he added.
Luis Hernandez, a political and military analyst who was a general in the Ecuadorian army, said captive gang members controlled their extend from prison to the streets, distributing and other aspects of the illicit drug trade.
Ecuador is an important transit point for drug trafficking agencies because of its good road infrastructure, three international seaports and two international airports, Hernandez said.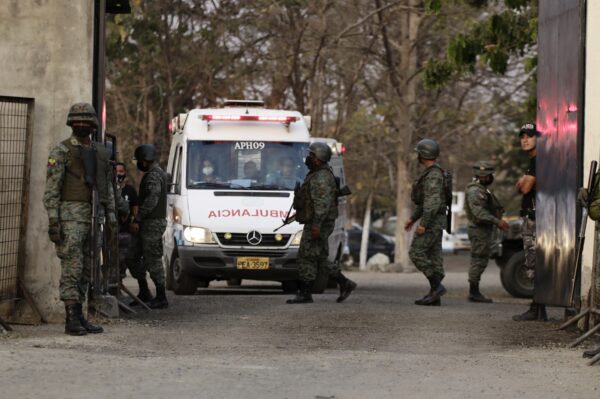 The Ecuadorian president said care points had been set up for the relatives of the detainees with food and psychological support. He added that a program to address the country's prisons would be expedited by investing in infrastructure and technology in the Litoral Prison.
Fausto Kobo, a former director of Ecuador's prison bureau, said authorities inside the Pentecostal "face the threat of power equal to or greater than the state". He said that when security forces had to enter the prison in shawls and unarmed, they met with prisoners with high-powered weapons.
In July, the president imposed another state of emergency on Ecuador's prison system following a series of violent incidents that killed more than 100 prisoners. These deaths occurred in different prisons and not in a single facility like Tuesday's killings.
Earlier, the bloodiest day was in February, when 79 prisoners were killed in simultaneous riots in three prisons across the country. In July, 22 more prisoners died at the Literal Pentecostal, and in September, a penitentiary center was attacked by a drone to prevent any casualties.
Written by Gabriela Molina
.
This News Originally From – The Epoch Times