Thanks to the collaboration between Danfoss and Volvo, who decided to challenge traditional ideas about electric trucks, electric transport has experienced an exciting breakthrough.
The myth to be broken is the belief that these vehicles cannot be efficient due to long periods of charging. However, this alliance shows that it is possible to maintain it Electric trucks in continuous use.
The Danish company Danfoss has taken over three heavy Volvo electric trucksBut the most impressive thing is that one of these electric giants works non-stop, 24 hours a day, five days a week.
Electric trucks are constantly running
The goal is clear: to demonstrate the cost-effectiveness and efficiency of these vehicles despite the need for charging.
To make this challenge possible, the 24-hour truck is needed customized super fast chargers. This means that the vehicle recovers energy in just around 15 minutes when loading and unloading goods. This is possible thanks to the charging infrastructure created by God Energi, another Danish company.
The new 24-hour electric trucks will be used on a route between Danfoss locations in Denmark.
Advanced charging technology and the relative shortness of the route enable continuous use of the electric truck 24 hours a day, up to five days a weekwith extended overnight charging only required on weekends when there is no commercial need for the truck to be operational.
Danfoss Editron supplies it to all Volvo electric trucks Integrated charger and power supply (OCEPS). Thanks to OCEPS, fast overnight AC charging (8-9 hours) is possible via traditional AC connections. This facilitates the rapid integration of electric trucks and thereby reduces the costs of charging infrastructure for end users.
Although direct current (DC) charging is typically faster and is the preferred option, the ability to quickly charge with AC power (i.e. connecting directly to the grid) is critical ensure flexibility for heavy electric vehicles.
To address range concerns, fast AC charging is essential, especially in Commercial vehicles with variable routes or in construction areas where access to DC chargers is not possible.
In addition, the OCEPS is not only a charger but also acts as a 43 kW power connection (ePTO)which can power work functions in heavy machinery such as excavators and front loaders.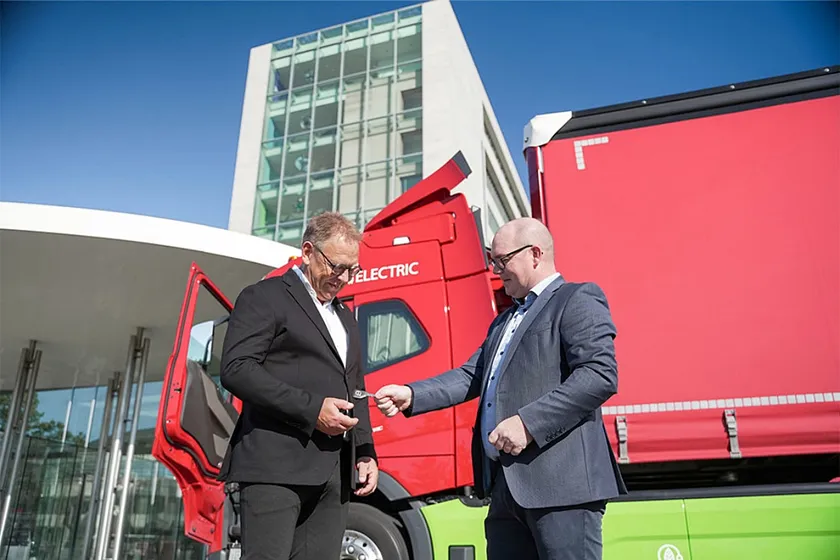 More "Non Stop" trucks
Denmark is not alone on this journey. It is already in circulation in Norway A truck that operates 24 hours a day and covers a 14 km route to move stonesAnd thanks to the short charging distance and time, you can keep moving with a charger of just 40 kW.
In Australia, Janus Electric has found an innovative solution: Changing the truck battery during the driver's 15-minute breaks. While a battery is slowly charged with renewable energy, the truck continues its route after a short exchange.
Nine trucks are expected to be operational by 2024, and Danfoss has set a more ambitious horizon: By 2030, your entire company vehicle fleet will be electric.
Torben Christensen, Head of Sustainability and Global Services at Danfoss, underlined the main message: Switching to electric vehicles is challenging but essential for those who want to become a greener and more sustainable business.