---
Severe heat wave continues in western Canada for several days. It feels like mid-July: temperatures over 35 °C have also been recorded since the beginning of September. The modest municipality of Lytton, British Columbia, also clocked 39.6 °C on a thermometer, becoming the highest temperature in the province for a month in September. Recall that in 2021, also in Lytton, the new absolute national heat record was broken (with 49.6 °C).
This episode worthy of a heat wave should extend its travel for a few more days in some areas, such as Saskatchewan.
It's likely to taste in Quebec
The summer will then begin a slow migration towards the east of the continent. However, she will lose wings along the way.
Quebec is on the list: Temperatures above seasonal norms are on the radar until the middle of next week.
The mercury is likely to exceed 25 degrees Celsius in southern Quebec. Plus, humidity should make a big comeback. It looks like 30+ temperatures are on the radar for some areas. In such a situation, summer is likely to be pleasant.
A deep atmospheric trough from over Ontario will also boost the heat. Such a context would indeed be favorable to the rise of heat from the southern United States, extending its journey to the province of La Belle.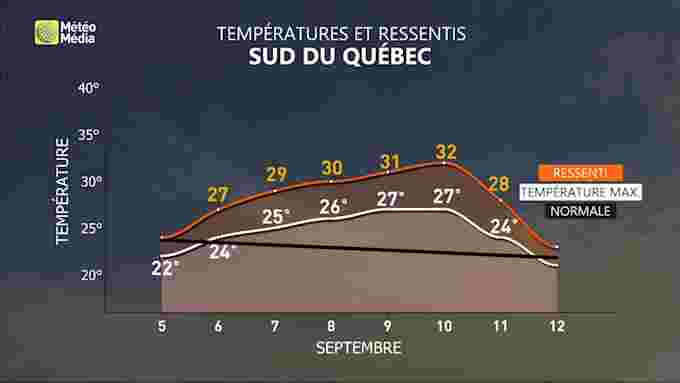 However, all good things come to an end. It should recede after next weekend, and the thermometer figures should move down towards a more seasonal horizon.
---
See also: Hot summer = hot fall?