We are very used to SUVs mostly coming from Jeeps; maybe a Toyota or Suzuki Jimny will pop up all of a sudden. But also for a few years, We've seen pickup trucks evolve into off-road vehicles that can venture anywhere: Ford Ranger and F-150, Chevrolet, Cayenne and Colorado, as well as various RAM models, etc. However, this should not surprise us since these models were created for this purpose.
But for models like the giant Ford F-250 Super Duty Crew Cab Long Wheelbase XLT 44 (yes, that's what it's called), There will always be alternatives, such as the experience and steady hand of tuners like SVN Customs, who have used this F-Series 'boat' to create a 10-person 4×4, all wrapped up in an intimidating design.
The project required new reinforcements on the chassis, especially because A third row was added to the cabin. The next step was to erect a floor and aluminum awning over the entire area previously intended for cargo, and from this, create the molds for window frames and 'C' posts and the base to accommodate one Rear seat (folding) from a Ford Expedition used for the fourth row. At the end of the transformation, the F-250 MegaRexx can accommodate up to 10 occupants.
Further reinforcements were made to the frame and suspension, where SVN Custom worked to make this monster safe and stable.
Carli 4.5-inch coil springs in front
Carli Fox Back 2.0 shock absorbers
Progressive rear springs
double stabilizer bar
New torque arms
To improve their off-road performance, they installed 20″ aluminum wheels with 46″ Michelin XZL tires. Body panels and fenders were also modified.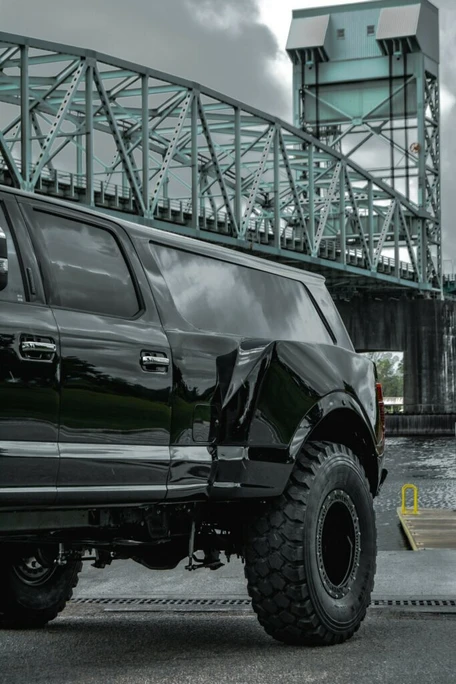 In the passenger compartment, the infotainment system with an 8-inch screen and the Sync 3 system are retained, while in the mechanical part, the Ford F-250 MegaRexx uses the powerful 6.7-liter V8 power-stroke turbodiesel, producing 475 hp and a whopping 1,050 lb-ft of torque, which is sent to all four wheels via a 10-speed automatic transmission.