A comment
Western Australian (WA) Premier Mark McGowan broke his promise to reopen state borders to the rest of Australia (and the world) on February 5th. To justify continuing his policy of closed borders, McGowan expressed concern about the Omicron COVID-19 variant.
"Unfortunately, the world changed in December; Omicron has arrived. Omicron is a brand new ball game. We cannot just close our eyes and hope things will be different," he said.
However, the border closures and restrictions in Western Australia are at odds with corresponding developments elsewhere in Australia and the world.
Indeed, a growing number of European countries are lifting COVID-19-related restrictions, including vaccination passports and the mandatory use of masks. In the United Kingdom, as of January 27, people will no longer need to wear a mask in public or provide proof of vaccination.
Pfizer board member Dr. Scott Gottlieb is also pushing for a return to normal as infection rates drop worldwide.
McGowan's uncompromising and unyielding attitude towards border closures and restrictions due to COVID-19 reminds us of the great American epic western How the West Was Won.
This is the story of American determination, perseverance and self-sacrifice that contributed to the conquest of the western United States. But what is happening in our own West, Western Australia, is the opposite: a story of desperation, discrimination, oppression and economic vandalism.
A comprehensive study (pdf) published by the Centers for Disease Control and Prevention (CDC) Jan. 11 provides "strong evidence for less severe infection" from the Omicron variant. Indeed, according to this US-funded study, Omicron poses a "significantly lower risk" of serious illness compared to Delta – and 91 percent less likely to kill those who are infected.
Dr Omar Khorshid, president of the Australian Medical Association (AMA), said he was "gutted" by the decision to keep state borders closed.
"Don't pretend that softer border measures are a big step, they are long overdue, but a hard border continues to hurt many people and needs to be lifted as soon as we are ready," Khorshid said.
McGowan's announcement of an indefinite closure of state borders was also a terrible blow to families who could finally be reunited.
Andrew McKellar, CEO of the Australian Chamber of Commerce and Industry, points out that Western Australia cannot live in an endless state of isolation.
"This will hit not only business, trade and investment, but on a human level it will mean more suffering and anguish for families who have not seen each other for almost two years," he said.
Western Australia Tourism Board chief executive Evan Hall explains that the prime minister's unfulfilled promise to reopen borders is "terrible news for the industry."
International education, tourism, events and other sectors will be particularly affected. According to him, such a decision will inevitably "lead to the fact that tour operators in Western Australia will lose their homes and businesses."
Warren Pierce is the Executive Director of the Association of Mining and Exploration Companies. He argues that the decision to keep the borders closed "will further delay the mining industry's ability to attract much-needed workers to boost existing operations, support expansion and build new projects."
Government measures, including recommendations to "work from home" and wear face masks, have also wiped out Western Australia's business sector.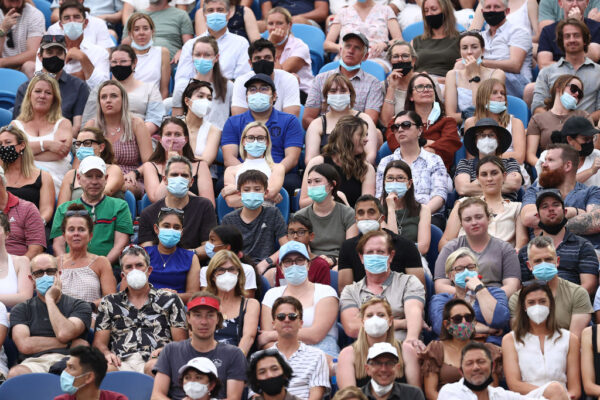 Walking the streets of Perth's central business district in Western Australia can be depressing. Social distancing, long queues at stores and discriminatory requests to show "vaccination passports" are depriving people of an enjoyable shopping experience.
As a result, the city of Perth is slowly turning into a ghost town. Clothing retail is seeing the biggest downturn, with many stores closed due to a dwindling customer base affected by the restrictions. Most of the shops on James Street in Northbridge are closed for good, and the whole area is now populated by the poor and the homeless.
The Western Australian government has already introduced the most draconian mandatory vaccination policy in Australia, including booster shots for at least 75 percent of the local workforce.
But now, any person aged 16 or over who refuses to be permanently injected by the government will be banned from all hotel and entertainment establishments, gyms, hospitals, and even bottle shops, including driveway access, from January 31st. Of course, this will have a catastrophic effect on local trade.
McGowan warned on January 13 that "life for the unvaccinated will be very difficult."
"No pubs, bottle shops, gyms, yoga classes, concerts, dance floors or hospital visits," he said.
Announcing further expansion of the comprehensive vaccine passport system, he said such measures would be in place for many "years". McGowan candidly stated that by adopting a policy of segregation, vaccinated people would be assured that they were "only mixing with other vaccinated people".
Of course, the risk of infection would be minimal if the vaccines worked properly and people could avoid booster shots. However, the prime minister dehumanized the unvaccinated by calling them "dropkicks" – Australian slang for stupid or useless people – for refusing to show proof of vaccination in hospitals, restaurants, pubs, hotels, gyms, etc.
"If you're asked to show your vaccination certificate, don't be a coward," McGowan said Jan. 6. This is not the first time the premier of Washington State has attacked residents.
On September 18, 2021, he told those who oppose mandatory vaccination to "grow a brain". The dehumanization of those who refuse injections turns these people into scapegoats for the serious economic problems that society is currently facing.
Indeed, the premier's authoritarian behavior makes him dangerous to the socio-economic future of Western Australia. His decision to keep the Western Australian border closed is causing unnecessary pain and economic suffering to countless people and destroying their lives and livelihoods.
It is appropriate to end with a quote from David Hockney, the eminent British artist and painter, who wrote to his friends in Normandy during the dark days of COVID-19: "Spring cannot be cancelled." This is a message that should be regularly reminded of the repressive Western Australian regime. One day the West will be restored.
The views expressed in this article are those of the author and do not necessarily reflect the views of The Epoch Times.
.