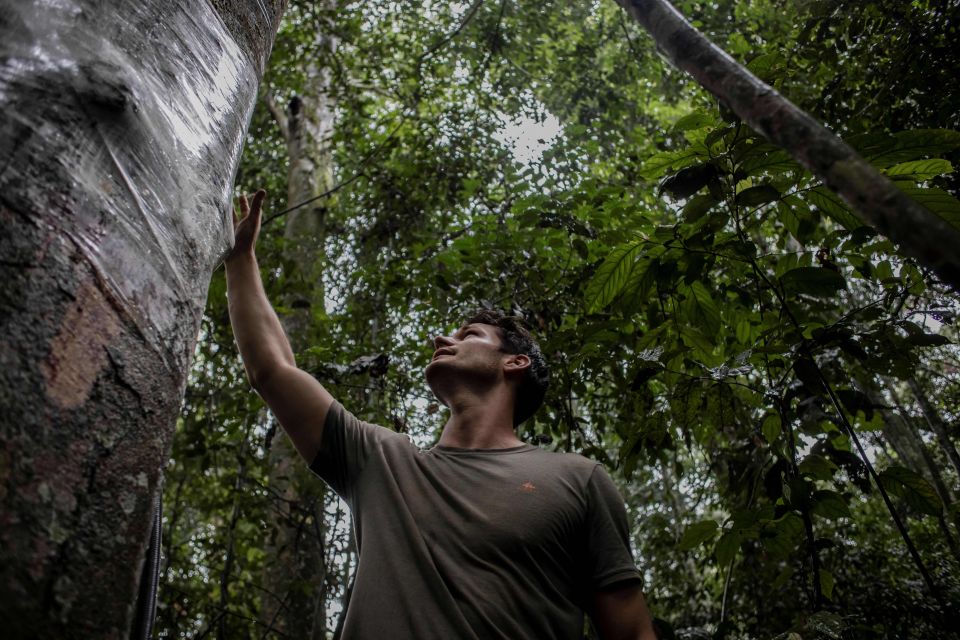 Photo: Gurchom NDEBO/AFP/Getty Images
Early humans used high-tech "glue" made from a local conifer in Africa 100,000 years agoA new study has revealed.
In the Middle Stone Age, early Homo sapiens used adhesives made from local trees of podocarpus Attaching stone tools to wooden spears.
Scientists say substance has "excellent" adhesive properties"and can only be produced through an "elaborate" process.
Dr. Patrick Schmidt and Ph.D. Student Tabiya Koch from the University of Tübingen in Germany mapped the production in a joint studio with Professor Edmund February from the University of Cape Town in South Africa.
The fact that early modern humans did not resort to more readily available adhesives thousands of years ago is a testament to their innovative prowess, the research team reported in the study, published in the journal Proceedings of the National Academy of Sciences (PNAS). and qualification
Dr Schmidt said: "Adhesives have been discovered at various Middle Stone Age sites in South AfricaChiefly as a residue on stone scrapers or blades that were stuck to handles or spears. ,
"Chemical analysis revealed that this glue was often extracted from yellow wood. This is surprising because the yellow sticks do not draw out the tree's resins or any other sticky substance," he said, adding that "the yellow stick leaves contain a small amount of resin, which needs to be distilled."
The team found two ways to make the glue; Dr. Schmidt said: "It is quite easy to burn leaves directly next to flattened stones."
He said the second option is more difficult and requires more time. It involves heating the leaves in a sort of underground still for several hours so that the tar drips into a container. It is not known which method was used.
Schmidt said that, either way, it was surprising that early modern humans at the time did not use plants other than yellow wood as a source of glue.
"People could collect resin from the trees," Koch said. "In many species that were in their environment, it apparently sheds from the trunk. And some plants release sticky latex when leaves fall."
The team found the explanation with the help of standard laboratory tests, such as those used in the adhesives industry:
"Our distilled yellow wood tar had particularly good mechanical properties and proved to be stronger than all other natural viscous materials from Stone Age South Africa; It was capable of withstanding a fairly large load."
---
Read also:
The largest asteroid to hit Earth was 15 miles wide
Jupiter will be closest to Earth, how and at what time can it be seen from America and Mexico?
The extinction of the dinosaurs would have been possible due to the impact of a second asteroid on Earth