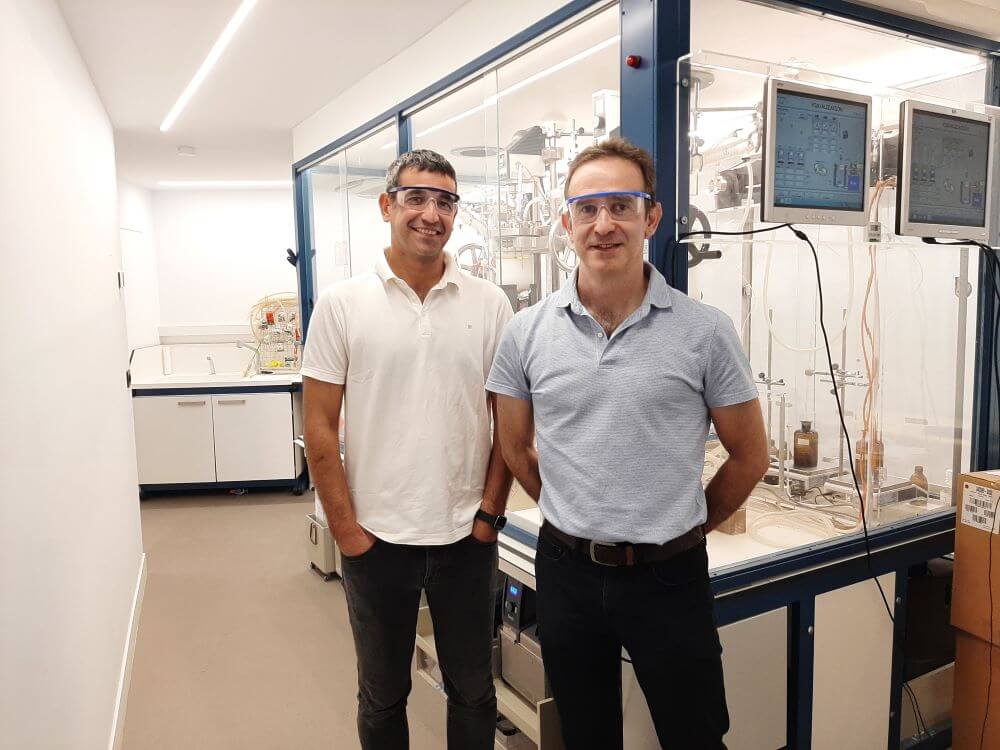 Sergio Rubio and Jokes Sarobe at Ikerlat features.
IKERLAT POLYMER is an SME, located in Lasarte (Gipuzkoa), which manufactures raw materials for performing health diagnostic tests. Its product has allowed 150 million COVID tests to be conducted worldwide. The company has received financial support from the SPRI Group through the BDIH Konexio program, with the Basque Digital Innovation Hub providing a connected network of advanced manufacturing assets and services to SMEs for training, research, testing and validation.
The company was founded in 2000 by people from San Sebastian's Faculty of Chemistry who, in their doctoral thesis, "We see that it had a commercial outlet. What we do is dispersion of polymers in water which is an in vitro diagnostic used for health systems", explain Jokes Sarobe and Sergio Rubio, directors and researchers of innovation and development, respectively.
Its product, initially, focused on hospital tests, but over the years they have evolvedIn new areas such as protein refining, and looking for overseas markets.
"In these 22 years we have gained more market share and we have diversified our products." Last year, its raw material was used to conduct 150 million COVID-related tests around the world, ranging from antigen tests to detecting side effects in Covid-affected patients.
"What we do is polymerize a monomer to form monodisperse nanoscale particles that are used as raw materials in diagnostic kits."
health sector
Its customers are primarily from the health sector, which conducts tests to detect diseases such as COVID or pregnancy tests, but also for laboratory tests in hospitals. "Usually they are clinical trials. We have expertise in a sanitary space and we manufacture on a liter scale because customers get a brutal performance: with a liter they go from 20,000 to a million make a kit".
Its products are sold to companies that in turn sell tests to hospitals.
IKERLAT's staff is made up of five people, all of whom have earned doctorate degrees in chemistry. Last year, the turnover reached about one million euros and R&D is the key of its business. "Between internal research and projects, we devote between 30-40%. And our idea, besides producing more, is to increase R&D".
With the help of SPRI Group's BDIH Konexio program, the product is characterized at the nano scale And thus the more specific structure of the particles is characterized. "It has served us to improve the product and it has already been marketed. We have worked with SiC Nanogun, which allows us to test with equipment that is too costly and unaffordable for us. We have seen positively that these technical centers are closer to the market."
Among the challenges, the completion of expansion works of its facilities stands out, which allows for a large surface area for production laboratories and R&D. "We have made a strong investment. This will allow us to tackle new projects, gain production capacity and become more international: we now have 15% of our business overseas. We are trying in countries like China."
For future products, they are working on magnetic particles for DNA and RNA extraction, cell separation or protein purification. "With Covid, the Carlos III Institute approached us and validated one of our products for automated RNA extraction systems. There was such a demand around the world that MNCs supplying the state market had no stock and our verification of magnetic particles made it possible to meet the demand of the time.