The threat of banking Trojans on mobile devices is growing. Photo: ManPower Group.
According to the company's 2022 Mobile Threat Report, this growth in mobile banking Trojans is the highest in the past six years.
In 2022, Kaspersky experts found almost 200,000 new mobile banking Trojans, which is a double increase from the previous year's figures. This explosive growth is also the highest ever reported in the last six years, according to the report Mobile Threats 2022 published by Kaspersky.
With the development of mobile services and technology, threats to devices are becoming more frequent. To address this growing concern, Kaspersky experts continuously monitor the mobile threat landscape and trends, keeping users and the cybersecurity community informed about potential threats. In 2022, Kaspersky solutions detected 1,661,743 installers of malware or unwanted software.
One of the most widespread and alarming mobile threats are banking Trojans, which used to search for information related to electronic payment systems on the Internet. Kaspersky detected 196,476 installers of this malware in 2022.
This indicates that cybercriminals are mobile users and are increasingly interested in stealing financial data and are actively investing in creating new malware that can lead to huge losses for their victims.
Cybercriminals often rely on malware through official and non-official repositories. Google Play still contains receivers from the banking Trojan families, such as Sharkbot, Anatsa/Teaban, Octo/Coper, and Xenomorph, distributed under the category of useful applications. For example, Sharkbot actively distributes downloaders that pretend to be a file manager, requesting permissions to install several Trojan files on the user's machine, violating their security.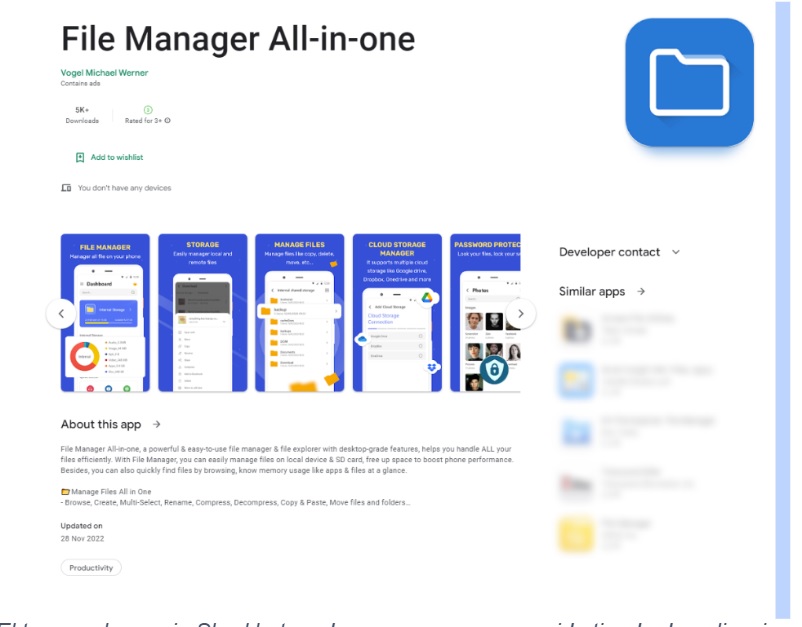 Banking Trojans 2022. Photo: Karpersky
Sharkbot Banking Trojan Downloaded on Popular App Store
Tips to protect yourself from relying on Trojans
"While overall malware installation has decreased, the continued growth of mobile banking Trojans" is a clear indication that cybercriminals are focused on financial gain. As our lives revolve more and more around mobile devices, it is more important than ever for users to stay vigilant against threats and take the necessary steps to protect themselves", says Tatyana Shishkova, Kaspersky security expert.
Featured: How to avoid financial fraud during the holiday season?
To protect against mobile threats, Kaspersky offers the following recommendations:
Applications from public media only, such as the Apple App Store, Google Play or the Amazon Appstore, which is safer. The applications in these stores are not 100% fail, but at least they are reviewed by representatives and the system is filtered – not all apps can enter these stores.
Check the permissions of the applications you use and think carefully before accepting them, especially when it comes to high-risk permissions like accessibility services.
Using a reliable security solution can help you detect and warn malicious apps before they start running on your device. It is convenient to receive protection, such as Kaspersky products, directly from mobile operators.
iPhone users have some privacy controls provided by Apple that allow them to block applications from accessing their photos, contacts and GPS features if they feel these permissions are unnecessary.
Update the operating system and important applications as updates become available. Many security issues can be resolved by installing new software versions.
Kaspersky calls on the mobile industry to take cyber protection at all levels, including the use of security, to receive better cyber protection by providing cybersecurity services. Kaspersky Consumer Business Alliances enable companies to offer their clients complete cybersecurity portfolios, helping them with global expertise and support.