Investors in the European Union and the United Kingdom are betting on cryptocurrencies, especially Bitcoin (BTC) and Ethereum (ETH), following the historic fall of the euro and the British pound.
Over the past few days, the Euro and the British Pound have seen historic declines against the US Dollar. This has prompted investors to take refuge in the two largest cryptocurrencies in the market.
According to statistics Supplied by Messari on Thursday 29 September, UK investors are selling their local currency to buy BTC and ETH at a record pace.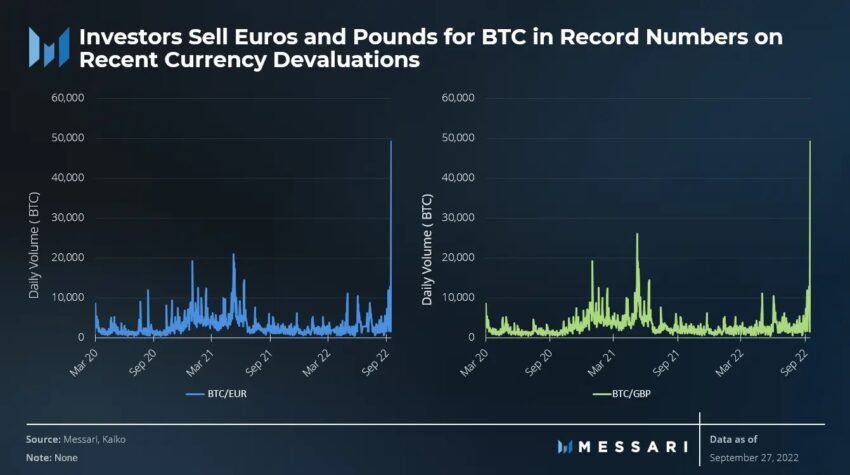 Euro and Pound Sterling have suffered a serious setback
Throughout the week, the euro performed significantly lower. The decline accelerated after it became known that Eurozone inflation reached 10 percent in September, a new record figure.
euro Came to trade at $0.95, However, according to TradingView data, it has seen a slight uptrend and is currently trading at $0.975.
The British pound has not been untouched by the economic crisis. monday, The official currency of Britain has fallen to the lowest level ever.
This decline was the result of the recent plan of the British Government to The goal is to reduce taxes and pay them with more debt. Since then, the British Pound has also seen a slight rally and is currently trading at $1,105.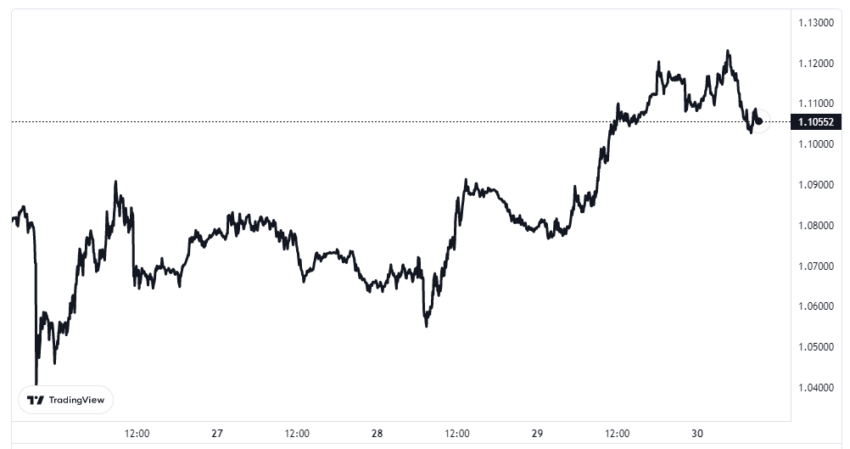 Investors Bet on Bitcoin and Ethereum
Given the difficult situation experienced by the currencies of the European Union and the United Kingdom, Investors bet on bitcoin and ethereum. In his report on the largest cryptocurrencies by market cap, Messari wrote:
"As the UK and EU see the value of their currency crash, they are effectively selling the pound and the euro for bitcoin. If this was just a trade to capture volatility, we would have done more in May 2021." Will definitely have seen similar spikes in March 2020."
Same situation happens with Ethereum, But not the same as bitcoin. In a later update, the analytics firm Expose,
"Ethereum saw people in the UK and EU move their funds into ETH, but not in the same way as bitcoin. Ethereum volume increased relative to GBP, but these spikes occurred on uneven trading days in late 2020 and early 2021 There were many similar ones seen.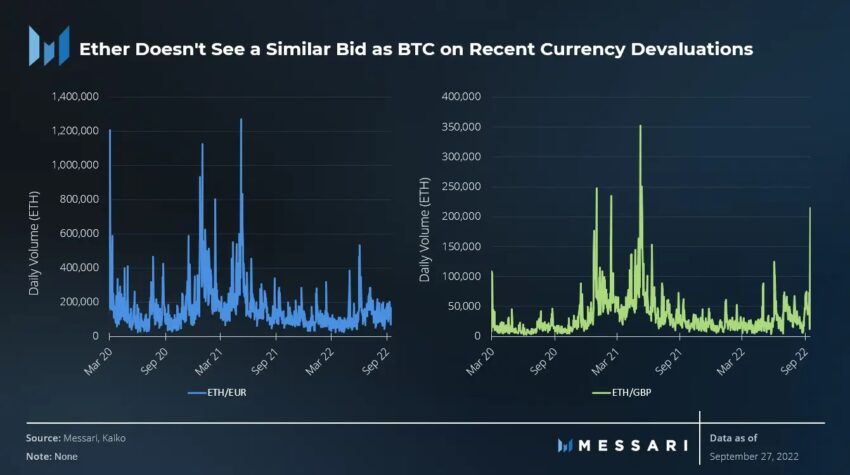 prices of BTC and ETH have been stable over the past weekBoth are falling less than 1%.
According to data from CoinGecko, Bitcoin is trading at $19,279, while Ethereum is trading at $1,322.
Disclaimer
All information contained on our website is published in good faith and for general information purposes only. Any action taken by readers on information found on our website is strictly at their own risk.