In a blow to diplomatic relations with Cuba, US Secretary of State Rex Tillerson on Oct. 3 ejected 15 Cuban diplomats from the United States. The expulsion follows his withdrawal of most US personnel from the embassy in Havana after 22 American diplomats and family members there suffered unexplained health problems.
Last November, some US personnel in Havana began experiencing a range of symptoms, including hearing impairment, nausea, dizziness and mild cognitive impairment. The people first affected and most severely were intelligence officers, but later victims held a variety of positions in the US Embassy. Several Canadian diplomats were also affected.
The United States informed the Cuban government of these incidents on Feb. 17, 2017. Four days later, Cuban President Raúl Castro met with then US Charge d'Affaires Jeffrey DeLaurentis and, pledging full cooperation, invited the FBI to investigate.
So far, though, the investigation has been unable to determine the perpetrator or motive behind the mysterious attacks. Nearly a year after the first incidents, nobody even knows how the attacks were carried out. US officials initially blamed some sort of sophisticated sonic weapon, but scientists have questioned whether sound waves alone could have produced the reported symptoms.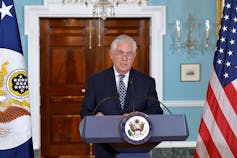 In this context, withdrawing US personnel is arguably a reasonable precaution. But, in my view, expelling Cuban diplomats Cuba despite's cooperation in the investigation is baseless and counterproductive. During the 40 years I've studied US-Cuban relations, domestic politics, rather than foreign policy interests, have often driven US policy, and I believe that's what is happening now.
Sentence first, trial afterwards
State Department officials doubt that the Cuban government is behind the incidents. No evidence has emerged implicating Cuban officials, and Cuba is cooperating with the investigation.
Nevertheless, opponents of President Barack Obama's 2014-2016 rapprochement with Cuba have successfully seized upon the mysterious injuries as an excuse to punish Cuba, wreaking havoc on relations that had been improving. As the Red Queen said to Alice in Wonderland, "Sentence first, trial afterwards."
When the diplomats' health problems were first reported publicly in August 2017, Sen. Marco Rubio, Republican of Florida and a vociferous opponent of normalizing relations, demanded that President Trump close the US Embassy and expel all Cuban diplomats from the United States.
Instead, on Friday, Sept. 29, Tillerson announced the withdrawal of nonessential personnel, suspended visa processing for Cubans seeking to enter the US and issued a travel warning advising Americans not to travel to Cuba. In a press release, Rubio denounced his actions as "weak, unacceptable and outrageous," and took to Twitter to demand that Cuban envoys be expelled.
A few days later, on Oct. 3, Tillerson finally did what Rubio demanded. Cuban American US Rep. Ileana Ros-Lehtinen, also a Republican of Florida and an opponent of Obama's normalization process, pronounced herself "pleased as punch" at the expulsions.
denormalization
This was not what US diplomats wanted. The American Foreign Service Association, the union representing Foreign Service officers, opposed the withdrawal from Havana as contrary to US interests. "We have a mission to do and we're used to operating around the globe with serious health risks," association president Barbara Stephenson told the news network CNN.
The expulsion of its diplomats isn't the only punishment Washington has inflicted on Cuba. Some half a million Cubans depend on tourism for their livelihood, and it contributes about 10 percent to Cuba's gross domestic product. The travel warning will deter US visitors from going to the island, hurting the economy at a time when it is already suffering from the damage done by Hurricane Irma.
The sweeping and categorical nature of the travel warning is also unwarranted, considering that the State Department believes US diplomats were the targets of "specific attacks" and no US visitors have suffered any injury.
Canada, by contrast, no travel advisory after its personnel were injured, nor did its government withdraw Canadian diplomats from Havana or expel their Cuban counterparts from Ottawa.
Finally, by temporarily suspending visa processing for Cubans seeking to enter the United States, Washington risks violating the 1994 migration accord, which commits the United States to accept a minimum of 20,000 Cuban immigrants annually. That commitment will be almost impossible to meet now.
Predictably, as the United States has ratcheted up these punishments, the tone of Cuba's response has become defiant. In Granma, Cuba's Communist Party newspaper, the Foreign Ministry on Oct. 3 condemned the expulsion of its diplomats as "unfounded and unacceptable," and rejected "categorically" any Cuban responsibility for the incidents.
Noting the absence of evidence as to perpetrator or means, Cuba for the first time questioned whether any attacks had even occurred.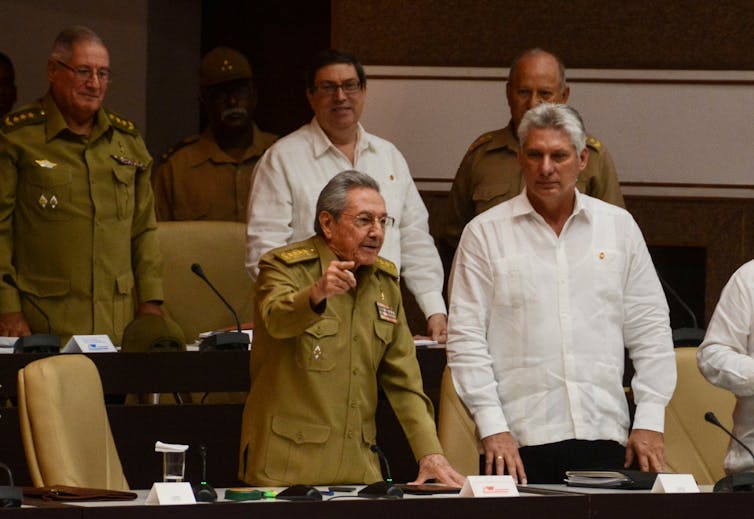 The Trump administration has let a legitimate concern over the safety of US diplomats become an excuse for reversing key elements of Obama's policy of engagement, caving in to the political demands of those who, like Rubio and Ros-Lehtinen, opposed normalizing relations with Cuba from the output.
By so doing, I think the administration has fallen into a trap. Whoever is responsible for the attacks on US diplomats in Havana almost certainly did it to disrupt the rapprochement between the United States and Cuba. The US response is handing that shadowy adversary a victory.