The GOT7 member arrives in Latin America as a solo artist. Tickets go on pre-sale for Jackson Wang's "Magic Man" show in Mexico this Friday.
Jackson Wang kicking off in Mexico with his "Magic Man" world tour. The GOT7 member joins the list of k-pop concerts in Latin America for this 2023 with a show in Mexico City. According to merchandise leaks from the tour, the Hong Kong-born soloist may also visit some South American countries. For now, the show in the Mexican capital is confirmed to be the first and tickets go on sale later this week. What to know about prices and how to buy tickets for Jackson concerts at CDMX?
According to Star's official account, Jackson Wang will perform on May 25 at the CDMX Arena. The show will start at 9 pm (local time). "I'm not a mystery, I'm just magic" is the motto of the tour which has already visited countries in Southeast Asia and Europe.
Jackson Wang in Mexico 2023: ticket prices
With less than 24 hours left for ticket sales in Mexico, the distribution of zones and prices for Jackson's concert have not yet been published. However, some fans noted the cost of tickets for K-pop boyband Super Junior to perform at the Arena in February.
In the specific case of Super Junior, tickets cost 3,999 Mexican pesos in the VIP court area, 2,890 pesos for first level seats or the Red Zone, 2,490 for the Yellow Zone and 1,990 pesos for the Green Zone. The cheapest one for SUJU in Upper Zone is 990 Mexican Peso.
Super Junior Concert Prices in Mexico. Photo: Music Vibe
Update (26 Jan 18:00)
Network users share that an error occurred on the Super Ticket page on Thursday. The bug exposed the average price of tickets for the tour. Tickets will range from 565 pesos to 7,550 Mexican pesos, depending on the occupation.

The leak caught by internet users shows four types of VIP packages priced at 7,550 pesos, 5,550 pesos, 5,250 pesos and 3,650 pesos. Superboletos has not yet confirmed these figures on its social networks.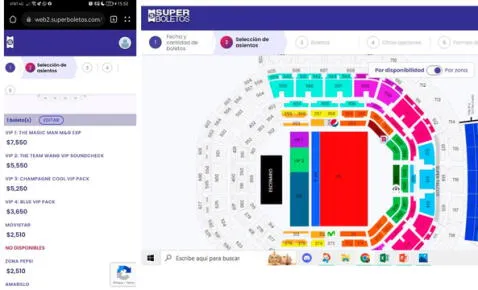 Map and prices leaked on ticket purchase site for Jackson Wang concert in Mexico. Photo: Capture/Twitter
Where to Buy Tickets for Jackson Wang Concert in Mexico?
The authorized and official ticket holder for Jackson's performances at CDMX is Superboletos. To receive updates about the concerts "Magic Man Tour" it is recommended to subscribe to your social networks.
As indicated on their official Twitter, tickets will be on general sale and through their website superoletos.com.
It is indicated that the following link will have a virtual line: Jackson Wang Super Tickets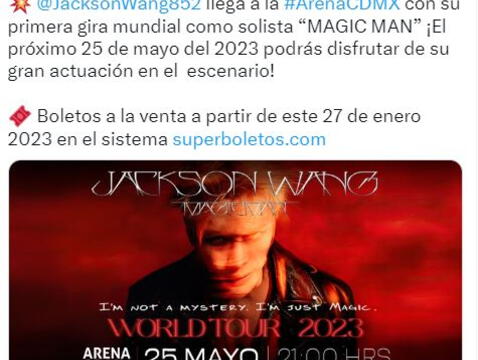 Jackson Wang at Arena CDMX: How to buy a Super Ticket?
The Superboletos buying process requires having a previous account and logging into the platform. It should be noted that the website is only geo-enabled for users in Mexico.
When will Jackson Wang tickets go on sale in Mexico?
Write down the date and time. According to Team Wang's official post, Superboletos will enable the sale of tickets for Jackson's concert on Friday, January 27 at 10:00am (CDMX time).
Hours of Sale at Superboletos
Mexico (DF), Costa Rica, El Salvador and Guatemala: February 27 at 10.00 am
Peru, Colombia and Ecuador: February 27 at 11 am
Venezuela, Bolivia and Paraguay: February 27 at 12 noon
Chile, Argentina and Brazil: February 27 at 1:00 pm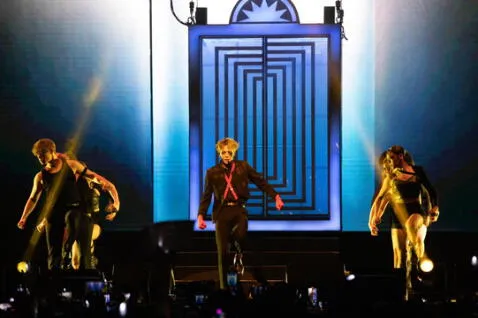 Prestigious VIP Area
One of the reasons many fans covet VIP tickets is the chance to interact with Jackson. For this tour, the artist has segments in which he selects certain female followers to go on stage. Wang asks them if they are unmarried and of legal age before taking them on stage to dedicate a dance and song.