The fifth generation of the Kia Sportage features a completely new aesthetic and represents a great commitment to electrification. The model combines sleek and muscular exterior design with state-of-the-art interiors, complete with an integrated curved screen, which houses the latest connectivity technology.
with variants Diesel, Gasoline and Hybrid and Mild HybridMaximum efficiency is achieved with the plug-in hybrid version, with which it receives the 'Zero' environment mark from DGT. The diesel engine can also be mated to hybrid technology, thereby reducing emissions and fuel consumption.
The new Sportage could get a 7-speed dual-clutch automatic gearbox (7DCT). A six-speed manual (MT) is also available and, specifically for MHEV versions, intelligent 6-speed manual transmission (iMT). Both the Sportage Hybrid and the Sportage Plug-in Hybrid are equipped with a six-speed automatic transmission (6AT).
Click here to vote for this car
A first for the Sportage is the concept of Terrain Mode, which makes its debut in the fifth generation Sportage. Developed for drivers who desire outdoor adventures and leisure activities, Terrain Mode automatically adjusts the Sportage's settings for optimum driving dynamics in all terrain and environmental conditions.
inside the new sportage Highlights the quality of materials and finishesAlso, there is ample space available for both the front and rear seat occupants. The Sportage offers 996 mm of legroom for second-row passengers (955 mm in the PHEV variant), while headroom at the rear reaches 998 mm. Trunk capacity reaches 591 l.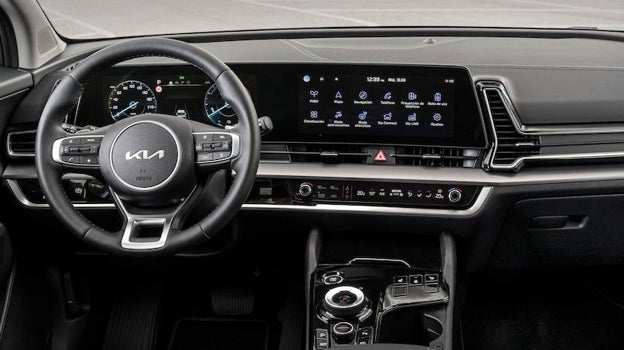 There is an integrated curved screen and a touch screen panel on the dashboard, as well as sporty air vents.