The President of Venezuela, Nicolas Maduro, this Saturday, March 11, stated that in Latin America and the Caribbean there is a new progressive wave, and the alliances and policies proposed by the United States in the trade with the countries of that region. they offer nothing and "regress".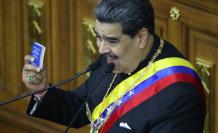 Nicolas Maduro is clinging to power after a decade of troubles
Read more
"The US government is in a period of historical decline and they have nothing more to offer for the good of the peoples of Latin America and the Caribbean. On the contrary, all their policies are retrograde (…) all their societies are retrograde," said the president in a special interview, Spanish economist Alfredo Serrano granted and broadcast on the public channel VTV.
Maduro celebrated the rise of left-wing initiatives in the country and claimed that the US had "dishonored the popular and 'progressive' parties" in Latin America.
"I was not surprised that a new progressive wave arose, the second wave. I really believe that the fatigue of neoliberalism as a formula and the imposition of oligarchies in Latin America is totally on the wall, totally exhausted," he said. .
To the new governments that have arisen in the continent, Venezuela recalled to reactivate its relations with Colombia and Brazil "with great force", since the inauguration of the presidents Gustavo Petro and Luiz Inácio Lula da Silva, respectively.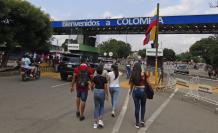 Colombia and Venezuela live in marriage four years after breakup
Read more
In this sense, he stated that, given the local changes, progress is expected in the development of instances such as the Union of South American Nations (Unasur) and the Community of Latin America and the Caribbean (Celac), as well as in the "recovery of bilateral relations, political, geopolitical, economic and commercial agreements with all nations".
"I am very optimistic with this new progressive wave and with the future of Latin America, the steps are necessary for a new, more beautiful, higher and more egalitarian Latin America, that is the mission that remains with us," Maduro said.