The day the war began, Marta Vasyuta began to share on TikTok the videos that her compatriots sent through Telegram, the next day she woke up and her posts had millions of views, becoming a war influencer.
Unlike what happened 20 years ago, with the Iraq war that we could see on television, today platforms such as social networks are a source of information for the world, and Marta Vasyuta knows that well.
The 20-year-old Ukrainian has more than 261 thousand followers on TikTok and her videos have almost 20 million likes.
For more than a month, he has been publishing the horrors of the war in his native Ukraine through his account, becoming a benchmark for information on the platform.
Although this is not the only thing that Vasyuta does, since he also managed to bring to the fore the significant amount of false content that roams the networks and that only misinforms.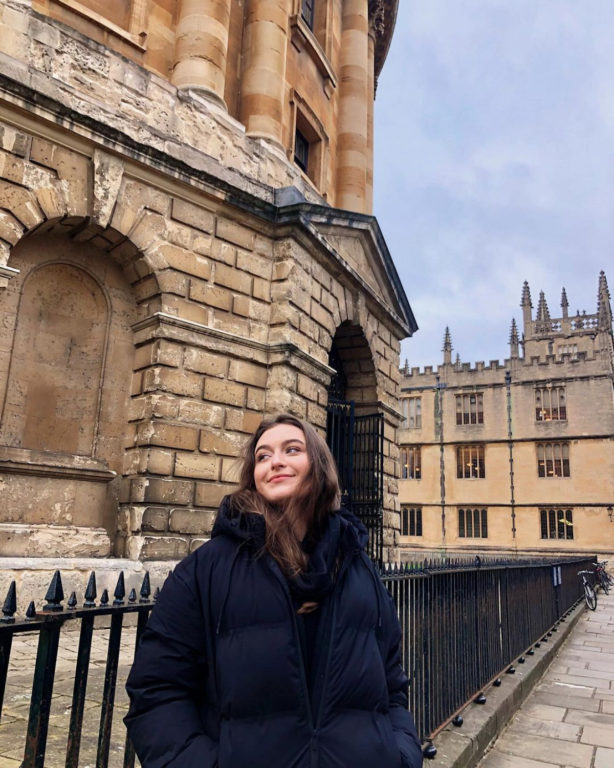 Marta Vasyuta, a casual influencer
When the war began, on February 23, Marta was in London, where she saw how her social networks were filled with videos showing Russia's first attacks against Ukraine, The Times reported.
Vayusta is an Economics student, originally from Lviv, Ukraine, who was in London on an exchange while her family was in Ukraine.
The night the war began, his social networks were filled with images of the attacks against Ukraine, but it was specifically Telegram where he rescued a large number of videos, so he decided to republish the content he was seeing.
"Ukraine right now" was the text he posted next to the first video of areas exploding in full bombardment. At that time she had just over 400 followers on her TikTok account, by the time he woke up life was completely different.
@martavasyuta Spread awareness and support Ukraine🇺🇦🙏🏽 #ukraine ♬ bringing the era back yall – chuuyas gf
The next day he already had 9 million visits to his videos, which do not stop accumulating. Since then he has dedicated himself to reporting through his TikTok account.
In an interview with the BBC, he pointed out that "I just want people to understand that Ukraine is not just a problem for the Ukrainians, it is a problem for everyone."
The Ukrainian found the perfect screen on the Chinese platform to show the horrors of war. "My mission is to spread information; not stop talking about it, because it really matters" she pointed out to France 24.
Fake Videos
As in most platforms, TikTok is not exempt from fake videos and this also happens with topics as sensitive as war.
This is something that Marta Vasyuta knows very well, who tries to verify the content that she uploads to her social networks, something that is not always easy.
She assured that much of the content that is published regarding the war in Ukraine does not correspond to these days, but to other periods of the conflict that began in 2014. However, she indicated that she does not publish anything until she is sure that it is real.
The plus for Marta's content to go viral is the platform itself, since by always showing videos that are in trend, her content escalates to the most viewed for users, regardless of whether they follow the influencer or not.
That's considering that content tagged with #Ukraine goes viral on a platform of one billion users who open the app approximately 17 times a day.
@martavasyuta Reply to @andra_mustea Come to Ukraine is you think it's fake #Ukraine #supportukraine ♬ original sound – r..cameron
D Bondy Valdovinos Kaye, a professor at Queensland University of Technology, told The Mirror that "content that is highly 'spreadable' on TikTok often relates to users' personal tastes, as well as current events that are considered relevant and timely.
The war on social networks
Regarding the birth of influencers like Marta Vasyuta, the question of the moment is how social networks have supported the information of users.
That, considering that in recent years the scandals that occurred such as the election of Donald Trump and Brexit in 2016 put platforms like Facebook in the eye of the hurricane.
In the opinion of Jordi Pérez, columnist for El País, the situation in Ukraine could be a new milestone in social networks, considering that this time, social networks are not news or at least, indicating that they are "places of communication that reflect in part of what we are, also with its algorithms".
This year could be the year of the vindication of Social Networks, after Mark Zuckerberg himself had to answer before the United States Senate and was accused of changing the name of his company to "Meta" as an attempt to whitewash his image. to get away from the negative image that dragged.
According to Vanity Fair, "the use of social networks by Ukrainians (for example, Zelensky's powerful transmissions) is proving to be a positive tool: it allows the world to see exactly what is happening, as it happens".
The same platforms have taken measures to prevent situations like what happened with Trump or Brexit from happening again.
Meta blocked the Russian state media, with the aim of preventing ads related to the war from being published or monetized on the platform, in this way situations such as those of the Cambridge Analytica case will not be repeated. For its part, Google also banned content from these media outlets.
In this way, social networks are becoming protagonists again, but this time from the information they can provide, always trying to avoid false news or "fake news", although not everything can always be true and the recommendation is, always, to verify .