The new electric scooters from NIU, the KQi Air, and the KQi Air
The two new models from NIU, the KQi Air and the KQi Air X, are equipped with a powerful 350W motor with 700W peak power. This allows you to climb gradients of up to 20%.
The 9.5 x 2.3-inch tires are included. Front disc brakes and rear regenerative braking guarantee exceptional control and safe driving.
In addition, they feature a half-turn throttle and front and rear LED lights, including a plaque. NIU Halo headlights and flashing lights are integrated into the ends of the handlebars.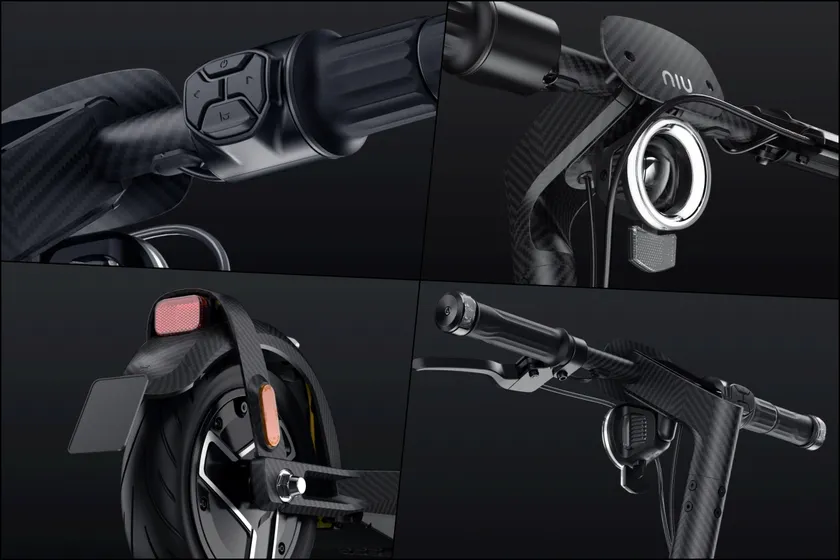 Lightweight carbon chassis
The NIU KQi Air X is characterized by its carbon design, which makes it surprisingly light at 11.7kg. Despite its apparent lightness, it is capable of speeds of up to 32 km/h. However, it must not be forgotten that the maximum speed in Europe is limited to 25 km/h.
One of the most outstanding features of these electric scooters is the range that can be achieved up to 50 km. This long range is largely due to the 451-watt-hour LG battery that powers these electric scooters. However, it is important to note that the autonomy may vary depending on the driving speed.
NIU also offers a mobile app that allows users to access features such as NFC smart unlockTrip statistics, Bluetooth connectivity, on-air updates, and more.
Differences between the KQi Air and the KQi Air X
The differences between the two models are subtle but noticeable. The KQi Air X is slightly lighter thanks to its full carbon fiber structure, in contrast to the base model, which combines carbon fiber with magnesium and aluminum.
Additionally, the KQi Air X comes in an attractive gold-on-black colorway, while the base model offers a choice of red or white-on-black.
Anyone interested in purchasing one of these new electric scooters should pay attention to the prices. The KQi Air has a suggested retail price of 1,399 euros, while the KQi Air X costs up to 1,799 euros.
However, there will be an introductory promotion for pre-sales. from September 19, bringing the price of the KQi Air down to just €949, an interesting opportunity for e-mobility enthusiasts.