Australian Prime Minister Scott Morrison has told global business leaders that his government is not seeing the COVID-19 pandemic as an opportunity to create a more "government-centric" economy, but has instead supported a more resilient business-led economic recovery.
In his speech at the World Economic Forum's virtual Davos Agenda 2022, Morrison laid out Australia's path through the global impact of the pandemic and its approach to supporting economic recovery and resilience over the next decade.
"We haven't seen a government-led recovery continue into the future," he said Jan. 21. recovery.
"We knew we were dealing with a public health crisis, albeit one with profound economic and social consequences.
"We never saw this as a front for some weird experiment to transform our economic system. We didn't see it as some kind of long-term invitation to return to – or create – some sort of state-centric economy," Morrison said.
He noted that this "market-driven" approach has served Australia well for decades, adding that prior to the COVID recession, the country had not experienced a recession for 28 and a half years.
Five forces shaping the world
The Prime Minister also outlined five major "forces" that are driving political, economic and technological change in the post-pandemic world.
These include the accelerating development of the digital economy, which has created a need to harmonize the digital and physical worlds. Second, he said there is increased demand for skills and research talent, more adaptable jobs, and greater collaboration between researchers and the business world.
Meanwhile, geopolitical competition has intensified. Morrison said this was especially noticeable in the Indo-Pacific region with China, although he did not name the country.
"We live in an increasingly fragmented and contradictory world, especially here in the Indo-Pacific region, which has become the world's strategic center of gravity," Morrison said.
"The challenges we face are many. There are tensions over territorial claims. There is a rapid military modernization. Foreign interference is showing up in the Indo-Pacific and here in Australia.
"Malicious cyber threats and attacks are happening; misinformation, economic coercion. This is a very contentious space where we see gray zone tactics of coercion and intimidation being used throughout the region.
"To solve these problems requires cooperation and common purpose among those who believe in a world order that favors freedom and the rule of law, which has been the basis of world prosperity since World War II," he said.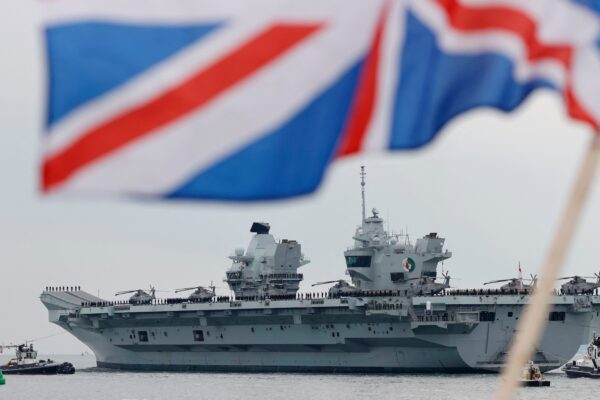 The fourth force he named was the pressure on the global supply chain and open trade brought about by an era of "hyper-globalization" in which governments and companies are "forced to rethink their rules" and "their assumptions."
The latest force has been the desire to decarbonize the global economy while maintaining affordable and reliable energy for customers and businesses.
Morrison urged world leaders to aim for a quick economic recovery reminiscent of what happened in the 80s and 90s, rather than the "long, sluggish recovery" that followed the global financial crisis in the 2010s.
This was vitally important, he said, because the pandemic "highlighted[d] new gaps" between countries and industries that have been hit the hardest, such as tourism, travel and business events, and those that have been able to "insulate" from the worst impacts, such as logistics, healthcare and IT.
"A quick recovery should be our common economic mission. A recovery that is about creating jobs, generating wealth and prosperity and narrowing the gaps in our communities. Because common prosperity is always the basis for a strong and stable democracy and global security," he said.
.