Ever since she moved to Bucklebury to raise her three children, Pippa Middleton has boasted of a much more discreet life with few social events. But these days, she's broken her retirement to attend a wedding on the always idyllic Lake Como. Kate Middleton's sister didn't hesitate to be one of the most notable guests and wore a red dress with ruffles that Queen Letizia could have worn in her early years as a royal.
Pippa chose a long dress from the Phase Eight company with a fitted bodice and V-neckline with sleeveless sleeves decorated with ruffles. The skirt, fitted at the top with a flared hem and vertical ruffles at the bottom, gave movement to the dress. Not only did Pippa choose one of the most eye-catching colors on the palette, but she was also bold in her choice of accessories.
For the occasion, she wore large gold earrings with a central green stone, the lower part decorated with small red stones and one Clutch by Elizabeth Sutton
of mother-of-pearl with waves and golden sand, in which the words Eden Rock can be read. The choice of this accessory was understood by the English press as a gesture of support for his father-in-law, who is under investigation in France and who owns the Eden Rock Hotel on the island of St. Barths, popular with high society, and to whom Pippa and her Husband James Matthews come every year to spend a few days on vacation.
Pippa Middleton's red dress is reminiscent of Queen Letizia
The guest dress Pippa wore to Belle Porter and Max Robinson's wedding is very reminiscent of the red dresses Queen Letizia chose in her early years as Queen Royal. Undoubtedly, this color has always been the monarch's favorite, and the stunning red dress with drapes and sheer sleeves signed by Lorenzo Caprile, which she wore to the wedding of Maria of Denmark and Prince Federico, still catches the eye. She was also the fiancée of then-Prince Philip.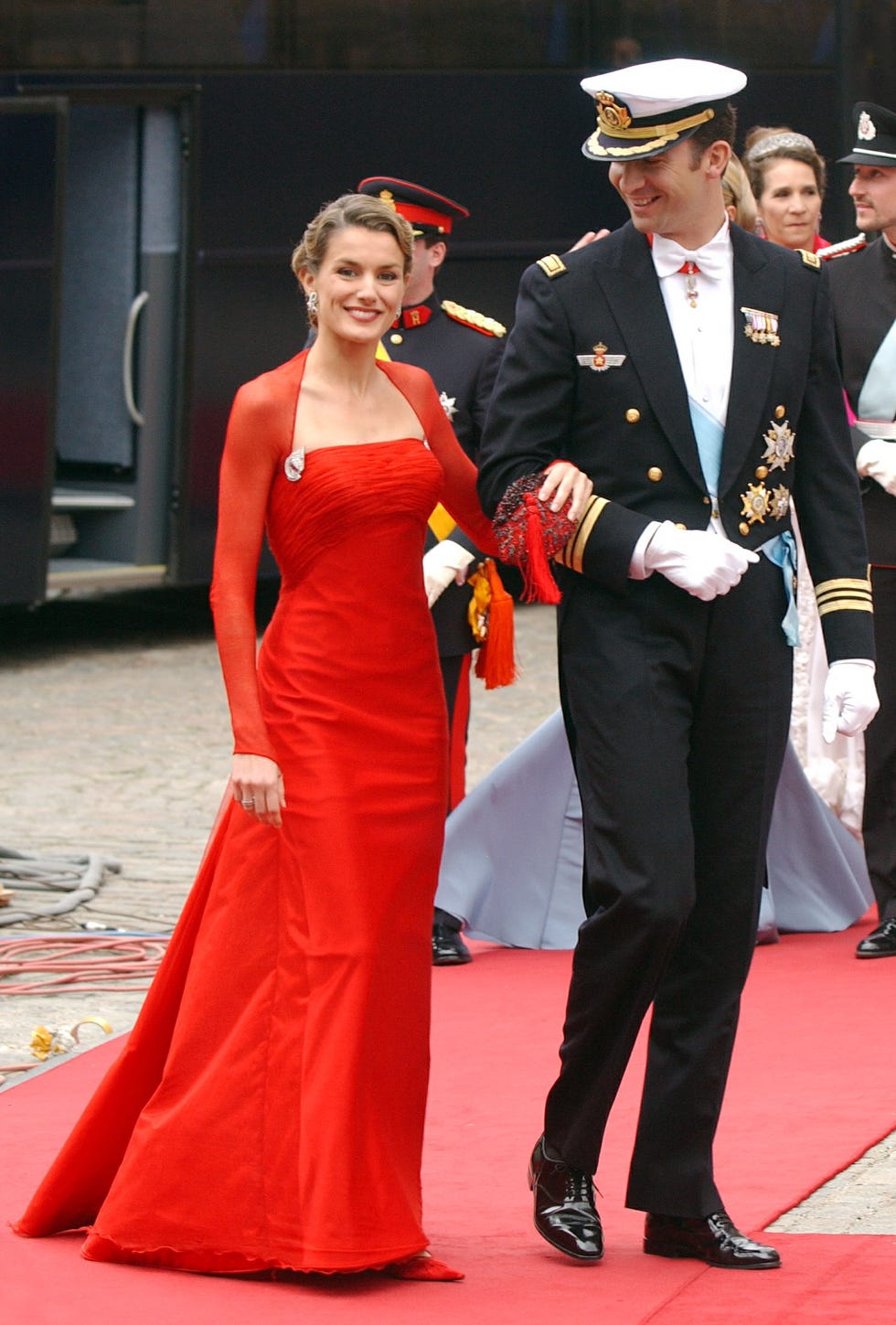 Queen Letizia at Mary Donaldson's wedding