When Porsche Celebrating its 75th anniversary and 30th following the concept that gave birth to the Boxster, the German brand reveals its most radical and sporty convertible yet. He Porsche 718 Spyder RS Is A fusion of lightness, high power and radical styling that borrows elements from the Cayman and Boxster, but for the first time, uses the high-revving naturally aspirated engine of the Porsche 911 GT3 race car in a mid-engined open-top sports car does. ,
For Andreas Preuninger, Head of Porsche GT Vehicles, this new model "takes the driving pleasure of convertibles to a whole new level and offers an exciting, unfiltered driving experience."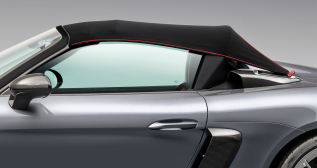 Porsche 718 Spyder RS ​​Features
The new Porsche 718 Spyder RS ​​is lighter, weighing just 1,410 kg, and is powered by the same engine as its coupé counterpart, the 718 Cayman GT4 RS. it's about a 4.0-liter six-cylinder boxer engine with a power of 500 horsepower and 450 Nm of torque up to 9,000 rpm. Like all modern RS, this model is only available with a seven-speed PDK dual-clutch automatic transmission. It accelerates from 0 to 100 km/h in 3.4 seconds and 0 to 200 km/h in 10.9 seconds and reaches one. 308 km/h top speed,
For drivers who prefer more direct control of the changes, they can operate manually with the paddles located behind the steering wheel or in manual mode use the classic lever located on the center console.
As for the suspension, Porsche has sought to combine sportiness with precision and agility. The chassis, designed to behave better on winding roads, is combined with Porsche's active suspension management system and a limited-slip differential (Porsche Torque Vectoring, which is standard). The driver can adjust the ride height, camber angle, track and anti-roll bar as per his preference.
new model price
Porsche has announced 180,080 euro price Shooting for this model will begin in Stuttgart (Germany) in June, coinciding with one of the Celebrating 75 years of the brand, It has also announced its presence at the Goodwood Festival, which is held from July 13 to 16 in the English town of the same name. In addition, Porsche Design created a watch with a titanium case and a rotor at the rear that mimics car wheels, especially for drivers who buy this model.
The design of the 718 Spyder RS ​​is characteristic of the sporty and elegant style that Porsche gives to all its products, with a minimalism that hides intensive work to achieve the best aerodynamics and maximum stability when driving at high speeds. The attractive bonnet, made of carbon fiber reinforced polymer, and with a large air intake above the bumper, marks its personality, as does the ducktail-shaped spoiler at the rear.
classic style hood
The most individual element in a variable is logically the top. In this case, Porsche has opted for a manually operated, single-layer canvas one, a classic style that is once again a trend in radical sports cars. It is very light, weighing only 18.3 kg, 16.5 kg less than the 718 Boxster, and is compact as it has only two sections, one to protect from the sun, like an awning whose rear remains open, and the other which Serves as a deflector … and it's a good protection with the windows down in case of rain. Both parts can be taken apart, stored in the car or even left in the garage.
Inside, it maintains that sporty and elegant style by combining materials such as carbon fiber, suede (Race-Tex) and leather with contrasting stitching and matte metal detailing. The sports seats (bucket type) with integrated headrests are made of carbon fiber to achieve lightness and resistance and are upholstered in leather and suede with a perforated central section. In this part, the same color is used in contrast to the black as in the stitching and embroidered logo on the headrest. You can choose between gray or red. The steering wheel is also upholstered in suede and has an attractive yellow band on top.
For the body, Porsche offers the possibility of choosing between four basic colors and three metallic colors, some exclusives such as Vanadium and Arctic Grey, Shark Blue or Star Neo Ruby.