Prosegur SecurityProsegur division that provides security solutions physical and electronic securityhas inaugurated new isoc – Intelligent Security Operations Center -, in Madrid. The development of this state-of-the-art center has received an investment of Rs. five million euros and would mean the creation of 150 new jobs Prima facie. This center integrates various technologies like artificial intelligence, internet of things (IoT) o big Data, iSOC has the ability to integrate with customers' technology legacy, along with intelligent data processing and management of advanced security services. With this, the company seeks to "carry out security operations in a more complete, intelligent and agile way, given the risks and threats it has to face".
The opening of the iSOC in Madrid is a key milestone in a program of opening 13 facilities similar to the one in Madrid, in Argentina, Brazil, Chile, China, Colombia, Portugal, the United States, Mexico, Paraguay, Peru and others. , Singapore and Uruguay. Its objective is to develop collaborative and network functions among the different geographical regions in which the company operates. This financial investment is envisaged to support the development and continuous optimization security model According to the company, to respond to customer needs, allowing early warnings to be detected as well as, understanding trends allowing future scenarios to be delineated and reviewed.
People, technology and data are key elements, with iSOC at the center, which intelligently orchestrates everything
Fernando Abos, General Manager of Prosegur Securitypointed out that, "Traditionally, the activity of safety instruction This included protecting people and property. We are now moving into a world in which traditional risks not only persist, but are also increasing, and doing so with added complexity. Threats arise from increasingly unpredictable and diffuse sources, and the concept of security is being expanded to include other issues not previously covered. This calls for a much more dynamic security model that is able to adapt quickly to respond to and anticipate risk, in short, security model Smart".
hybrid protection
Prosegur has defined a model that responds to this new reality, the hybrid protection, The proposal, inter alia, is based on empowering security experts smart technologies and connected companies that make strategic use of data. In this way the company intends to add maximum value to its clients' business, "through alignment between human resources endowed with experience and knowledge, the technological means to enhance those capabilities, and the use of data to continually optimize models." is converted into intelligence". In this way, Prosegur offers a more personalized and evolutionary security solution.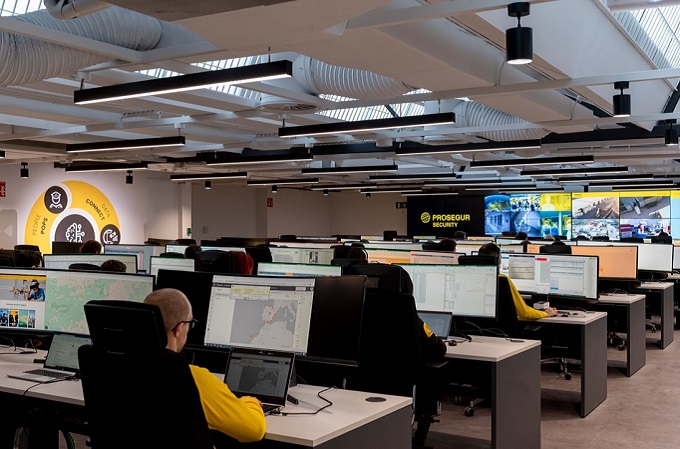 In this strategy, the Security Operations Center, called the iSOC, is configured as a fundamental pillar of the model: it is the brain of the hybrid security model. People, technology and data, as the key elements and iSOC at the center, orchestrating everything in an intelligent way.
ISOC's Differentiating Capabilities
iSOC is made up of over 1,200 security professionals technical skills, iSOC's security guards and operators are permanently connected through their own development equipment. Prosegur Security has created its own operating platform that allows connection and agile exchange of information in real time with approximately 26,500 security guards and technicians present in Spain. In addition, over 25,000 customer installations are monitored and over 300,000 are managed from this state-of-the-art hub. connected devicesof which over 200,000 are via video.
With the opening of this new center, the company introduces new technological advances Which serves as an aid and improvement in the functions and services provided to its customers. Among which it is worth highlighting the management of warning signals and the activation of security protocols; Proactive monitoring of images – including greater capabilities through the incorporation of artificial intelligence and video analytics; remote control of access to facilities; Reviewing compliance with rules and operating procedures; or critical services to guarantee the continuity of customer activity, such as remote fire protection solutions or remote attention to technical incidents.
After an analysis process supported by Business Intelligence and Big Data tools, the information is converted into actionable intelligence
Additionally, large amounts of data captured by the security ecosystem are integrated and processed in iSOC to convert given in know. After an analysis process supported by Business Intelligence and Big Data tools, this information is transformed into actionable intelligence, leading to sustainable optimization and anticipation of risks.
In this way, Prosegur seeks to offer a wide range of benefits and possibilities, such as operational homogeneity, continuity guarantees or having an information and data network that helps make the best decisions at all times.