TORONTO. On Saturday, several thousand people marched in downtown Toronto as part of a Global Freedom rally to protest COVID-19 restrictions and vaccination requirements.
Rallies were also held in several cities in Canada, including Ottawa, London and Calgary, as well as in countries such as Australia, Germany and Japan.
In Toronto, protesters left King's Park and marched down Yonge Street. Some of the crowd carried placards with slogans such as "End medical tyranny" and "Coercion is not consent" and "No medical apartheid", while many chanted "freedom".
Dermot Pomeroy, one of the organizers of the event, said the idea of ​​the protest was to oppose enforcement of COVID-19 vaccination requirements, raise awareness and "try to find some solutions."
"It's unfortunate that the government is tricking people into believing – businesses, for example – that public health has a mandate. But the mandate is not the law, and they break laws in the first place by enforcing them, "Pomeroy told The Epoch Times.
"This is a totalitarian tiptoe step. So we're here trying to spread the word about what's going on and fight back the tyranny of government. "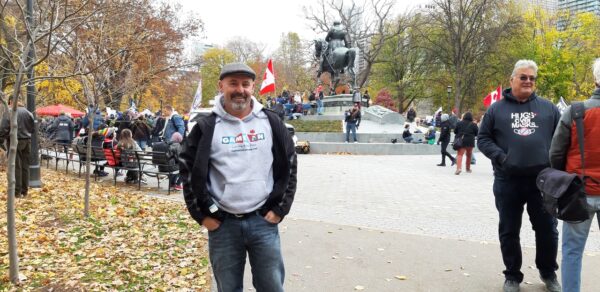 Pomeroy, a father of three, said another goal of the rally was to find solutions to protect children's rights, including allowing unvaccinated children to participate in organized sports.
"What do we do now with all these children who have mental health problems and, for example, cannot play hockey," he said.
Pomeroy said his 12-year-old son has heart disease that could have been caused by early childhood vaccinations and type 1 diabetes, so he doesn't want to "roll the dice for another vaccine," which could potentially cause the boy more health problems.
The day before the rally, Health Canada announced that the Pfizer-BioNTech vaccine had been approved for children aged 5 to 11, an age group that did not previously meet COVID-19 vaccination criteria.
🇨🇦 Canada – Toronto [Nov 20, 2021]

World demonstration of freedom #WorldwideDemonstration #NoVaccinePassports #NonAuPassSanitaire # Manifs20novembre #NoGreenPass #PassaporteSanitarioNao #NoVaccineMandates #WorldWideFreedomRally #Torontoprotest #Toronto pic.twitter.com/5U6NmmclDS

– 🍌 BMedia 🇳🇱 (@BananaMediaQ) 20 November 2021
Police and medical personnel also joined the rally in Toronto.

A retired correctional officer who wanted to be called only Terry said vaccinations lead to "erosion of freedoms."
"I am here because I feel like we are losing our freedom in Canada," she said.
Terry is a member of the Police Watching You advocacy group, which represents current and retired police officers. The group has filed a lawsuit with the Ontario Supreme Court, seeking clarification about the province's emergency orders.
According to Terry, the police on guard believe that "these orders are in clear violation of our Charter of Rights and Freedoms, and place current officers in a position that violates their oath to abide by the Charter by making illegal arrests and issuing unconstitutional tickets."
"We are being deprived of our freedom, and the police are forced to contribute to this loss. We hope that our trial will restore law and order not only for our citizens, but also for our police, "she said.
…