Photo by @DiazCanelB
Havana, August 27 (Red Web) The First Secretary of the Central Committee of the Communist Party of Cuba and President of the Republic, Miguel Díaz-Canel, laid a wreath this Sunday at the Acre de los Héroes, a war memorial to the Republic of Namibia.
The Cuban dignitary was accompanied by Namibian Vice President Nangolo Mbumba. In its previous profile, the Cuban Presidency states:
On another occasion, as part of his intense agenda in the African country, Díaz-Canel was received by the President of the Republic, Hage Geingob, at the State House, with whom he held official talks.
They shared the excellent state of bilateral relations and ways to strengthen them, and also discussed the ties between the Cuban Communist Party and the Southwest African People's Organization.
For his part, Geingob recalled the historical ties that unite both peoples, highlighted the current collaboration of Cuban specialists in Namibia and condemned the US blockade against Cuba, which even prevents the purchase of medical supplies on the North American market.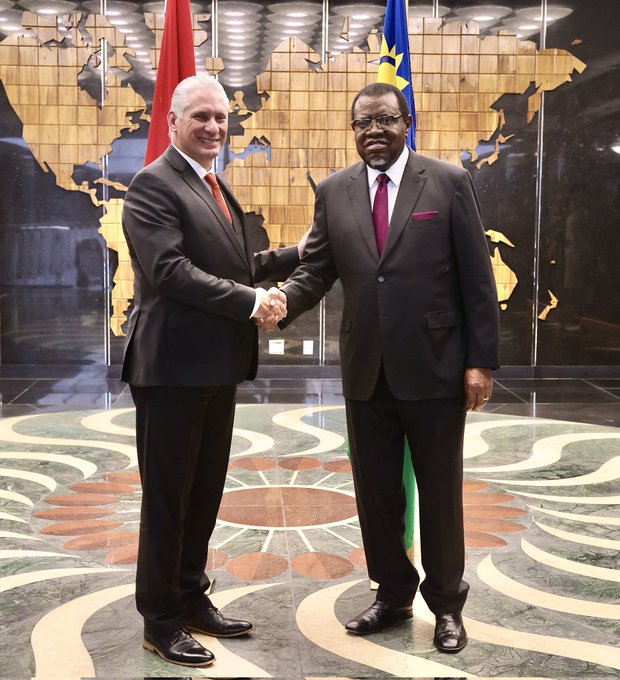 The Cuban head of state stressed that the visit has a special meaning as the current generation of leaders of the Caribbean state defines themselves as the continuity of the revolution, which also includes solidarity with his brothers and strengthening of friendship with Namibia, its government and its people belong .
The day before, the Namibian President awarded his Antillean counterpart the "Order of the Eldest Welwitschia Mirabilis", the African country's highest award.